Day 0 - Travel Day
Saturday 15th October
We woke up with the alarm (luckily, as that's the whole point of alarms) at 4.10am. Oof, early! I was so excited though! It actually wasn't too hard to get up, for once! I made tea, we watched a bit of news while we got ready and eventually left the room about 5.45 so perfectly on time! Very out of character for me. We were going to use the machine to buy bus tickets that we'd seen the night before, but unfortunately it was broken
No worries though, it would just cost a little more but we could pay on the bus. We went outside to wait for the Hoppa and it was super chilly! I was glad for my Bride jumper!
The bus arrived on time and we paid £10 for two one way tickets - steep haha! Had to be done though. The journey was crazy short and we were at the airport by 6.10, 20 minutes ahead of schedule which greatly pleased Benjamin 'Let's get to the airport 6 hours before' Millier. We thanked the driver and headed into the terminal, yay! A lovely lady spotted my Bride box and congratulated us which was so sweet, she was asking all about the wedding and she was so excited for us! We then got directed over to check in and we got a lovely girl. She checked in our luggage (underweight, phew!) and then sorted our actual check in. She said 'I see you're in a group of 4, would you prefer a 2?' I was mega surprised and obviously was like 'oooohhhh that would be amazing, thank you so much! ' then we waited a few seconds and then she said 'Okay all done. I saw your Bride box so I've upgraded you to extra legroom seats. Congratulations!' Well, I nearly fainted! This has never happened to us ever ever ever and it was so exciting! What a total babe, and what an amazing start to our holiday! We thanked her profusely and then wandered off in a daze, two cases gone and just one Bride box and one cabin case remaining.
We then went through security which was all fine, and then we were into the proper airport bit and free to wander! Yay! Love this bit! We explored a bit cause we've never flown from Heathrow before, but then we realized how starving we were so we headed into Bridge for some brekkie. We had perused a couple of menus whilst wandering and this looked like the best, and cheapest! Obviously still overpriced though haha! We had a little table for 2 (pretty snug haha) and ordered a fresh lemonade and a mango juice to start with.
I then had the Bridge bubble and squeak which came with a poached egg and maple syrup.
Ummmm where's the rest!? Haha, it was so tiny! I was not impressed! I had to eat my words later though because I was actually stuffed at the end of it…awks.
Benj got the mushrooms on toast which he looooved
The food was actually really nice and came to £21 (this is like the only day I have food prices for ha! )
We had a really cute moment during brekkie. We logged onto the wiffy and were checking Facey B as you do, and it was honestly really overwhelming – there were status updates of our friends and family checking in to airports all over the shop! It was so funny! The majority of our guests were travelling on this day and no two groups were taking the exact same flight (not sure how we managed that!) so it was really cool to see where everyone was! My parents and brother/SIL/nieces were already in WDW (they flew out the day before) so they were checking in and making us all super jel haha! The lovely Lottie (Lottie89) was also already in Florida and had been for a week so we'd been jealous of her for a full 7 days. Ben's fam were in a different Heathrow terminal, some of our friends were sat on the flight already waiting to take off…it was amazing. We were so so happy and excited to see what everyone was doing. God bless social media!
After our breakfast we headed back out into the main terminal. Benj wanted to buy a wedding aftershave – cute! I'd already sourced and bought my wedding perfume as I knew I wouldn't be able to make a decision during limited airport time (La vie est Belle by Lancome if anyones interested, it's honestly one of the nicest perfumes I've ever smelt! I'm obsessed with it! ) We sampled loads of aftershaves and I could tell he was getting a bit fed up bless him as they were all starting to smell quite samey ha! Plus some of them were so expensive and he just didn't want to spend that much really, just for one day/the honeymoon! In the end we found a lovely one by Salvatore Ferrigamo and I love it, it smells like cinnamon
≈While he bought it I doused myself heavily in a random perfume I liked as one does when one is in the perfume section
before running away so none of the ladies could tell me off cause I didn't buy it.
After our aftershave hunt I left the bags and dress box with Benj and popped to get some snacks from Boots – I couldn't decide what to get (again! ) but I think I got a meal deal with a chicken caesar wrap as it was cheaper than buying just water and crisps! I always get mega hungry on planes haha! Then it was time to head to the boarding lounge! When we got there Benj browsed his phone and I saved some trippies and Spotify playlists offline so I could read/listen on the plane. We literally had 5 minutes though and then we were getting on the plane! Super speedy!
We had such nice seats! Super spacious! A lovely little 2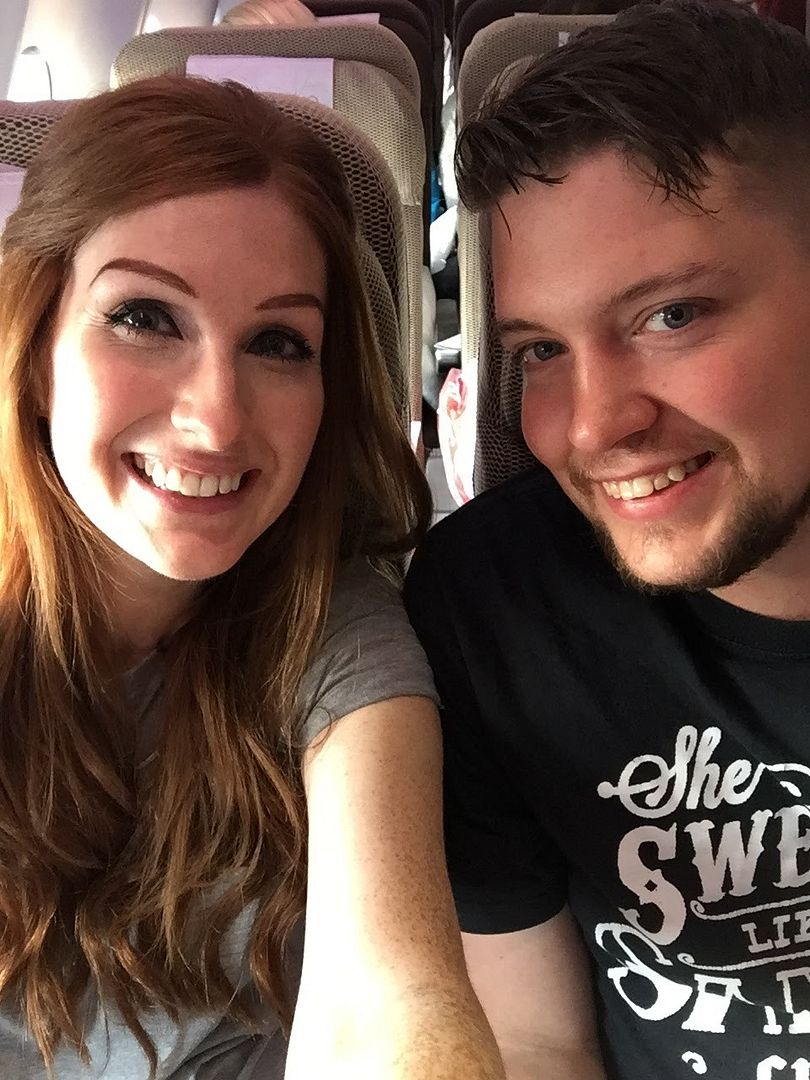 As we were getting settled into our seats and putting the dress box into the overhead compartment a lovely air hostess was like ooooooh I think there's something special in that box! And I was like eeeeeee yes there is! *excited wide eyes and grin that didn't leave my face the entire wedding trip* Then once we were seated she came back and asked us about the wedding and what we were doing, and then she said she'd bring some fizz round for us in a bit! I was thinking I could get used to this VIP treatment haha!
We took off bang on time – we were on the 9.25 to Orlando via Atlanta with Virgin and Delta
The flight itself was actually amazing. It was only 8 hours and it honestly flew by. We started with fizz as promised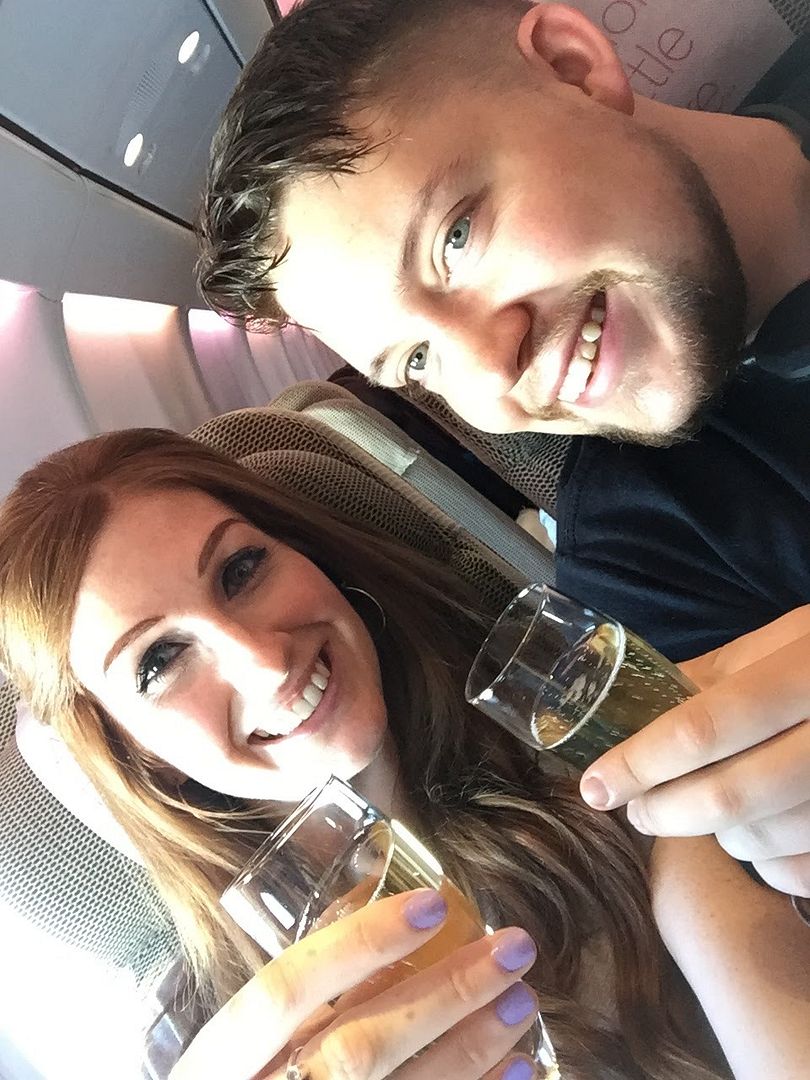 This was such a nice little luxury, and then during the first drinks service the air hostess (a different one) asked about why we had fizz and when we told her she just started chucking wine at us haha! It was like 10 in the morning and we had 4 bottles of wine and 2 glasses of champagne between us! I was literally loving life. We got pretzels too which I wolfed down.
All the booze!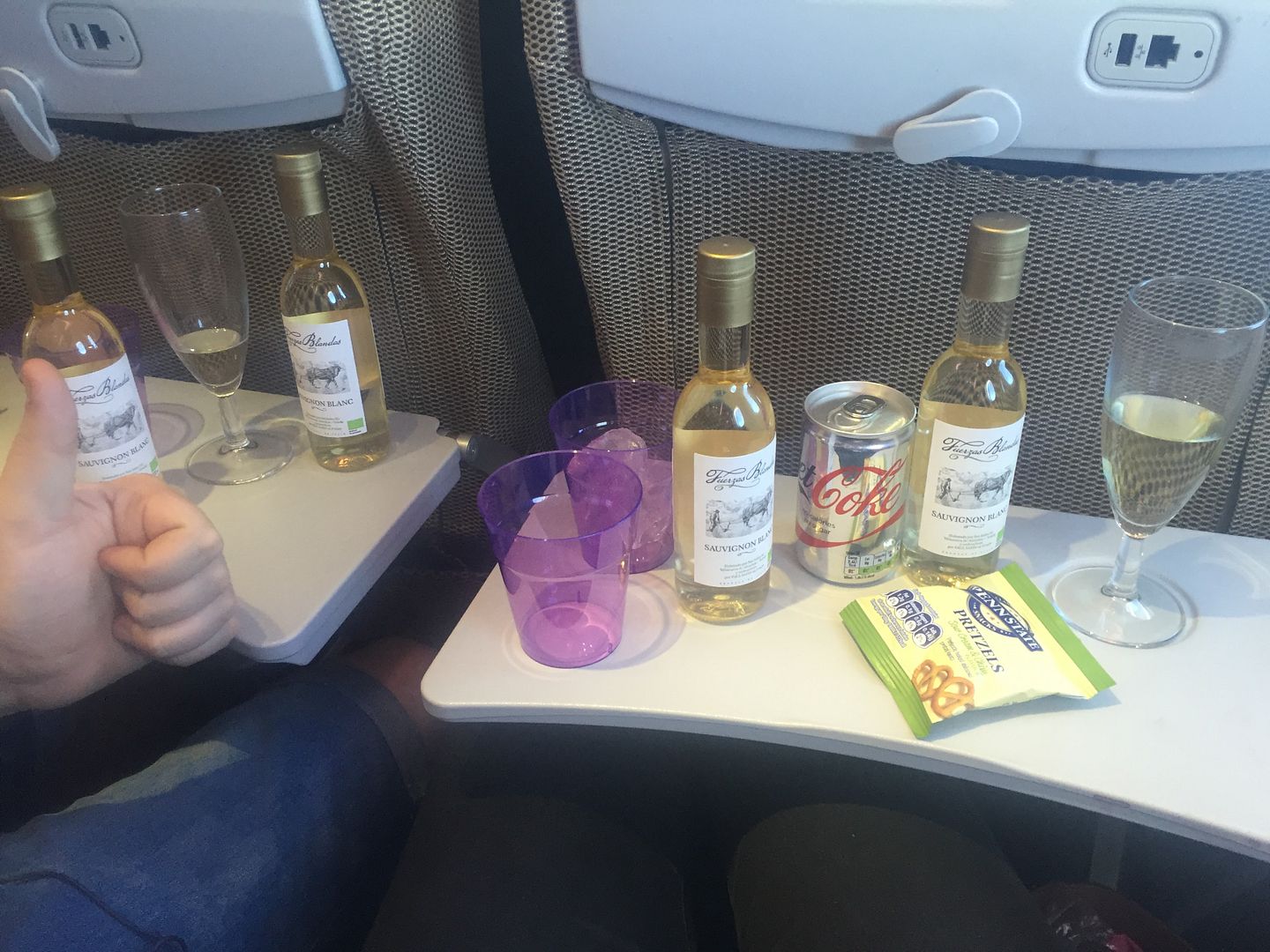 Ben had already made a decision on his movies as always, and he was straight into one while I was still browsing the options and seeing what I fancied. I decided to start Independence Day the remake but it was so awful I turned it off after 15 minutes haha! Oops! Benj had warned me it was not great but I love a disaster flick so wanted to give it a try. Fail. After than I just read trippies on my iPad, stared out the window, took notes, and stared at our itinerary spreadsheet on my phone trying to make myself believe that it was actually happening
Lunch came by pretty quickly! Benj had his pre-ordered Lacto Ovo meal which was lovely!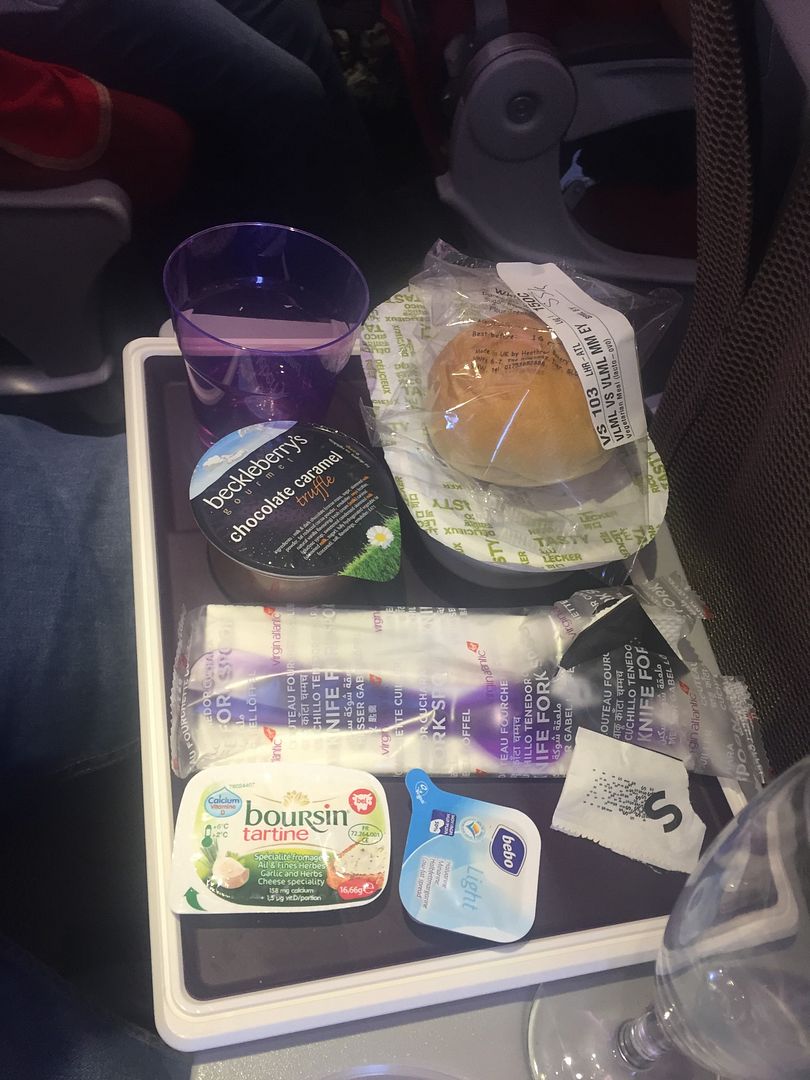 His main was olive and tomato ghnocci which was amazing, I tried it too!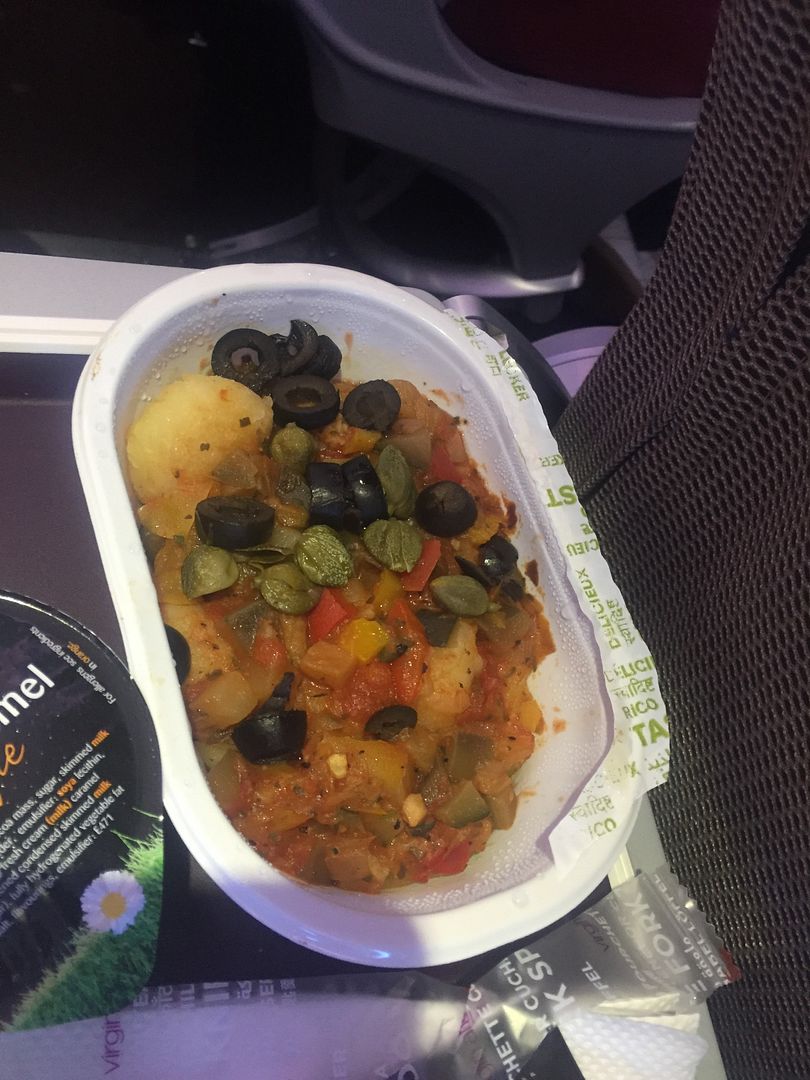 I was thrilled to see that the veggie option was mushroom pasta on our little menus, which is my fave. I'd much rather have the veggie option than the meat option on flights, IDK why it's just my preference!
My meal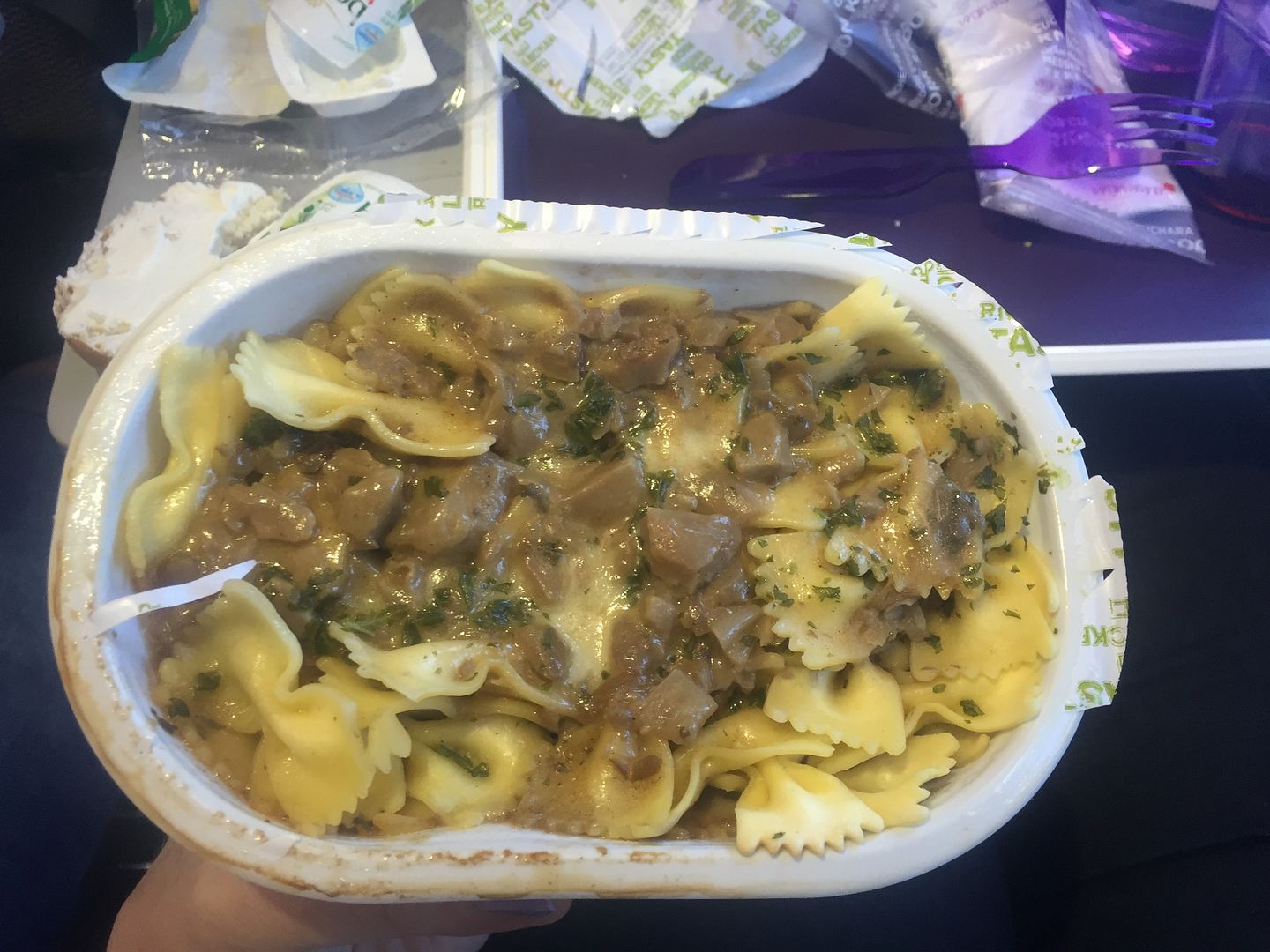 It wasn't quite as awesome as it looks but I did really enjoy it
I added a lot of salt to make it more...salty.
After lunch I started watching 'The Meddler' with Susan Sarandon but it made me really upset and I had to turn it off because I was literally sobbing! Not sure why, it's about a widow who keeps meddling in her daughter's life but her daughter was being so rude to her that I felt awful for her
Not sure that was the aim but it upset me so much! So I turned it off. I then slept for an hour which was really good! During this time Benj managed to watch Finding Dory, Now You See Me 2, Bordertown, and play some games.
Killing time…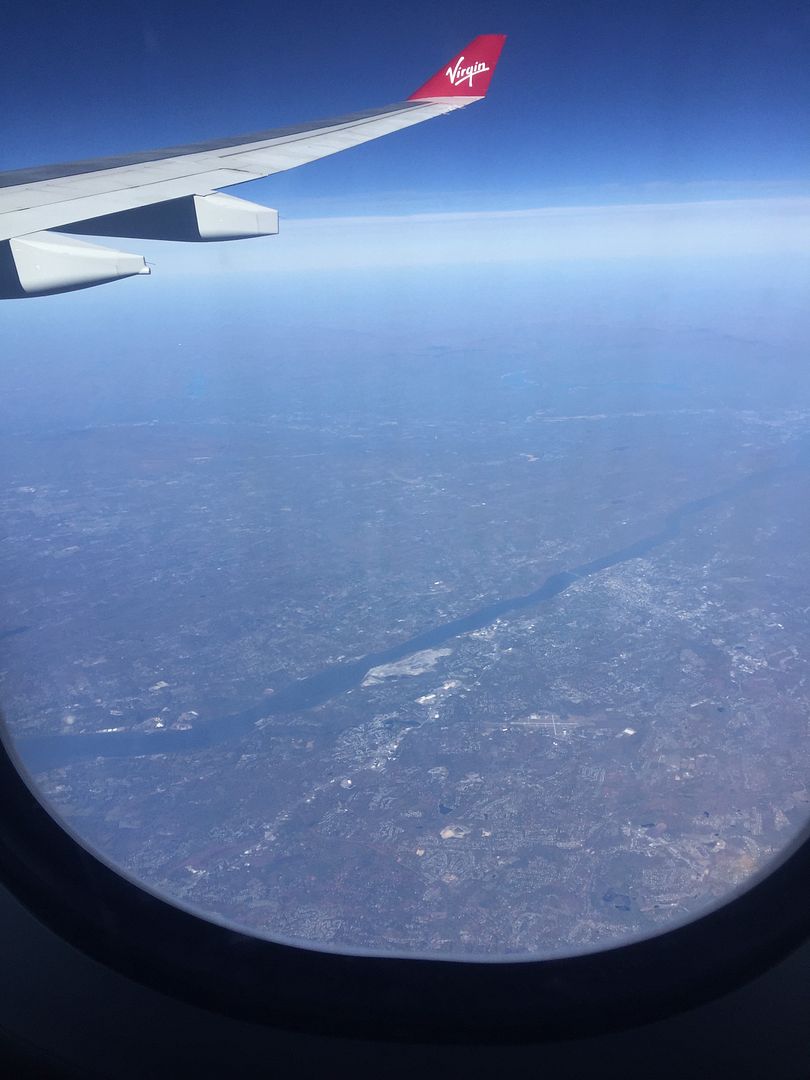 Trippie reading…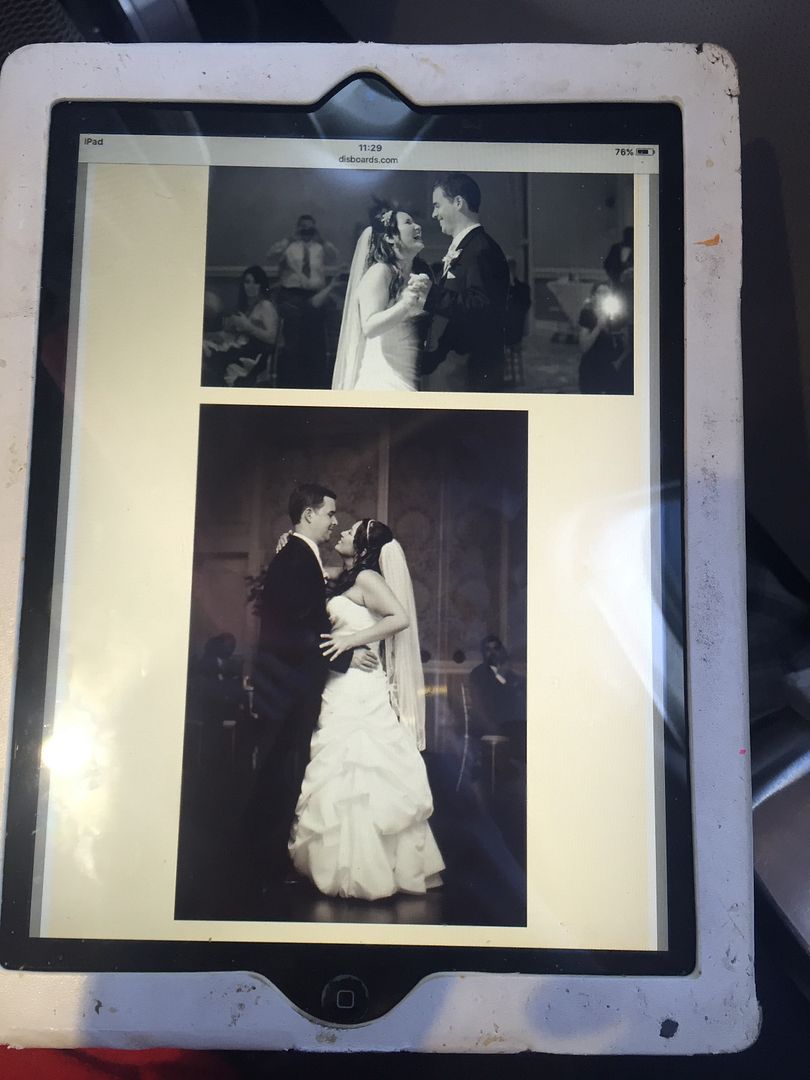 About an hour before landing, we were then bought out afternoon tea which was lovely
Cheese and pickle sammie and an AMAZING mini millionaires shortbread, my favourite sweet treat!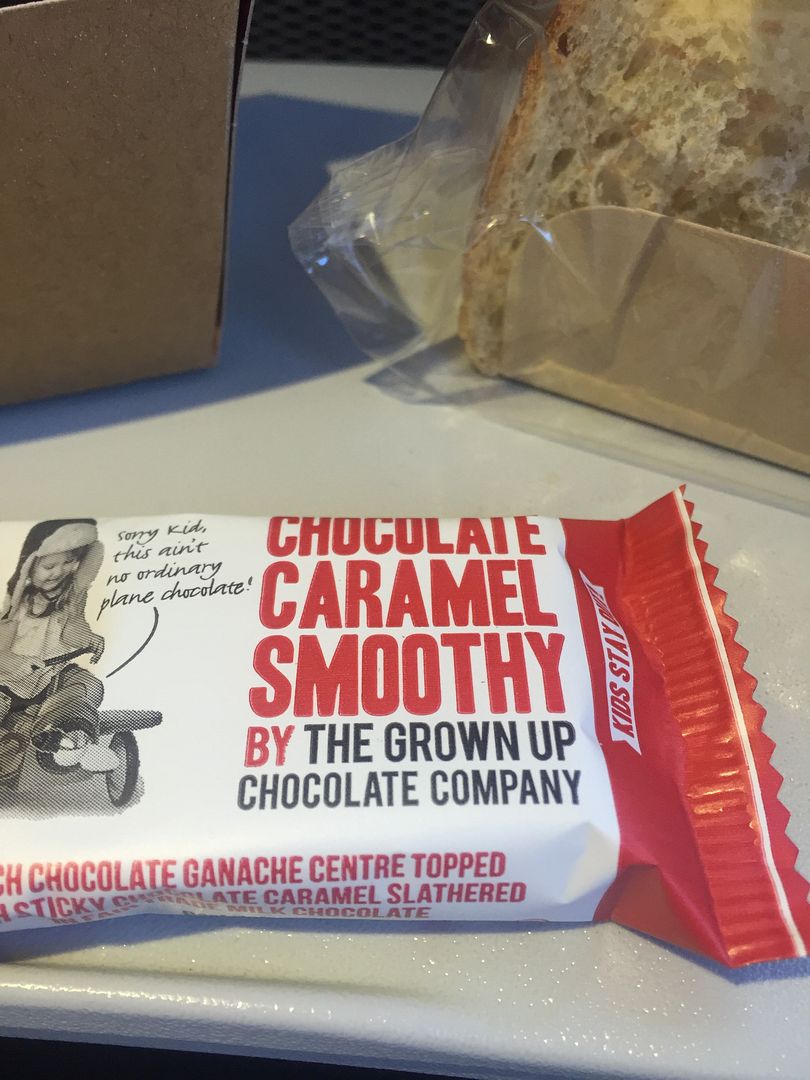 Benj got a way more exciting sandwich though, a Morrocan flatbread!
Before I knew it we were descending! This is where things went horribly wrong
I had a cold about a week before we left and I proper dosed up to try and make myself feel better before we went. By travel day I was feeling pretty good, phew! However, pretty much as soon as we got on the plane my cold weirdly reappeared with a vengeance and I spent the entire flight sniffing and feeling pretty sorry for myself. We also didn't have any pills or nice tissue with us so my nose was red raw due to having to use loo roll
I didn't really think much of it though, until the descent started. Oh my lord. It started as a gradual pain like around my eyes and nose, and as we got lower it got worse and worse until I actually thought my head was going to explode. Like I'm not lying, I thought I was dying. I've never felt anything like it, I didn't know what was happening! I now know it was sinus pain, it's a common problem when you have a cold or flu and have been sniffing, and it really does feel like you're dying. I burst into tears and poor Benj was trying to calm me down but he couldn't do anything as the pressure was just unbearable! He realised what it was and said he'd had it before but not as bad. But yeah, it was horrific. I basically just sat silently crying and pushing on my eye sockets for 15 minutes until we got really low and it passed, and my head started to go back to normal. But I was so shocked that this had happened! I've flown so much and never even had a hint of pain like that! Benj was so amazing though, honestly if he hadn't been next to me I don't know what I would have done!
So by the time we landed I was 100% ready to get off the plane haha, all my happy memories of the food and entertainment and free champagne forgotten! I'm just kidding, it was still an awesome flight, just horrible and confusing and painful at the end
Has anyone else experienced this on a flight? Urghh!
Anyway. So we landed in Atlanta 45 minutes early. We had been nervous about going indirect so we'd booked flights with a 4 hour layover as we didn't want to be stressing about time at all. But now we had 4.45 hours haha! Definitely cautious. It was all good though. Now that my head wasn't about to explode I was feeling pretty chill, and obviously thrilled to even be on American soil! But yeah, the transfer was very smooth and easy! We queued for about 20 mins at immigration which was awesome and way faster than expected. Then we picked our bags up, or maybe we picked our bags up before I can't remember haha! We went through security and all was good, and then we passed a Delta desk so I asked if there was any chance on getting an earlier flight. It was only free for special Delta members which we most definitely were not, nd it was $50 each to go on stand by. I didn't think it was worth it so decided we'd just relax and embrace Atlanta.
Sticking to the original plan, we gave a man our bags (not just any man, he worked there) and then we were back to just the bride box and Ben's cabin bag. Awesome! We headed into departures – I was so excited to be in America finally!
We went on a monorail!
Mid travel day portraits!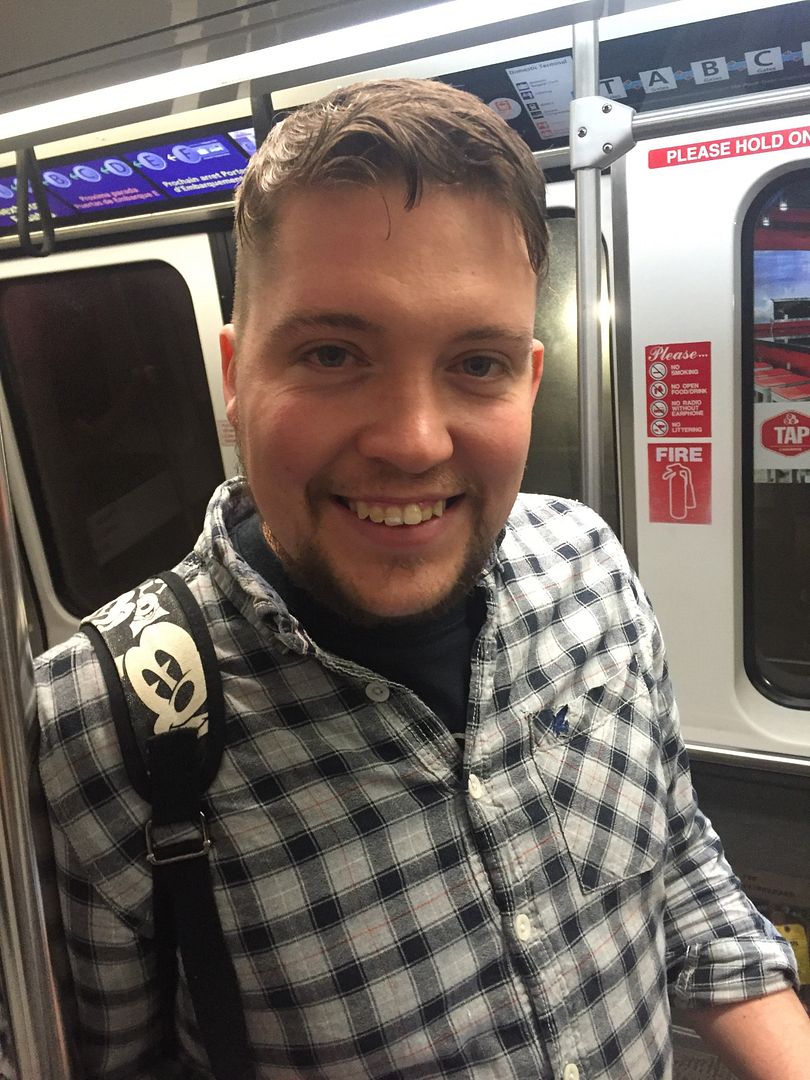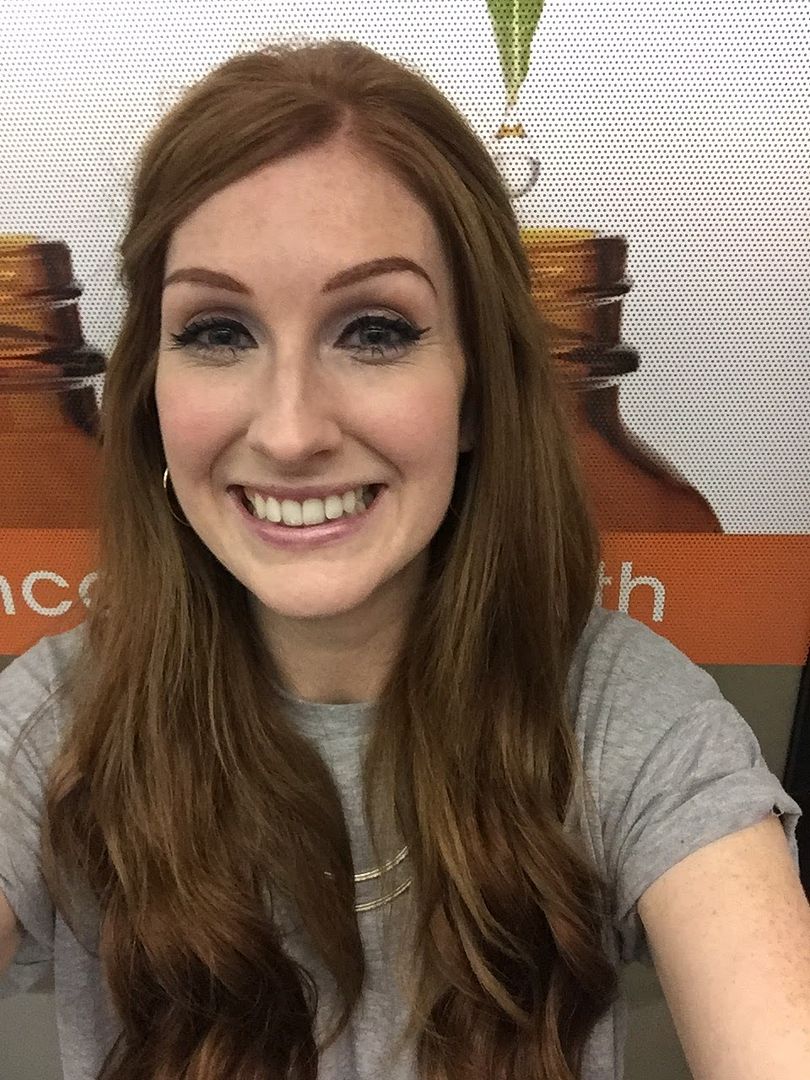 As we had so long haha we took a leisurely stroll around to explore. We went into a newsagents and I was beyond excited to buy my first American mag – Cooking Light <3 LOVE it! We also bought me some cold and flu pills and some water. We then wandered all around the terminal (Concorde A) browsing the food options. We wanted a nice sit down place where we could get a drink and chill for a bit, but a. everywhere was pretty busy and b. most of them seemed to be very much more grab and go affairs. At one point we walked right down to the opposite end of the concorde from where our gate was because we'd seen a sign for an NBA themed bar that looked really cool. Unfortunately, when we finally arrived at the other end, it was tiny! Like the most clever photography I've ever seen that made it look like a massive TGIs or something! Also there was a game on and it was very loud. We then walked all the way back (we walked like 8,000 steps this day!) and eventually found a really nice looking bar that wasn't too busy and had space for us. I've never been so happy to sit down! I know we were sat down for like 8 hours before but we'd done a lot of walking in the meantime! I think it was called Brew House? We got a cute table, Benj got a beer (Sweet Water 420) and I got my first Angry Orchard of the holiday
Yum! We were peckish but not starving so we decided to get an appetizer each. The slimmers choice…hahahh naatttttttt!
Benj chose the fried artichoke hearts
And I got crab and artichoke dip.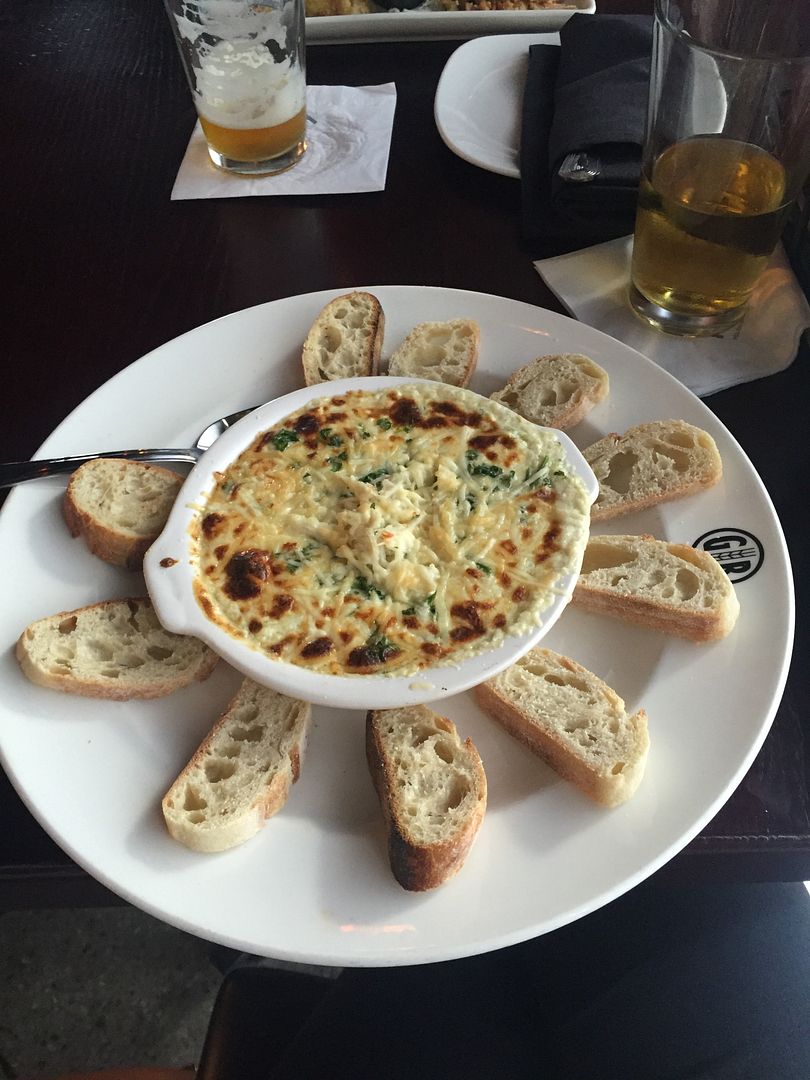 Both were delish and not too bad priced for airport food, about $11/12 each and they were meant to be sharing starters so plenty big enough. It was really relaxing sitting and chilling, watching the planes out the window and enjoying our food. We were also able to get on the WiFi and catch up with all our friends whereabouts, some had arrived in WDW which was super exciting! We spent a happy hour or so here just chilling. Then it was finally time to head to departures!
We already knew where it was after our extensive search for food earlier so that was good. I was feeling really nervous about the sinus thing again which was stressful
There was also major faff with all the VA tickets - basically the overhead tannoy kept saying something about coming up to queue if you were in different zones and we were panicking a bit because our ticket mentioned nothing about zones. We went to speak to the lady along with all the other Brits and there was an issue with the tickets we'd been issued and we couldn't get on. It was a pain and looked like it was gonna be a massive ballache but to be fair they sorted it very quickly and we were on the flight about 10 minutes later. Bit embarrassing for all the people who kicked off like idiots…there were a few sheepish looking people in that queue!
Our second plane was lovely, very small but nice! I believe it was 3 and 3, and we had the two window seats. We also had seatback entertainment which was exciting! I was nervous in case my stupid sinuses hurt again so I pretty much sat really quietly and just took deep breaths and focused on staying calm. I know right, I know how to have fun. While I was being all quiet and stuff, Ben cracked into a Family Guy! Man knows how to get his money's worth with these IFEs. I didn't have any pain going up which I was over the moon about...but the same thing happened on the descent and once again the pain made me cry so much
I just closed my eyes and tried to focus on where we were going and what we were doing. Honestly guys, please take sinus medication if you're flying and have even the slightest hint of a cold! DON'T GO THROUGH WHAT I DID!
Eventually, we touched down in Orlando. YAY! We were mega tired by this point but a lovely American lady telling me I had beautiful eyes while she was getting her bag out the overhead locker cheered me up immensely! Especially cause I had my glasses on and had cried all my make-up off haha! So 100% not lookin beautiful. I think i was more tired cause of the crying to be honest, ladies you know when you cry and your make-up goes in your eyes and you just feel exhausted from the emotion and effort of it all? That!
So, off we got and we were straight into the awesome big atrium which is when I think you really feel like you're in Orlando
We hopped on the monorail to get our luggage, had a bit of a wait for my suitcase which was tense, but then we had all 4 bags and the dress box YAY! Then there was no queue for immigration wooooooo so we were done and dusted super fast! We made our way out towards the ME which was mega exciting because we've never got it from the airport before, only to! Ballers! We then had a mega surreal moment (the first of many this holiday haha!) - as we were striding through the airport past the car hire places towards the glorious Disney bit, we heard someone shout "Ben! Libby!" only it wasn't so much a shout as a kind of raised voice, please turn round cause I don't want to shout again - it could only be Ben's lovely mum Chris! And her husband Martin! We stopped in our tracks, they were queueing for the Alamo booth! How funny. We knew they'd be arriving to MCO that evening but the chances of seeing them after taking completely different routes! Incredible. We had a quick chat but we were all dying of tiredness (mainly me) so we said we'd see them tomorrow in the MK (!) and said our goodbyes. Before we went over to the ME we nipped over to one of the seating areas to see Ben's stepbrothers (Liam and Max) and Charlotte (Liam, older stepbrother's GF) and surprise them! Well they certainly were surprised haha! Bless them they all looked so tired, Charlotte looked straight at me walking towards her then looked away, and then did a genuine comedy double take ha! So cute. We had another quick chat and hug sesh and then said our goodbyes. Unfortunately they had an absolute mare after we saw them, there were no cars big enough for all of them (they needed like an 8 seater) and they were at the airport for aaaagggeeesss before Liam suggested they Uber to the villa and try again in the morning. Well, that was a game-changer! Martin was so impressed with Uber that they sacked the hire car plan off and just Ubered everywhere for the rest of the week! A happy ending after a very stressful start
After all that excitement it was time for us to hop on ye olde ME. We queued up and I didn't even have to get my email reservation out we were already confirmed and through, which was very handy as I didn't have any internet to retrieve it! We waited about 20 minutes for the bus which we definitely could have done without but hey.
#transportationgoals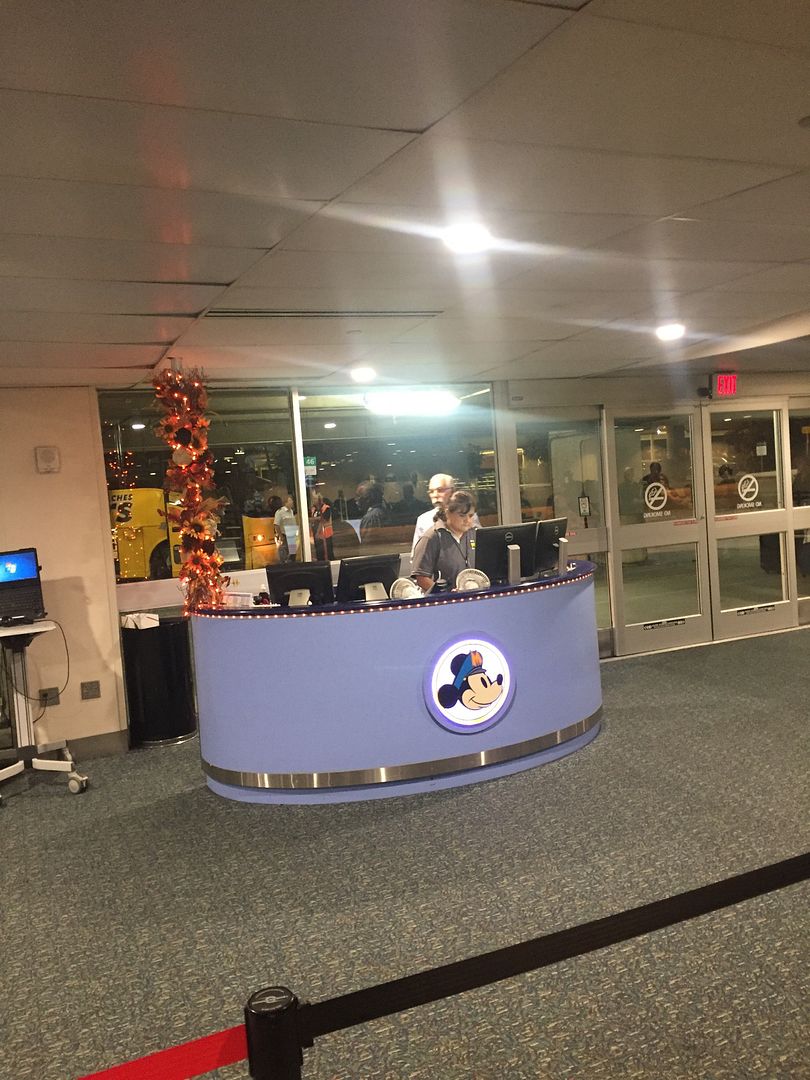 Cutie travel companion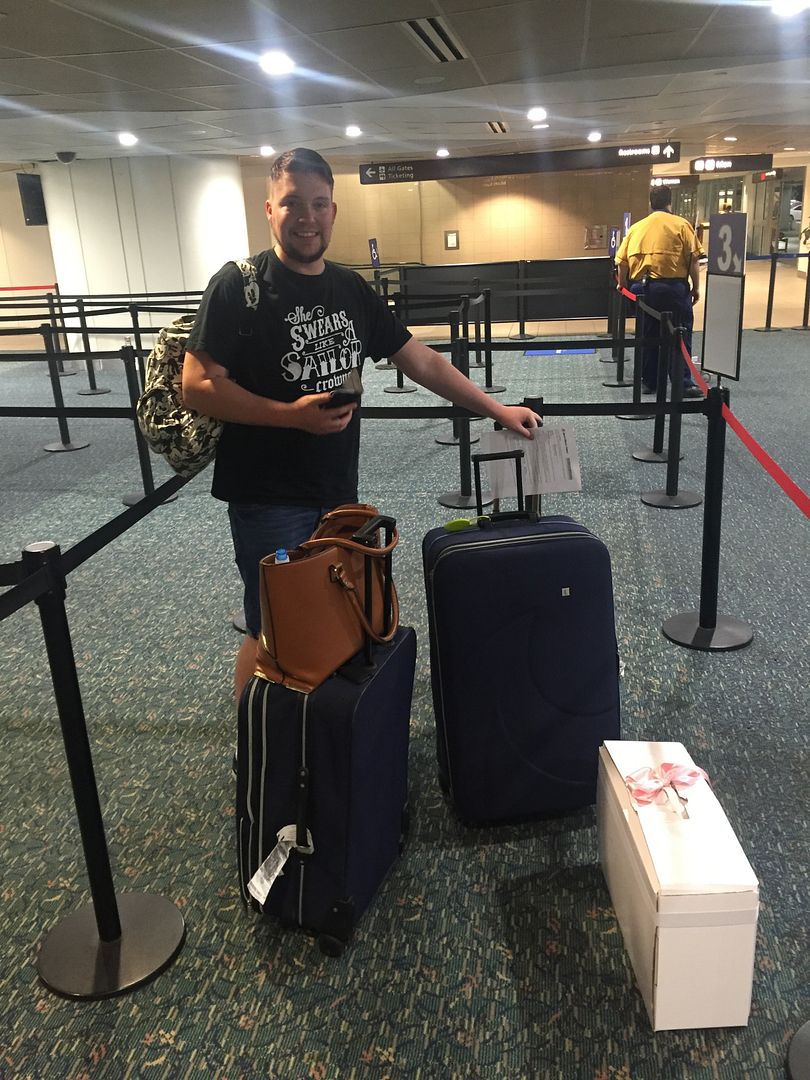 When we were finally allowed on the bus we got mega excited for the video! There was a quiz on beforehand which I nearly lost my...let's say, 'stuff' over, because one of the Qs was about FRANCKS which is the Disney's Fairytale Wedding planning studio!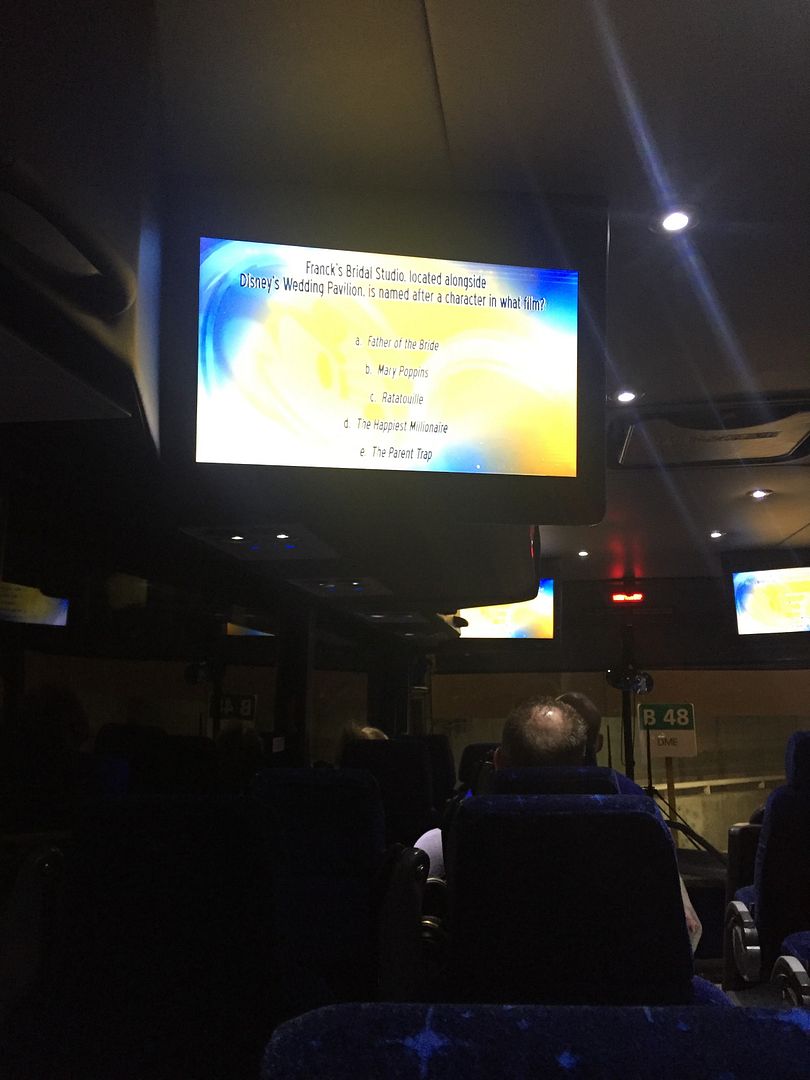 I must have been so excited in fact, that after talking about how awesome it was going to be to watch the welcome video on the ME for approximately 18 months beforehand, i promptly fell asleep once on the actual bus. I was so so tired! It was okay though, Benj did too. We woke up once we were pulling up at OKW all bleary eyed and delirious (and in my case fairly dry-eyed as I was wearing my lenses...) and staggered off the bus with cases and dress boxes flung at us from all angles. Old Key West looked incredible in the dark, all twinkly and sparkly. Our tiredness had vanished as it so often seems to when you arrive at a Disney hotel after a long flight, and we headed into the empty Hospitality House
I say headed, it was more staggered because we had so much luggage. We made quite a scene haha! Which actually turned out to be a good thing! All the CMS who were working went 'Ooooohhhh!' when we arrived and some clapped ≈and shouted 'Congratulations!' which was incredibly exciting and made me want to burst with happiness. One small lady beckoned us over and she was working alongside a really really old guy which made me very happy. Well they were so cute, they wanted to know aallllll about the wedding and our plans so we happily chattered away while they checked us in! I'd requested a room request via TouringPlans and we got pretty much exactly what I wanted! Super close to the main buildings and restaurant etc which was awesome! The lady gave us our (first of many!) I'm Celebrating badges, and then she bought us out a card signed by Minnie and Mickey! WIN! The old guy was telling us about how him and his wife have been married for 40 years
and he was giving us marriage advice and stuff. They were all so excited for us, it was amazing
We basically chatted for ages with all the CMs behind the desks before we realised it was ridiculously late now and we had to be up at the crack the next day!
So we bid them farewell and armed with our map of the resort, took the short walk over to our room. Which was beautiful! Really big and spacious and just such a lovely vibe. I've got room photos later on don't worry, but for this night it was very much a case of get in and get in bed hah! EXCEPT, we needed breakfast food. I get reallIy hangry if I don't eat, espesh in the mornings, and with such an early start we wanted to just eat in the room to save time. My darling fiance (now husband, spoiler alert) offered to run to the shop (well not run obviously, he's not mental) and grab some bits while I got ready for bed (it's a big job). So he nipped out and I de-make-up'd, PJ'd up and pretty much fell into bed. Which was so so so comfy. I put Stacey on and just basked in the glory of being at WALT DISNEY WORLD! When Benj got back he had a lightening fast shower and then got into bed too YAY! I set an alarm for 6am and we both were fast asleep by 10.30pm, with 3 whole weeks of adventure ahead of us