I'm so happy, I could BOUNCE!
I'm really off
my game.


But I'll get into that a little later. First off if I have any new readers let's have a few introductions. Hi, I'm Alison


I'm an amateur musician, foodie, and generally avid Disney fanatic. That's about all you need to really know!


Then there's Fran, my partner of 23 years.




She's also a musician, we met in band. She also loves all things Disney, shopping, and Tiki.


We recently celebrated our 11th wedding anniversary by sharing a large portion of dead cow. Next year will mark the year that we will have been married longer than our "engagement".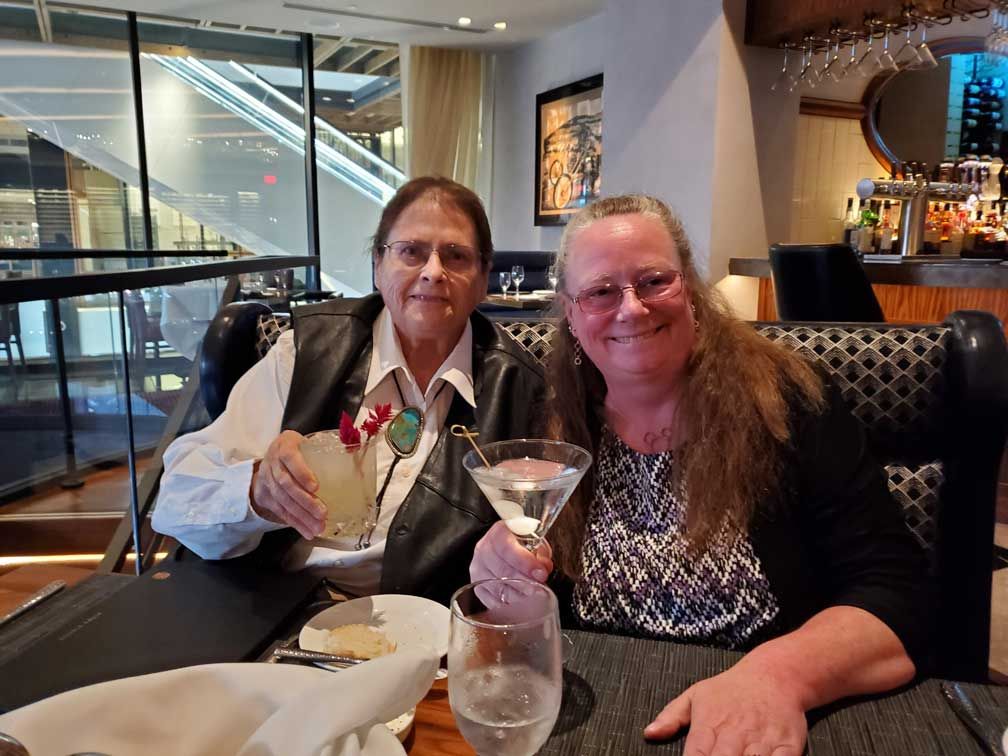 We are DVC members and owners at (in contract order) Saratoga Springs, Villas at the Grand Californian (twice), Beach Club Villas, Boulder Ridge, and just recently Bay Lake Tower. I also found a 30 point contract at Boulder Ridge so we officially are members of the 1000 point club.


We both also love kitties. One reason we don't take longer trips is that our kitties get very mad at us when we're gone. While our friend Naked Jim takes good care of them, keeping them fed and litter boxes clean, no one gives them the attention we do. When we have been gone for a long trip they let us know they were not pleased.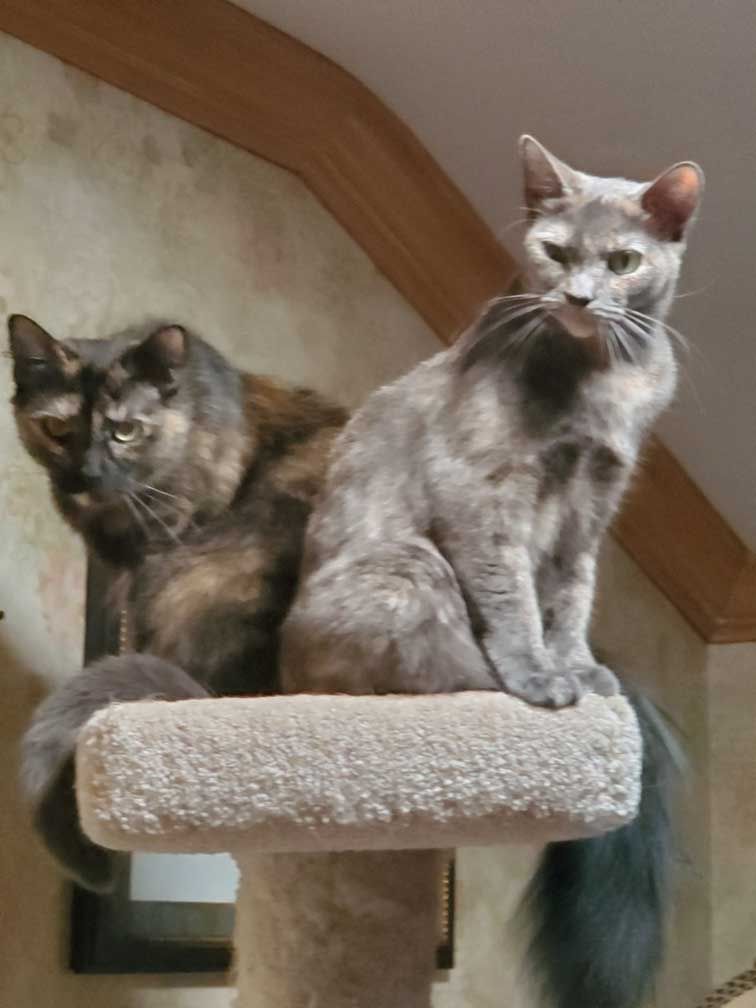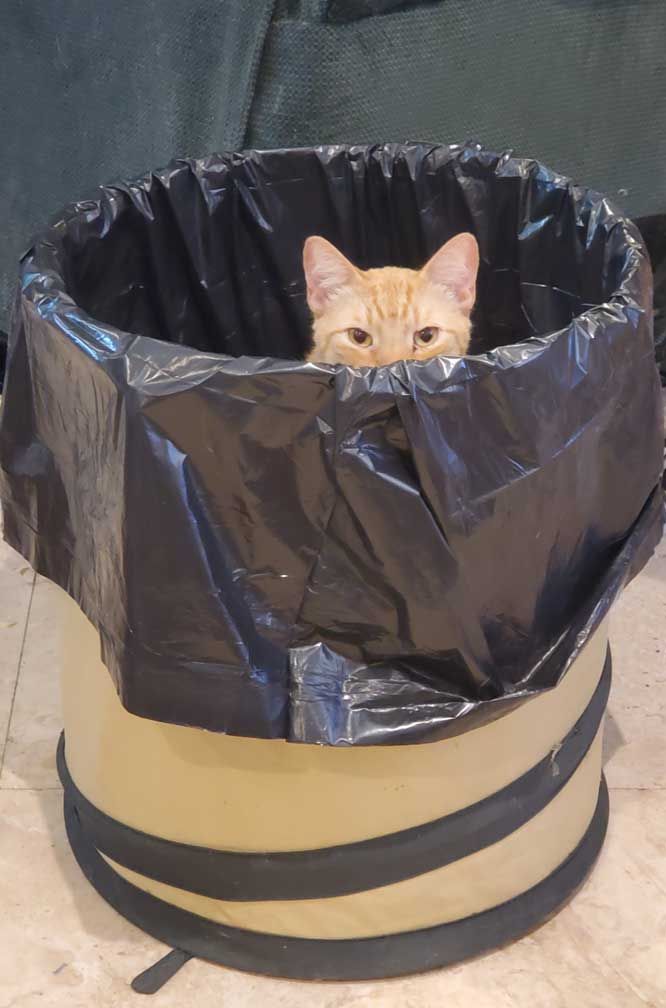 I'm sure there's more I could tell you about us, and most of the folks who have been around for several TRs already know the little details like I don't like cilantro, or I never met a Grand Marnier Souffle I didn't like, but those are for other TRs. You can read previous TRs through the links in my signature, but this is about the here and now. OK maybe it was a few weeks ago and by the time I wrap it up it will be a couple months from now, but that's besides the point.


I do have to admit to one thing before we move forward. Only five nights of this trip were spent at Disney. This ended up not sitting very well with Fran. Going into this trip, we were working with the premise that we would not be going to WDW in 2020. I don't know at what point she made the decree, but before we left Disney property it had been established that we would be coming back for an 8-10 night trip at some point soon. Turns out with all our travel plans in 2020 it either had to be in Jan-Feb, or Nov-Dec. We had not even been home for 10 days from this trip when we pulled the plug. We will be back at WDW the first week in February and will be home by Valentine's Day.


So that doesn't give me much time to hammer this one out! Hang on to your hats. Let's get on with this!


So this trip sort of went kind of like any other. Waking up the morning of the day before we leave with way too much on our plates and not enough time to do it. But we basically powered through. It didn't help that there were two additional band rehearsals that week to eat up about six hours of valuable time (each day of rehearsal) we didn't have. In the end we got the "have to's" done for the most part. I have no idea what time my head hit the pillow that night.


Day 1


5:00AM wake up. We drove through McDonalds and were on our way to the airport when I realized that I had left my phone at the house. At least we were only a couple miles out, back we went.


The trip to the airport was uneventful. The biggest snag was that I had to park in a new parking lot. I had no idea where to go, and knew it was farther away than my old parking lot. It was very unnerving but my GPS guided me there. Once I had parked the car I couldn't find my phone. Again. I was approaching complete strangers in the parking lot asking them to borrow their phones to call Fran. Finally she continued to call my phone and it turns out that it had fallen in the pocket on the door of the car. I never would have thought to look for it there. Before I went back to the airport, I sent myself an email of the section where I parked because I was afraid I would never find it again.


Boarding was smooth, and I tried to sleep but couldn't. Once we changed planes and were on our way to Orlando, it was then that my first big mistake of the trip hit me.


I had failed to put our DME tags on our luggage. Doh! Well that kind of put a change to our immediate plans. We had planned on heading to dinner in the airport and then going to the hotel, but with eight bags in tow, that really wasn't very practical. So we decided to just go back to the hotel and grab a snack in the food court to tide us over.


It took forever for Fran's scooter to come up from the belly of the plane, as I waited, I recalled that Karin and Tom had once ordered a pizza while staying at the Yacht Club and had said it was pretty good. I googled this option and found that it was a decent choice. Potentially less expensive than actually going out.


After we retrieved our luggage we headed back up to the third floor and the food court. There was a Cinnabon/Auntie Annie's where we got a cinnamon roll and a pretzel. Fran launched into the pretzel before I could take a picture so you'll have to settle for this one.




Don't these look delicious?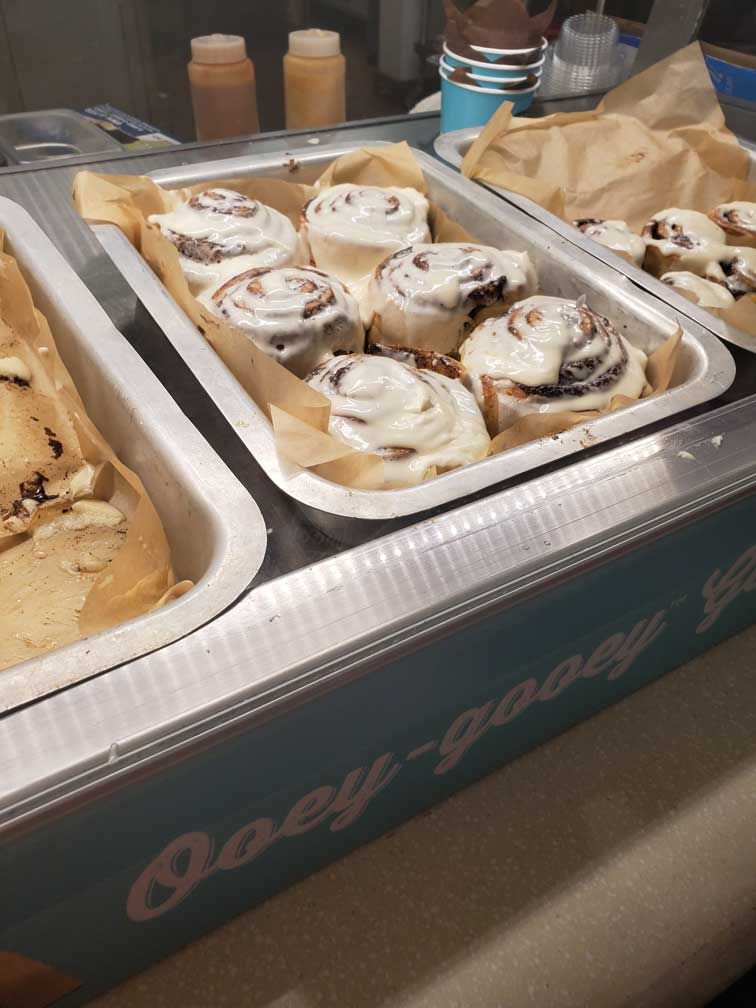 Then we were on our way to DME. Since it was relatively late at night, they just piled us into whatever bus was leaving soon. Unfortunately kids had already filled up the first four rows, so we had to go quite a ways back, which is difficult for Fran, and especially for me as I was carrying a saxophone, a double clarinet case, a purse and a water bottle. Neither of our instruments would fit in the upper compartment so we had to hold them on our laps the entire trip to Disney. It was a pretty full bus. I would have moved to another seat, but they were all full around us.


Our first stop was Art of Animation and more than half the bus emptied off there. I took the opportunity to move to another seat and get Fran's clarinet off my lap. She didn't want to move anything so she just stayed in position until we reached our final destination. Next stop was Pop Century, and almost the rest of the bus emptied out. The bus driver tried to take what would have been the normal route from that resort to the Beach Club, however the road was blocked off just past the entrance to the Boardwalk with numerous emergency vehicles blocking the road, so we turned through the Boardwalk resort and headed back out to the road to take the long way to the Beach Club. Later it would become clear exactly what had happened.


We were finally "home" and once again loaded up the scooter with her carry on, my saxophone, and her clarinet. Then we each grabbed two suitcases and I grabbed my carry on and we showed ourselves to our room. No bellman to tip. Sometimes we can be cheap.


We were again in room 130. The accessible one bedroom on the first floor. I feel like its "our" room. In the room we called for our groceries and Owner's Locker. I called to order the pizza and started to unpack the suitcases.


The bellman arrived with our groceries and Fran had put the local news on the TV. As the bellman was bringing in the groceries there was a story on the news about how the Skyliner had an accident and suffered a shut down, they didn't report too many details, but the bellman couldn't help but chuckle and commented, "Already?" I realized that was probably what the emergency vehicles near the Boardwalk were doing there as well. They probably needed to block off that road so that first responders could get to the people stuck in the gondola cars and get them down.


Back in the room, our pizza arrived pretty quickly from the time I ordered it. There were three choices of pizza, which one do you think we got?




It was really good for room service pizza. Lots of bacon crumbles on it! Then we split the Cinnabon cinnamon roll.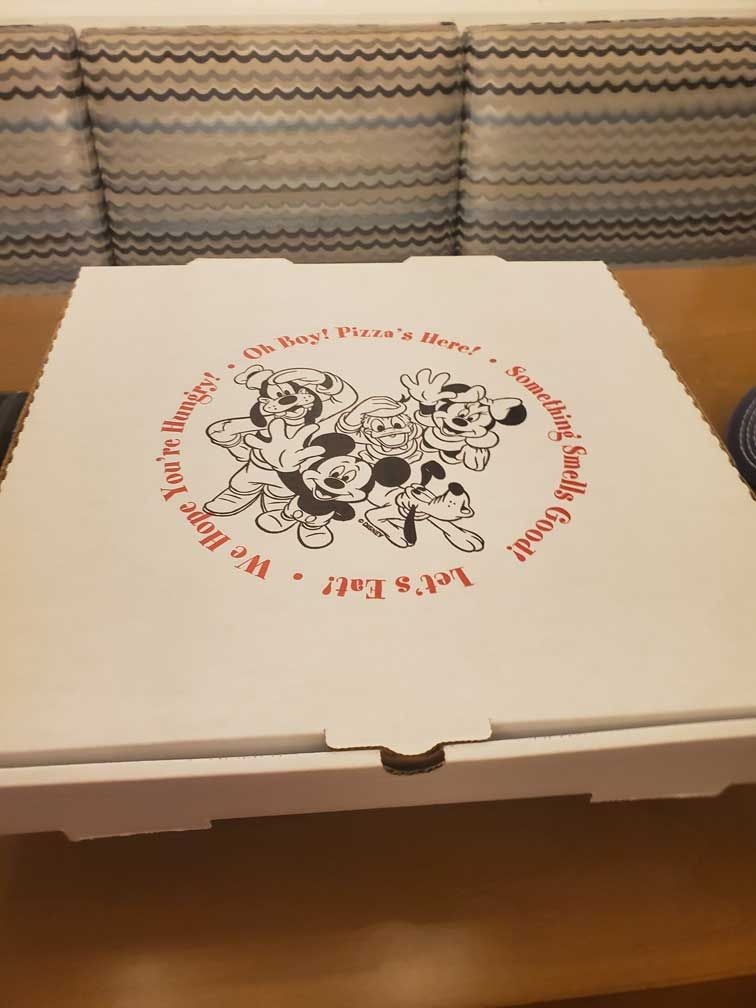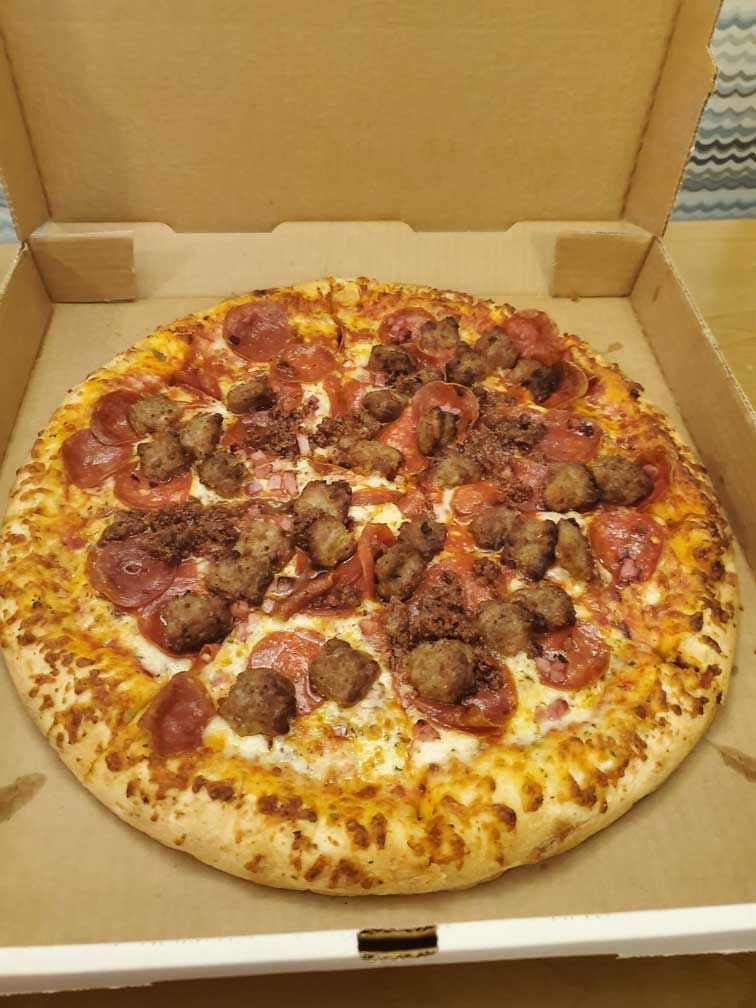 I got some ice and prepared my water bottle for the night and helped Fran get situated before taking a bath. This was a glorious bath even without jacuzzi jets. You see my tub has been down for months now. The spigot started to leak a while back and the regular plumber couldn't fix it. Eventually we got the installer to agree to fix it, but they have been slow to respond. They could have come out the day before we left on this trip, but I didn't think it wise to schedule maintenance workers on what we know is already a problematic day for us.


I fell right asleep once my head hit the pillow. It may have been late for Orlando, but for home it was still early so we were doing good for adjusting to the time change. Sometimes we can't fall asleep until 2 or 3AM so midnight was pretty good.
Last edited: