I'm so happy, I could BOUNCE!
Last day of the the conference and The Long Way Home.

OK, bear with me. Due to the lack of pictures I've chosen to just wrap it up here. This is a long one so I hope you can make it through...I'm not even sure how I did!


Day 9


Another morning with a 9AM meeting. This is the final meeting where we vote on all the upcoming conferences, new board members, and we get to hear about upcoming fun stuff. We actually were done 15 minutes early!

There was this gentleman who had been trying to track me down all throughout the conference. He wanted to meet for a few minutes and said that he "had something for me." I had been very curious but our timing just didn't work out for the past couple days. Since I had a few extra minutes he stopped by our (completely trashed) hotel room. It turns out that he is a member of the Houston band. In preparation for the 2017 conference (which was cancelled by Hurricane Harvey), he had written a book on the history of conferences for the first 35 years.

In 2016 I had posted a random post on the event's FB group about changes in societal thinking over a period of 10 years. He had copied that entire post and included it in his book giving me credit. So he wanted me to have a copy of the book in return for giving him that one little quote. It was very sweet and rather touching.

I thanked him, but then had to throw him out of the room cause Fran and I had to get dressed for the concert! He wasn't a delegate so he hadn't been in a meeting for the last two hours and was already dressed!

Once we were ready, we headed to the hotel lobby where they were loading the buses to take us to the concert venue. We were on the first bus (for the red band, the green band had already been on the way for over an hour) and it was a good thing we got there early. The stage was a little tricky for Fran to get up there. We had to figure out the logistics of where she would park the scooter, and how to best get her into her seat. It's not easy moving 100+ people off a stage while moving 100+ people on in a timely fashion. Our hosts really had the logistics worked out well!

Here we are in our sound check.




Afterwards we were treated to cheese and pepperoni pizzas in the "green room."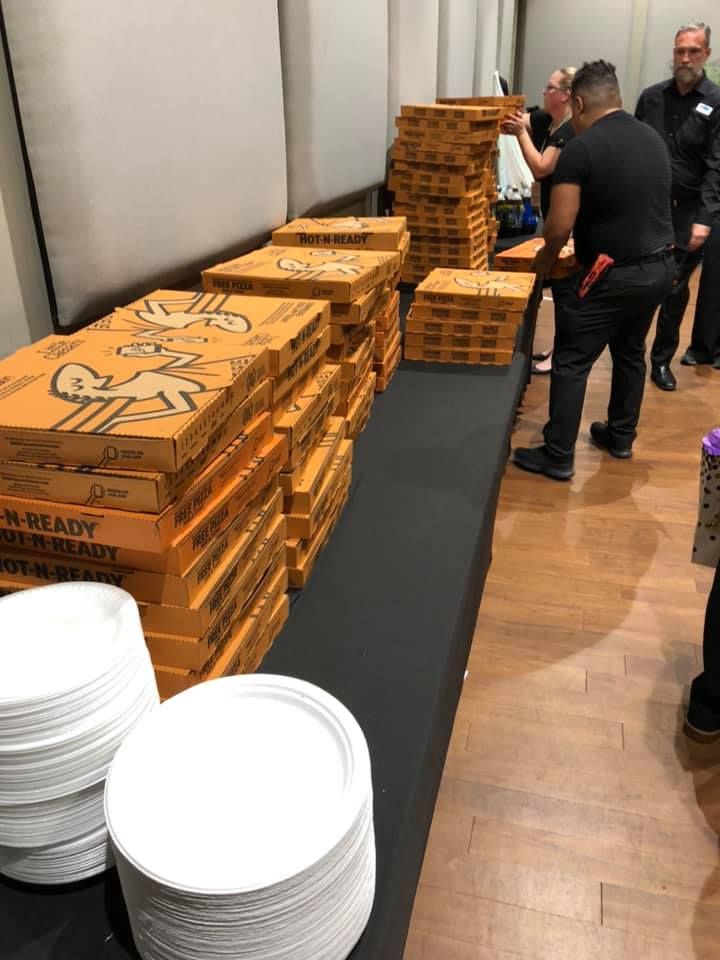 Pretty soon it was showtime! I've only got a picture of our band, but there were two others (a jazz band and the green concert band) who performed before us.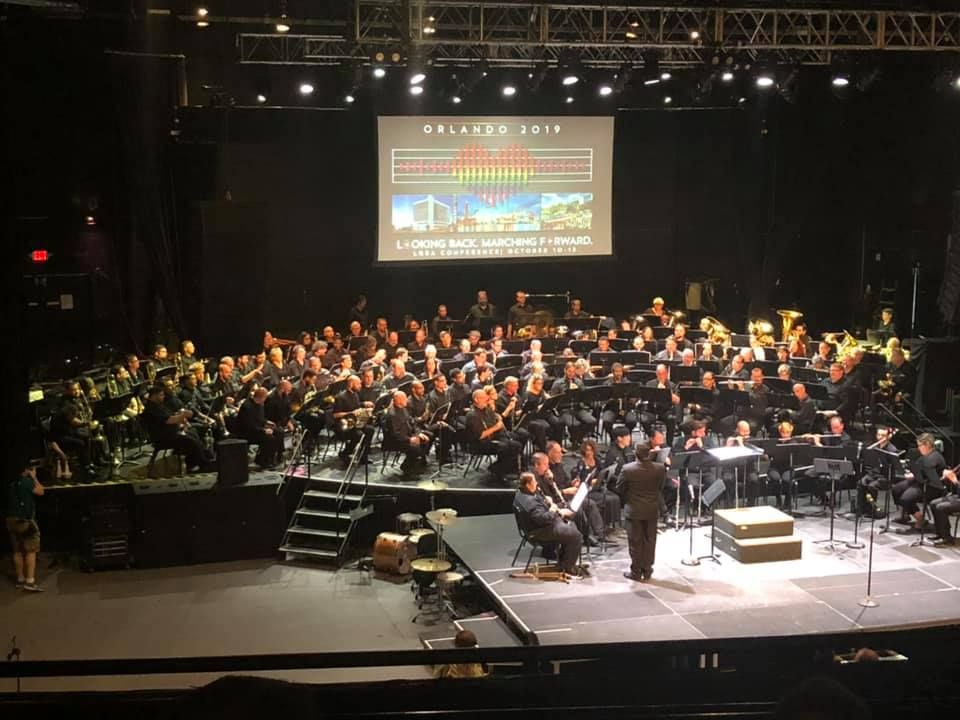 Here's my saxophone section!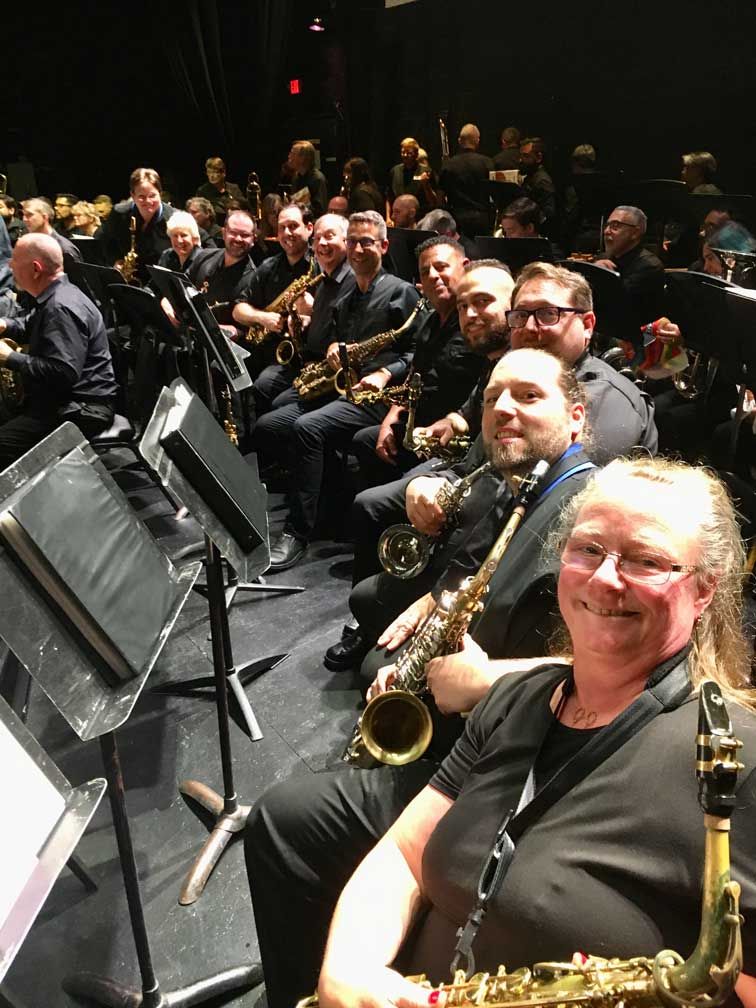 Pam and her mom were in the audience and they loved the show. Fran gets a little star struck when we work with notable composers, and on this concert we had two different composers with World Premieres. She was able to get one of them to sign her music after the concert and was thrilled!

After the concert, while the rest of the band members got in the buses to go back to the hotel and on to the after party, Fran and I went with Pam and Jeanette. We loaded her scooter into the back of Pam's car and went off to a little Greek Restaurant I had found on Google Maps.

We started off with Saganaki, but it wasn't flaming when they brought it to the table. Fire hazard, maybe? It was served with Pita bread and was very yummy.




Fran got a pork Souvlaki sandwich with fries, she seemed to like it as she ate the whole thing.




I got a Gyro sandwich with rice pilaf. So good and soooooo much food! I didn't finish. You can also see Jeanette's sandwich in the back, she got the same sandwich as Fran but asked them to substitute hummus for the pork.




Pamela got an Aegean Salad and the roasted potatoes. She also joined the clean plate club.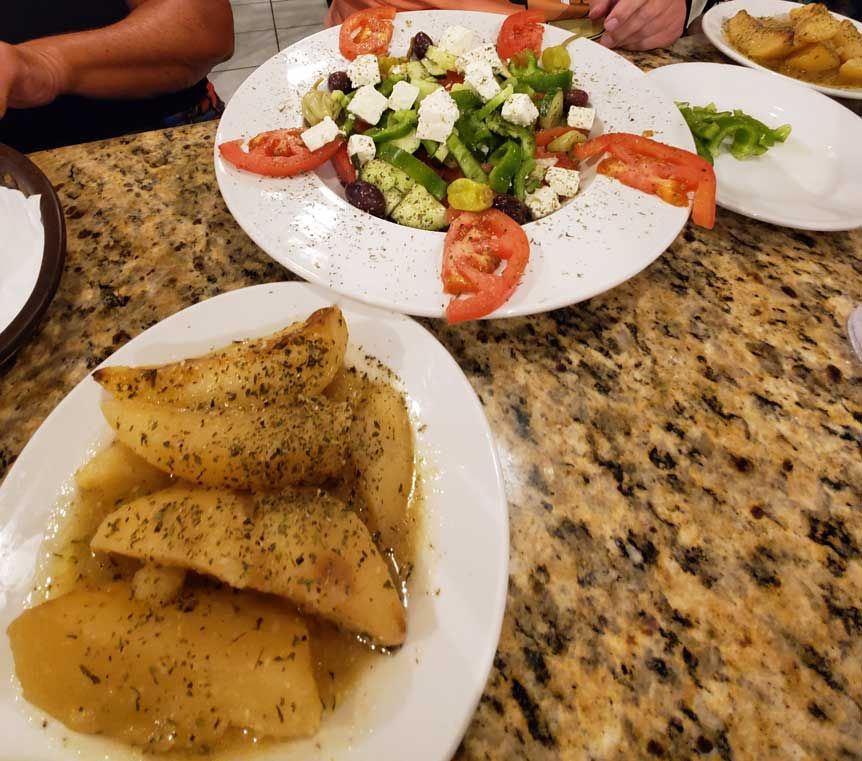 The restaurant closed at 8PM and we had gotten our orders in just before the kitchen closed. It was clear that they wanted us out of there, plus Fran and I had a lot of packing to do. So we said our goodbyes for now, and actually we will be seeing them again in just a little while.

When we were back in the room, Fran got right into bed and promptly fell asleep. I had already packed one suitcase while we were at Disney, so I packed up two more and decided to go to sleep. We had a late flight and didn't have to be out of the room until check out time, so we could easily wrap it up in the morning.


Day 10


Today was our first in four days that we didn't have a 9AM commitment so I didn't rush around, but I told Fran that I wanted to go down to breakfast at 9AM, she countered with 9:10AM, and we left the room at 9:20.


I had my standard "make it yourself" waffle, bacon, juice, and fruit. As we were wrapping up our meal, Justin (our Conductor) came by our table to chat about what he'd been up to all weekend. At some point he said that he needed to get back up to the room to finish packing as his flight left at 11:50.

We were all done packing by 11:30 and right about this time Justin called to say he missed his flight. I'm not sure what he thought we could do, then again he treats us like his moms.

Down in the lobby, our driver was already outside and we loaded up for the trip to the airport. On our way to the airport Fran read an article on her phone that the Skyliner would be reopening today. Go figure.

Once at the airport, we had plenty of time, our flight wasn't until 4:35PM, so after checking our luggage, we perused the shops. At the Disney store there CMs were pin trading but we didn't have any pins. I don't know how Fran got in her discussion with the CM, but she was telling him about our new car named Pascal, next thing I know he's giving her his Pascal pin!

We moved on and came upon one of those chair massage places. She said she would happily wait if I wanted to get a massage, so I had a 20 minute back and neck massage. Life was pretty good.

We decided we might as well head to the satellite terminal and went through security. We got on the fake-o-rail and began speeding to the terminal when I realized we were on the one to gates 77-100. Our gate was 107. Still off my game. So we stayed on the train, went back to the main terminal and crossed to the other platform where we got to the right place. We were hungry by this point, so I got a two item chinese combo, and Fran ordered a sub sandwich. She was going to share it with me, until I saw them heap on those peppers they use in giardiniera, blech! It was all her sandwich now. She thought I could just pick them off, but they have a sauce that permeates the entire sandwich and tastes icky. I still shared my Chinese with her while we waited to board the plane.

Once onboard we got settled with our electronic devices, playing games, finishing up my trip notes, etc. We taxied out to the runway and soon it was our turn to go. After an unusually long time, the captain came on the speakers and said we needed to be towed back to the gate, the second engine wouldn't start and we needed an "air start" or something like that. Fran and I took it to mean they would be jump starting the plane. The pilot also explained that this engine was also in control of the AC, and once they got it started the plane would cool down. At this point he gave any passengers who wished to leave the plane that option. A few people took him up on the offer.

Back at the gate they tried the air starter, it didn't seem to work so they said that they would bring a different starter over. It was at this point that I started calculating at what time we would have no hope of making our connecting flight in Vegas. We had a two hour layover so we could leave up to an hour and a half late and still have a prayer of making the connecting flight. The second air starter thing didn't work, and Fran texted Justin that his bad luck was spilling over onto us. Little did we know that he made the stand by flight AND got bumped up to First Class.

When the third air starter didn't work it was 6:30PM, everyone on the plane was hot and sweaty, and passengers started yelling things about a new legislation that Congress passed that they couldn't keep us stuck on the plane.

So we all got off the plane. They made an announcement that there was a plane coming in from San Juan that we could commandeer to get to Vegas that night and once inside the terminal we could discuss our options with a gate agent. The line was huge by the time Fran and I got out of the plane. It was near 7PM, and they announced that if Vegas was your end destination, you need not wait in line. There were three clerks helping people and as it approached 7:15, I noticed that two of the clerks were still helping the same two people that they were helping when I was six feet back in the line. Another 15 minutes went by and the same people were being helped still. When I first got in line I had set Fran up next to a charging station and plugged in all our phones and tablets. While we were in the plane, we had nearly drained the batteries, and for whatever reason, the percentage of charge wasn't budging.

The flight from San Juan landed and the passengers unloaded. Now the flight to Vegas was showing an 8:30 departure time. While in line, I learned that the passengers going to Sacramento were being offered a hotel voucher in Las Vegas and a credit on a future flight.

It was nearly 8PM when I finally got up to the counter. They were giving us two options, fly to Vegas, sleep there, and catch the first flight to LA in the morning, or sleep in Orlando and catch the first flight through wherever to LAX. The hotel in Las Vegas where they would put is up was South Point Casino. We like that place, I could just see Fran walking in there and heading right to a blackjack table, even though we only had $100 cash on us.

If we slept in FL, we could go to the hotel now, so we took that option. So we took the voucher for the hotel and a future flight. I blocked out our names and part of the number, but these babies are slready used up as of three months ago!




The agent immediately picked up the phone to try and get our luggage before it was loaded onto the new plane, and see if he could get Fran's scooter as well. I'm sure glad that I took two full weeks of medications with me and not just the 9 nights I thought we would be staying.

Of the four suitcases they were able to get two of them, the other two were already loaded in the belly of the plane. When I pack for going on trips, I pack in case one of the suitcases gets lost on the way. I put equal amounts of underwear for both of us in each case, I spread the clothes out equally as well. I realized that for the trip home I had neglected to distribute my clothes equally. In fact, when we got our suitcases, we had the one with all the dirty clothes in half, and the one with all our Disney stuff.

We went to the pickup location for the hotel and waited about 15 minutes for the shuttle. By the time we were back at the hotel and checked in it was already quarter to 10. The restaurant in the hotel closed at 10 and the bar was open until 11:30. We dumped our luggage in the room, put our electronic devices on chargers and headed down for dinner. Since we had no camera, only our phones (which were charging in the room), you'll have to believe me when I said that I had two glasses of Kendall Jackson Chardonnay, and we split a Reuben sandwich, a bowl of French Onion Soup and a Caesar salad. It turned out that I actually had no clean underwear in the two suitcases that we had, but luckily since I had dirty clothes there was some underwear. I washed it in the sink with shampoo along with some nylons. We watched some TV before I finally drifted off to sleep.


Day 11


When the alarm went off at 4AM I felt like I was waking up from the hyper sleep on Mission Space. Almost no time had passed in the four or so hours I was asleep.

My underwear was still sopping wet, but Fran offered to blow dry it for me so I didn't have to go commando.

I got myself dressed and we were out the door and downstairs by the 5AM pick up time. Back at the airport we checked our luggage and headed to security. I don't know what the heck happened with Fran but she was found with multiple box cutters on her person and carry ons and for a while she was sort of in TSA jail. A police officer interviewed her and even came and talked to me. I was seriously freaking out and afraid that they were going to put her in handcuffs and take her off to prison for a while there. I won't say any of the other things going through my mind as they aren't at all appropriate for the boards.

Eventually they did let her go (sans box cutters) and we were able to head towards our gate. How did she get through security so easily the day before?????

I stopped at McD's to get our breakfast while she got her scooter all checked in. It was a very cranky day. Soon we boarded. How often do I get sunrise pictures when I'm not on the ship?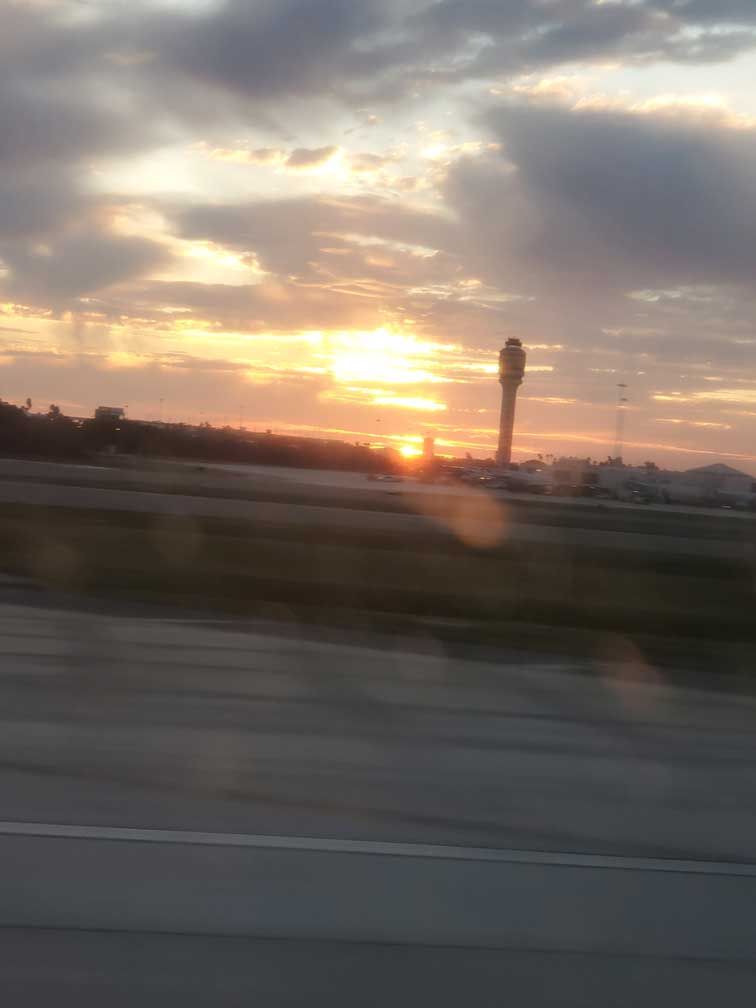 I tried to sleep. I tried sleeping sitting up, I tried to lay on the two seats with the end seat belt fastened, too uncomfortable. I tried to lay on the two seats with the middle seat belt fastened, also too uncomfortable. I tried to sleep sitting up again. Somewhere in there I probably dozed off for 20 minutes, maybe.

We had hit cruising altitude, so I gave up and I got out my computer. I actually had some band business stuff that I had to get done, so I bought the wifi and went to work. While online, I realized the the gate agent the night before had screwed up on our flights. He told us that we would be arriving just after noon, but in fact had booked us on the connecting flight that left at 12:30 when we should have been on the 11:05 flight. We decided to see if we could change flights cause that hour and a half would be very valuable on the ground in LA. We were already a day late getting home!

When we landed in Las Vegas, I grabbed my carry ons and hightailed it to the gate for the earlier flight. We landed in Terminal C and the other flight left out of Terminal B. It was quite a hike! I explained the situation to the gate agent. I also explained that we knew our luggage and the scooter would still travel on the later flight. She told me that if Fran could guarantee that she would be here in time for preboarding of the next flight, she would go ahead and move us to that flight for no charge. Fran had someone pushing her in a wheelchair and said that they would start on their way to the new gate.

Since it took me a while to get there, I took the new boarding passes and went to use the restroom. It had been a while since we left the hotel in Orlando. As I am coming back to the gate, she calls me and say, "Where are you? I'm at the gate."

I was like….."what??????"

Turns out, she told the guy pushing her that there was $20 in it for him if her got there in plenty of time for the flight.


We still had at least half an hour until boarding time. I didn't drink any coffee before the first flight in hope that I might sleep a little bit. Since that didn't happen, I was raring to go for a spot of Joe. There was an Einstein's Bagels in the terminal area, and we often go to a nearby one at home, so this seemed like a good solution for a snack and some beverages.

They didn't have any onion bagels (they never do) so I got Asiago, my second choice. Fran got her first choice of Blueberry, both toasted with a schmear of cream cheese. Sorry, no pics. I got a big cup of dark roast with cream.

And we waited to board our plane. Phones drained again, we found charging spots and hoped they might reach 50% before boarding time. On the first flight I had emailed for clarification regarding my project and since the guy rarely checks email, I texted him when we landed. He got back to me before we boarded so once on board, I was able to get my computer back out and finish my project. I emailed him the files and figured I could text him on the ground to let him know they were done and in his inbox. My computer had 28% battery and my phone was pretty close as well.

Once we landed, Fran was greeted by a wheelchair attendant. I told the person at the gate that we had luggage and a scooter coming in on the next flight and that we would be back later in the day to pick it up. She noted that in the computer and we headed to the next destination. Fran's job was to get the luggage that we hadn't been able to get off the plane the night before, and mine was to go find the car.

We were both successful and ended up having the luggage loaded into the car and leaving LAX before our other flight even took off from Vegas (if it ended up being on time).

The reason for our hustle? It was Trader Sam's Hatbox Ghost mug release day! If you were reading along last year, we waited four hours in line just to get them. This year they were not nearly in as high of demand. I guess people thought they were the same mugs, but no. Last year the face was on the ghost, this year his face was in the hat box.




We drove home and unloaded the suitcases. We changed shirts cause we wanted to be wearing the T-shirts from the conference for rehearsal that night, we grabbed our folders for band rehearsal tonight (our instruments were already with us) and hit the road for for the DLH.

Since she didn't have her scooter, she had to walk to the room where they were selling the mugs. It took her quite a while to get there and by the time she walked into the room she was really tired. We bought our obligatory mugs, then went to the Fantaisia store for the pins and ornaments. She ended up deciding not to walk back to the car and having me bring the car up to the valet area where she got into the car. At that point we got some grub from JitB and then navigated our way back to LAX to get our bags and the scooter. There was some controversy between us regarding this decision but in the end I think it was for the best.

We made it to band in the nick of time and because it was our last rehearsal before the concert Justin kept us later than usual. By the time we were done we had been up nearly 22 hours and still had to drive home. We got home around 11PM and by the time I fed the cats and we ate some Stouffers frozen entrees for 2nd dinner it was nearly 2AM. We had been up for nearly 25 hours.



Day 12


There is not much to report, but it will segue nicely into my next bonus feature. There was an appointment scheduled between 8-10AM to repair my tub, I got up, showered and dressed and then laid back down in bed. At 8:15 I got a call that the part they had found in their warehouse was defective and they would have to reorder the part and reschedule. By that point I didn't care and pulled the covers over my head and went back to sleep.

I was able to get another hour of sleep and I woke up feeling much more refreshed. At least I was surrounded by kitties in bed. They had forgiven us. I had a full day ahead, two full days actually! And to think about it the whole week was pretty hectic. I didn't actually "make" dinner for over a week after we got home. We ate out, frozen entrees, or takeaway which is highly unusual. But we were home.

By the time I get to this part of the TR, I suspect that we will have a trip to WDW planned, and no doubt I will have ADRs and maybe even FP planned.

And that's true, in fact I leave in 4 days!

Thanks for reading all the way through the boring parts with no Disney as well.

The bonus features will begin right here, but possibly not until I get back from WDW. Then again it's already written so if Fran slows me down leaving the room there may be time to post!