I'm so happy, I could BOUNCE!
So it seems that every chapter here I am prefacing with why I've been AWOL, but this time it's been worse than before! You see I had that lovely little 4 day weekend at the Grand, that I may write about someday. However upon returning, I had to begin preparing the nightmare we call home, into something where my parents could stay comfortably for a week. We concentrated on three key areas, the bedroom in which they would be staying, the table where we would be dining, and the portion of the living room where they like to sit. It took all week, but we got those areas clean.

We had purchased tickets to a show out in Palm Springs (months before) for the night before my parents arrived, and had also reserved a hotel room (since it's kind of a long way there and back). We had a late lunch, went to the show at 5PM, and were in bed asleep by 8PM that night from the sheer exhaustion of the week before. It worked out to our advantage because we actually got a good night of sleep, and were on the way home by 8AM the next morning.

We had a nice week with my parents, cooked up at storm, and had some good food, and fun time. Once they left, it was only three days until my next DIS friend would be arriving (well two, but we weren't meeting up until Thursday.) We had two days out at Disney filled with fun!

However, that week was incredibly hectic. We had two band rehearsals that week, it was also Tiki mug release week, thank goodness there were not four hour long lines! And then after the days at Disney we had a Christmas concert to play.

All the while, our eBay store was going crazy! For the second year in a row, we are selling off our Christmas ornaments, and Christmas music from our old music store. Some days I've been shipping a dozen orders!

The following week another DIS friend came to town, but we had to catch up on eBay before we could head out to Disney, and we barely got caught up! We had a blast at the various bars and lounges there, and our time was over too quickly again.

And then the last week was somewhat lost to fighting off a cold, and still more eBays. Fran was hit hard with the cold and while she slept most of the week, I was working on keeping well, and shipping out all our music and trinkets. Friday I finally caught up, and she decided to help me out by driving me to the Post Office and FedEx. Mostly because she had been cooped up in the house all week.

As I came out of the FedEx office dropping off the final packages, Fran says to me, "You're not caught up anymore. Someone just bought four pieces of music."

While our bank account is enjoying the additional funds, it's tiring to be packing up stuff at this pace. As I write this I have at least a dozen items which need to go out. Whether they go tomorrow or the next day remains to be seen, they're not getting them by Christmas at this point.

This holiday season has not seemed like holidays to me. I haven't put up any decorations, I haven't baked any of my traditional holiday goodies, the most I've done is worn my Disney holiday T-shirts!

Well, let's hope that life mellows out soon, and that the vacant apartments get rented! No one wants to move over Thanksgiving, Christmas and New Years, so hopefully we see some movement there in the New Year!


Happy Hanukkah to those who celebrate! Merry Christmas to all who deem it appropriate! And if Kwanzaa or Festivus are your things, then enjoy those!
On with the Trip Report!


Day 3


No problems sleeping so far this trip! I woke up at 7:30, which was a little later than I had actually wanted. We needed to be on our way by 9AM, so I had to hop in the shower and go, go, go! We targeted being out the door by 9AM, and we were on the way at 9:14, not too bad! Just as we were approaching the bus stop a MK bus was pulling up.

We put the tillers to the rubber and luckily the attendant was able to let the driver know before the bus filled up and we were able to be loaded on. It wasn't even full, so no one glared at us for taking up seats on the bus.

At MK we breezed through security and were on the Resort monorail in no time. Soon we were at our destination checking in for breakfast, and it was only a matter of time until Strawberry soup!

When we were seated, the Mad Hatter was at the table nextdoor and as he was going to approach Pooh came to the table, so we took a few shots.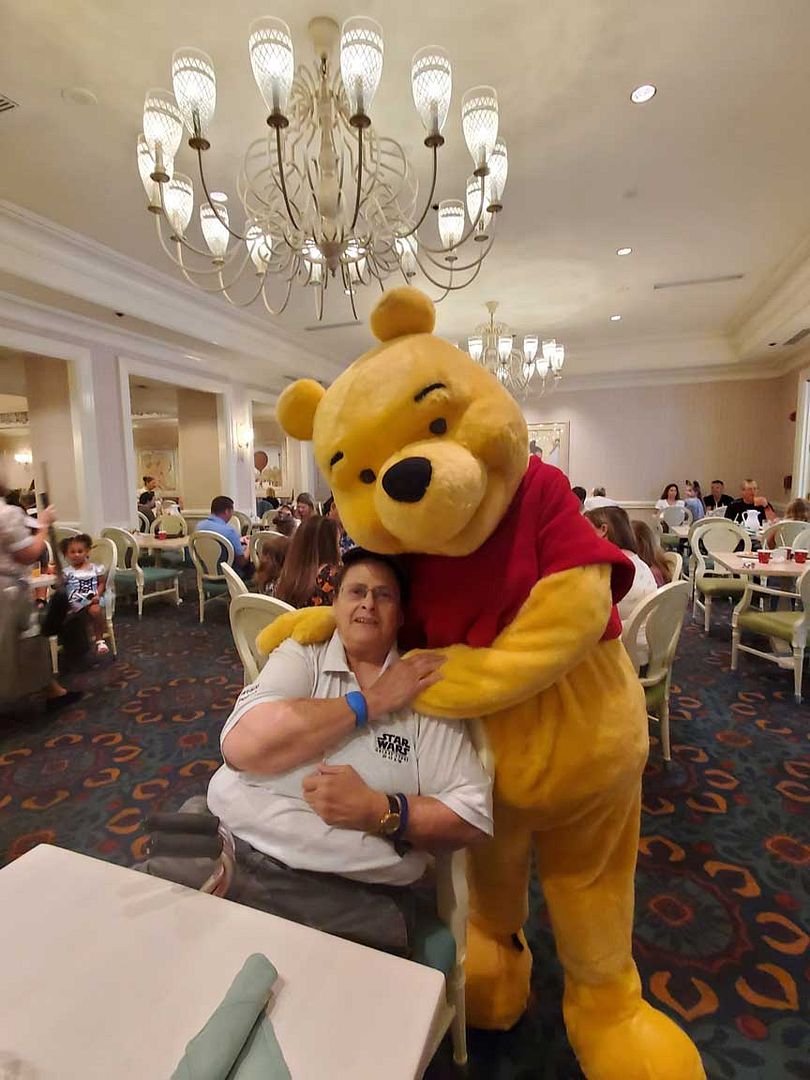 I got Fran a bowl of strawberry soup and went back for my first plate.




A breakfast burrito, some bacon, and a Mickey waffle. While I was gone, the Mad Hatter came by and Fran asked him to come back since she knew I wanted pictures with him.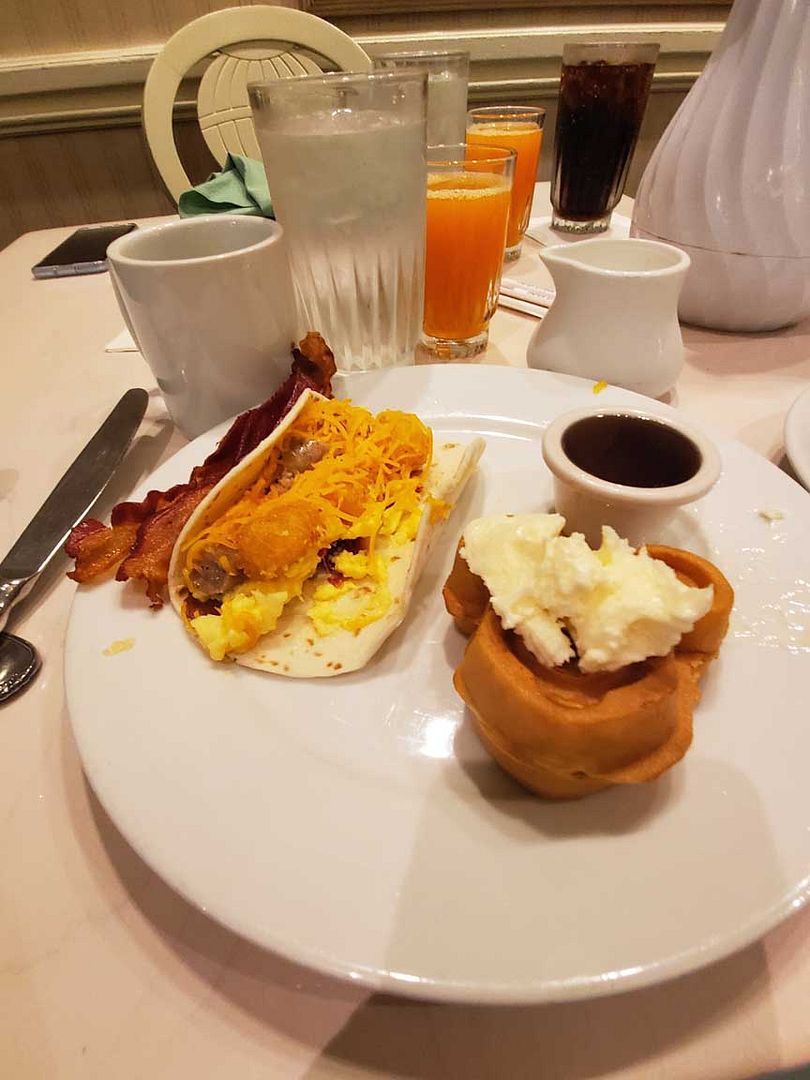 Fran went up to get some breakfast and the characters started coming in rapid succession. First Mary Poppins. I tried to take a selfie with her, but I suck at selfies.




One of the CMs saw me struggling and came to the rescue and got my picture with Miss Poppins.




No sooner had I sat down to enjoy my breakfast when Alice showed up. This time the CM was ready for me and came rushing over to take my picture with Alice.




Then the Mad Hatter showed up and started giving me a hard time about where Fran was. Right then she walked up with her full plate. I snatched it away from her and put it on the table. This was the third time that the Mad Hatter had come back and by now they were old chums.




We got some shots with her and Alice, and the Mad Hatter suggested that they become girlfriends. At which point I thrust my wedding ring into his face and said something like "Take note of this!"




To which he exclaimed, "You're married! Well congratulations!" And gave me a big hug. Then he muttered something to the effect of, "well I didn't really mean girlfriends like that anyways." And then we took a few pictures.




In all the commotion I didn't get a picture of her plate of food. Here, use this one from a previous trip.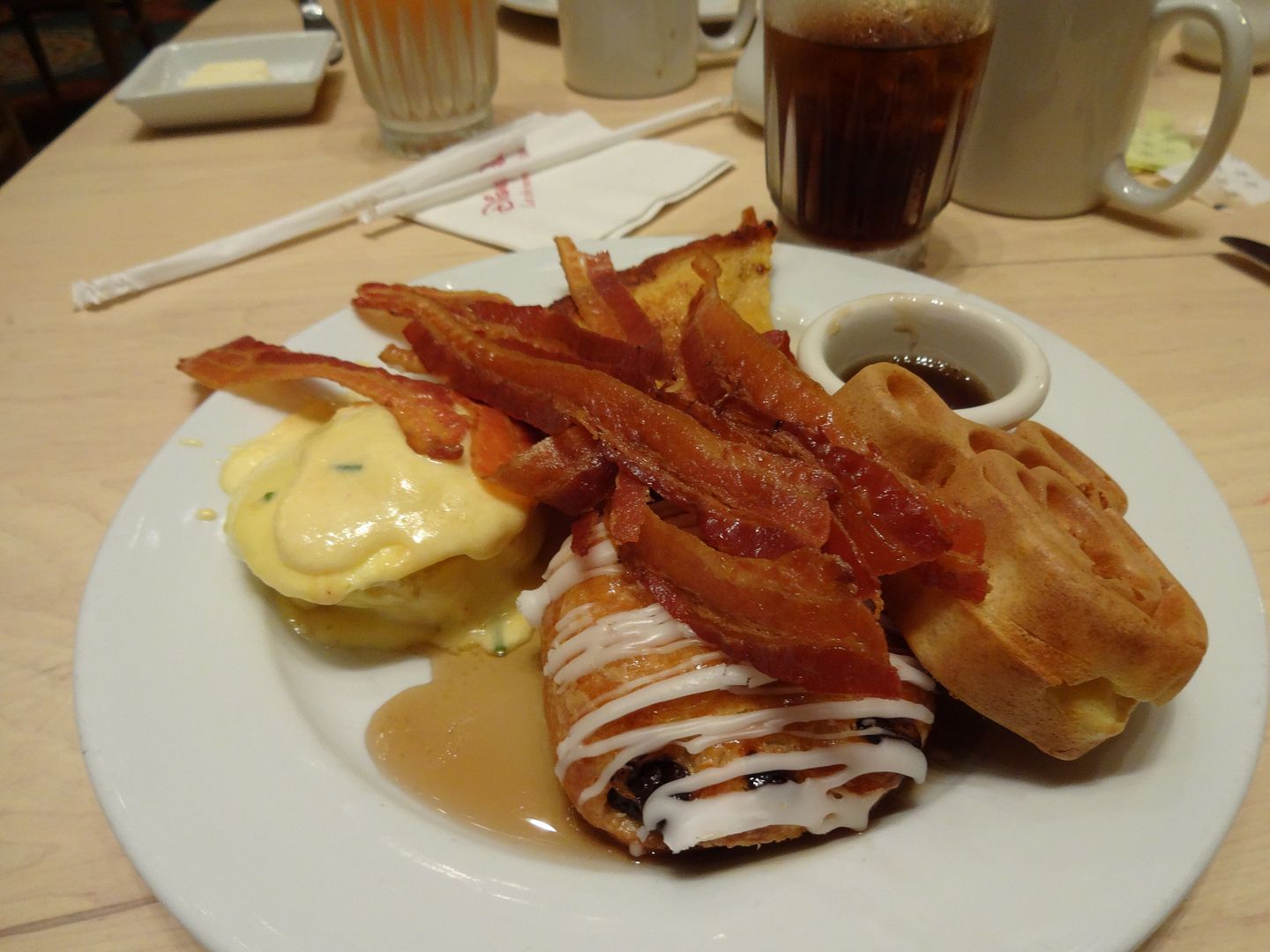 Or this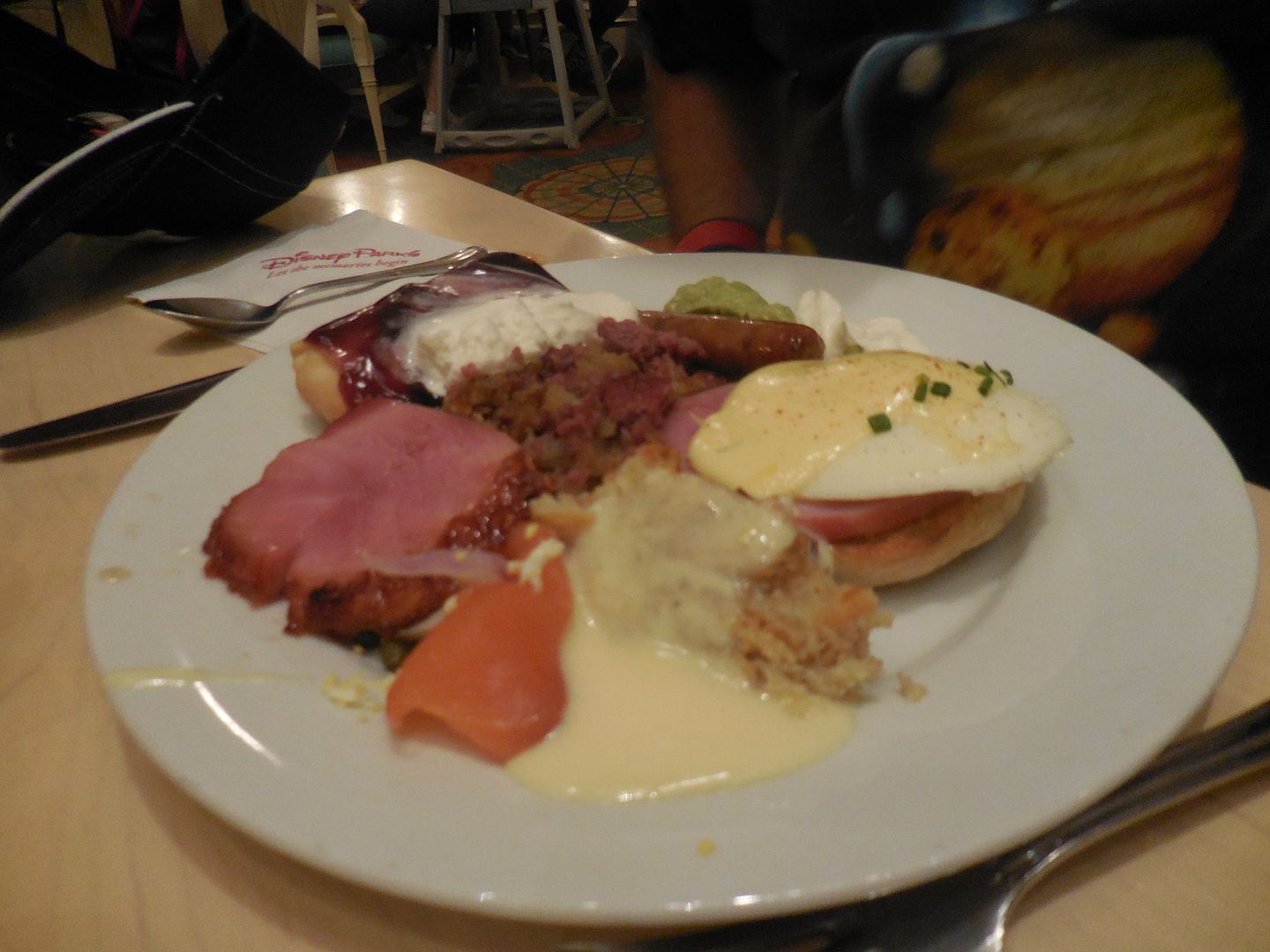 You get the idea, she likes to pile it on. After that I went to get my fruit course. A little strawberry soup and watermelon. Sadly I was getting pretty full, I let her have about half the soup and I just left one piece of melon on the plate.




I had to finish off my breakfast with the bread pudding, and I heard them call for a new tray of it just as I walked up to the counter. Fran asked me to get her a biscuit with some gravy.




So I brought that back to the table and by the time I got back to the buffet they were just putting out a new tray of the stuff. I love this bread pudding with the vanilla sauce!




We stopped for a picture with Tigger and then were on our merry way.




Now originally we had planned to spend this afternoon at Epcot, but less than a week before this day I received a message from someone whom introductions had been made through a mutual friend. Fran and I were invited to join in on a VIP tour that was already planned. We were going to be starting with Galaxy's edge and then going to AK and MK. Well I'm certainly not going to turn down such a generous invitation! I scrapped the plans for Epcot and immediately got on board with the new plans! We headed to the bus stop after breakfast just to see a completely full bus to Hollywood Studios. There was a family with a disabled child in a stroller on oxygen that was unable to board since the bus was so full. So we waited.

The next bus arrived, and since they couldn't take three of us, we asked if they could send another one along. We waited and 10 more minutes went by. We were starting to think we needed to text our host that we were probably going to be late when all of a sudden an empty bus for the studios pulled up. When we arrived at the Studios, you could see the now out-of-commision Skyliner.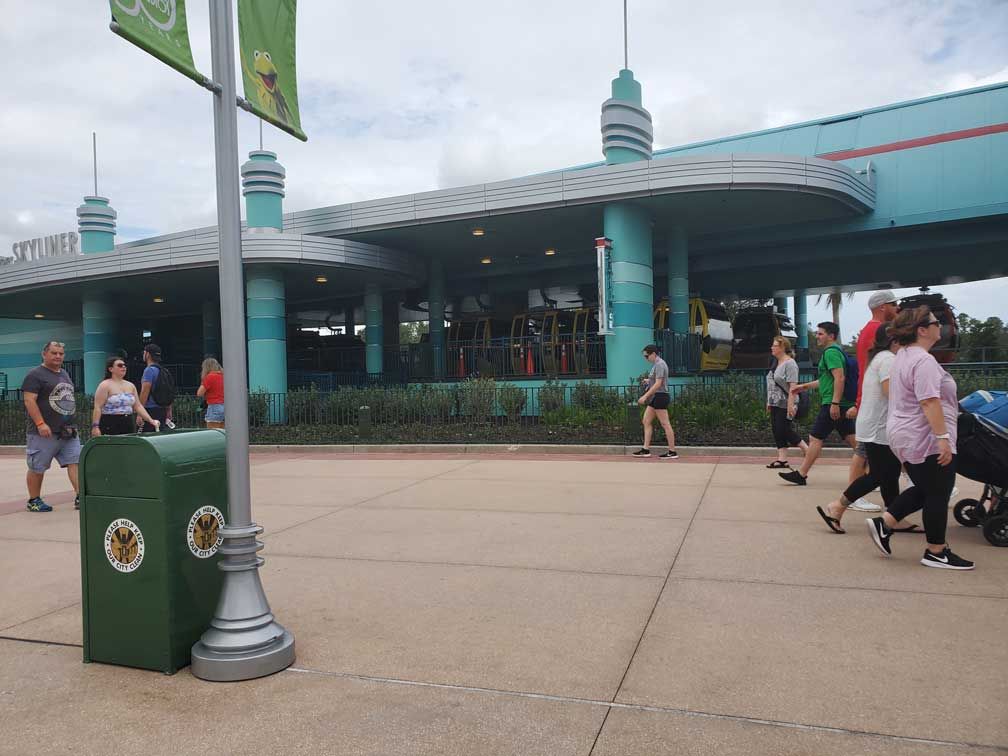 We were going through security 10 minutes before the tour was supposed to start. Just as we were going up Hollywood Blvd our new friends met us in the street and we all exchanged pleasantries.


Soon we were off to our first stop which was Batuu. I parked my scooter outside the ride and Fran rode hers inside the ride. When we rode the Falcon, there were six of us in the group so we got our own team. For my very first time, we got two canisters of coaxium! This was my first time to get two, I only found out that you can get a second one a few weeks ago when we rode it with Su-Lynn.

Our guide told us some neat facts about the stuff on the wall here. I thought it was cool that although it was the same area as the one in Batuu West it was different. East:




West:




Next we went on to ride Slinky Dog Dash. I even convinced Fran to ride it. While in line, she wanted me to take a picture of the Slinky Cat.




It may have been a little too intense for her as the banked turns really bothered her, even if it didn't go upside down or anything. She doesn't look as happy as I do, more queasy.




Next we went on TSMM. She was amused that the outlets in Andy's room are not grounded.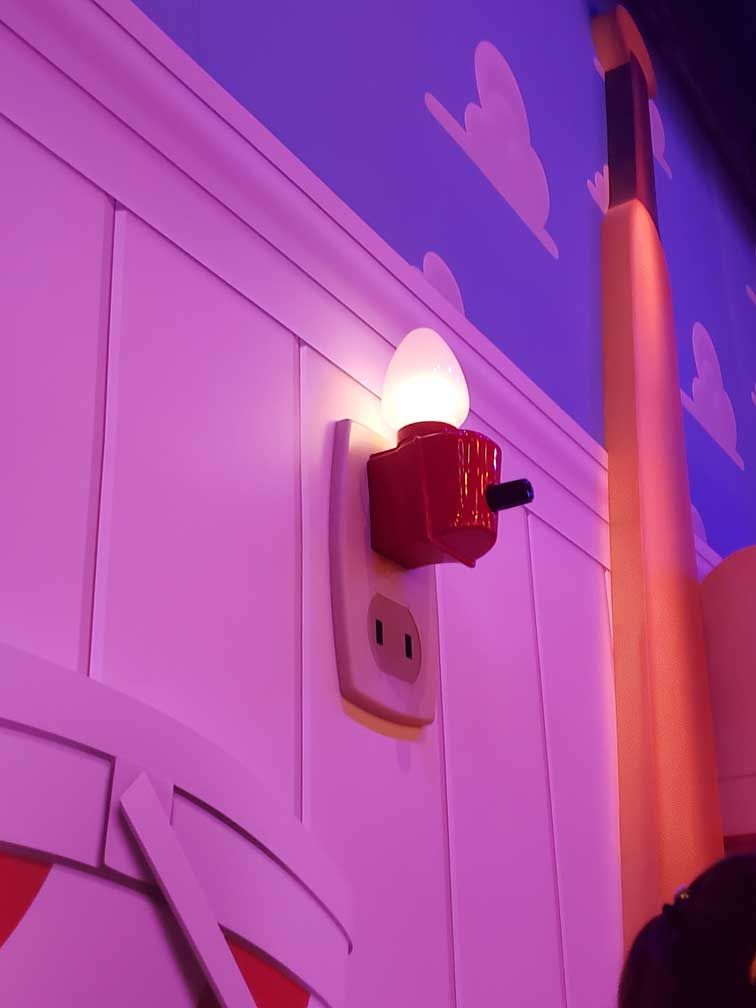 While I tried my best, I just can't seem to rise from beaverdom.




As we approached the ride exit we saw a crowd gathered not wanting to go outside.


It was raining.


Hard.


And I think I'm going to leave it off right there.


Be back again soon….Hopefully.
Last edited: