I'm so happy, I could BOUNCE!
Day 6


We had to be up relatively early this morning. We made a 9:30 breakfast reservation and the goal was to call the bellman at 9AM. I think I was up at 7AM putting the last of the stuff in suitcases. I kept badgering Fran to get up and I think it was nearly 8:30AM before she actually did get out of bed and started getting dressed. At 9AM she asked, "Shouldn't we call the restaurant and tell them we're going to be late?" But I assured her that we needn't do that for at least 15 minutes. She thought the reservation was for 9AM. We called the bellman at 9:10AM and though it took forever to get through on the phone, there was a guy at our door in less than 2 minutes.

The Bellman took everything, we asked him to hold all our bags and carry ons, while he should put out the owner's locker for pickup. Speaking of Owner's locker, I need to order it for our next trip! There was some discussion on my last TR about packing up the owner's locker. I mentioned that my Mom had no idea what was involved and a number of readers confessed that they had no idea either. So here is the Owner's locker as I sent it back to rest in it's air conditioned facility.




Now you may be looking at this and thinking, "that doesn't look so full!" However, what is missing from the OL, is my special contour pillow that I keep in there on the top! We still had five more nights of sleep, and without that pillow, I tend be a very noisy sleeper. We decided that we will just order a new one from Amazon on the next trip, or bring one of my spares from home. This one was not so pillow like after years of being cramped up in the OL 300+ days per year. I ended up ditching it at the next hotel and taking my pillowcase home with me.

Bags loaded and ready to move on to the next destination, we motored over to the Ale & Compass at the Yacht Club. We were just in time for our reservation and were seated promptly. There were a few options on the menu. You could choose any of the plated entrees. If you were really gluttonous you could add on the continental buffet at $23 for breakfast. This included breakfast pastries, fruit, oatmeal, sliced meats, basically what they serve in the CL at the Grand Californian. I make a breakfast out of those things alone, much less needing an entree to go along with that much food. We opted just for a plated breakfast. She got the Eggs Benedict. She definitely enjoyed this and practically cleaned her plate.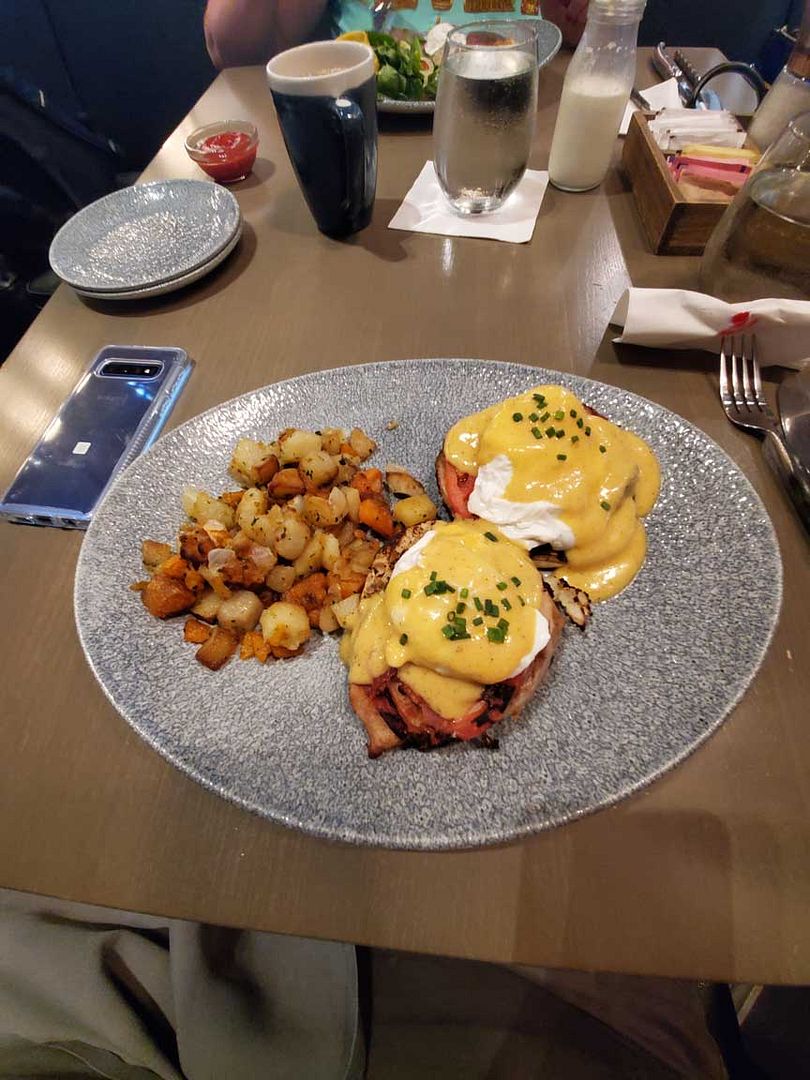 I got the open faced skirt-steak sandwich. The meat was cooked perfectly and I loved my meal. Towards the end I had to give up on the bread and try to concentrate on just finishing off the meat. In the end Fran had to eat my last little chunk of meat.




We threw in the towel, paid the check and headed off to meet our ride via the gift shops in the two hotels. We did pick up a fruit and cheese plate to take with us in case we got hungry. We had arranged to meet the pick up person for the rental scooter at 11:30AM, and just as they came to pick up the scooter, I got a text from Mears that our vehicle had been dispatched. They had a neat app where I could watch the vehicle in real time. When they were getting close I had the bell staff retrieve our bags and they helped to load up the van.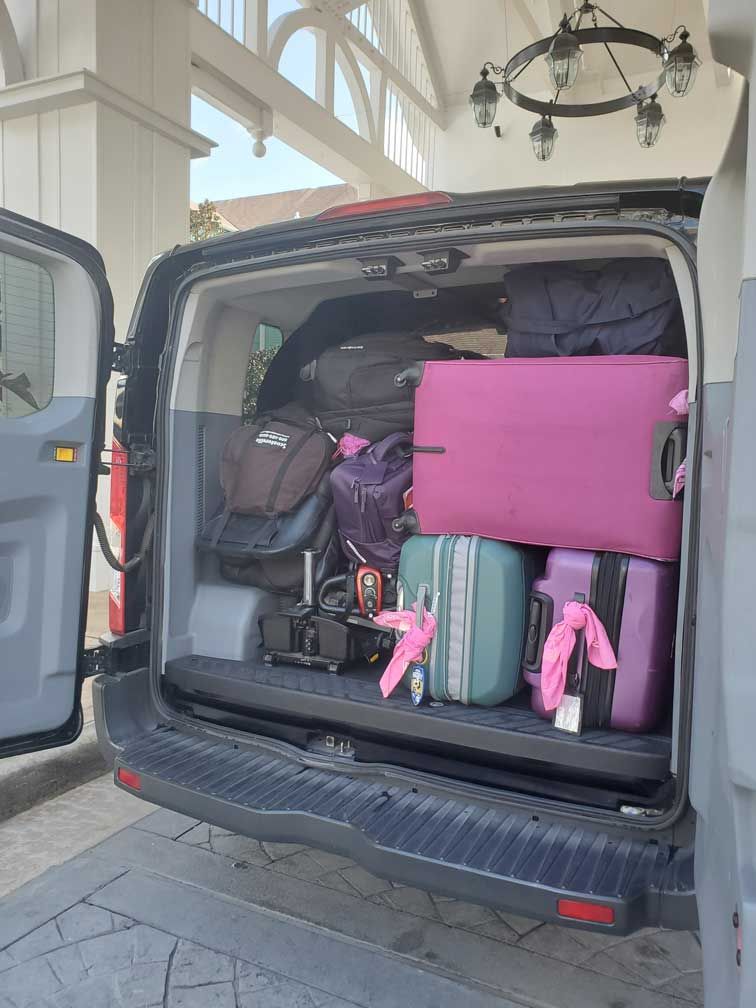 And our Disney time was over. We were on our way to the next phase of our trip. I won't bore you with the blow by blow details of this portion of the trip. Our room wasn't ready when we go there around 12:30. Our first rehearsal started at 3:15 and we were still homeless, so we ate some of our cheese and fruit to tide us over. If you look carefully at these two pictures, you can spot me in both and Fran in one. Consider this your "did you see it?" for this update.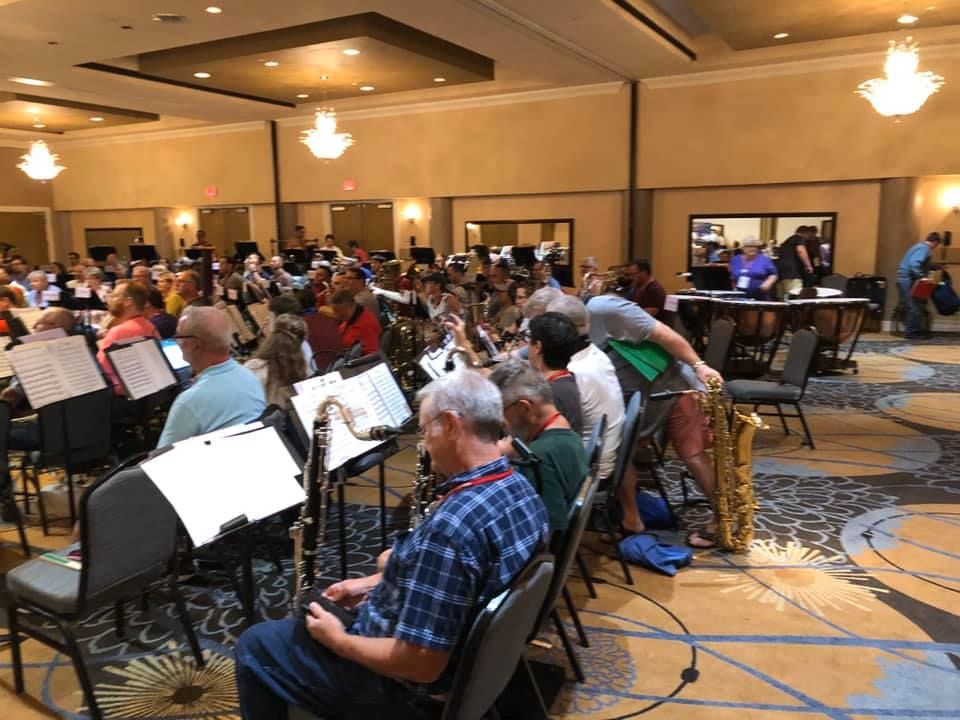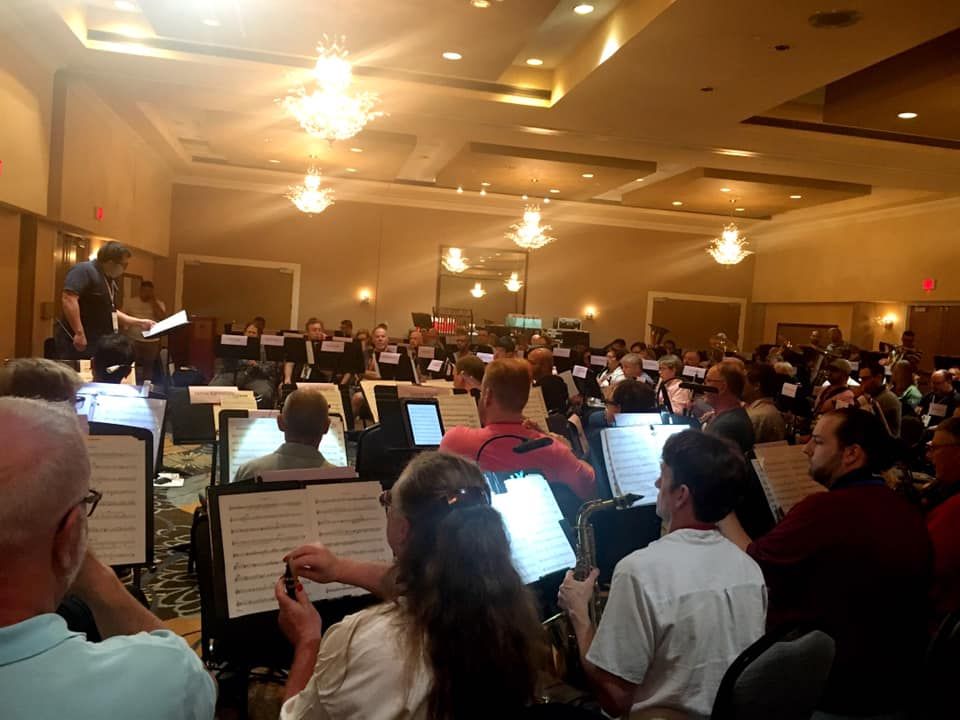 Finally when rehearsal ended at 5:30 they had a room for us. We got settled in for a few minutes and then headed out to dinner. It had been a long time since breakfast.

I wasn't so sure about this hotel, especially when I saw this outlet where the TV and lights were plugged in!




At some point during the day, the drumline held a rehearsal.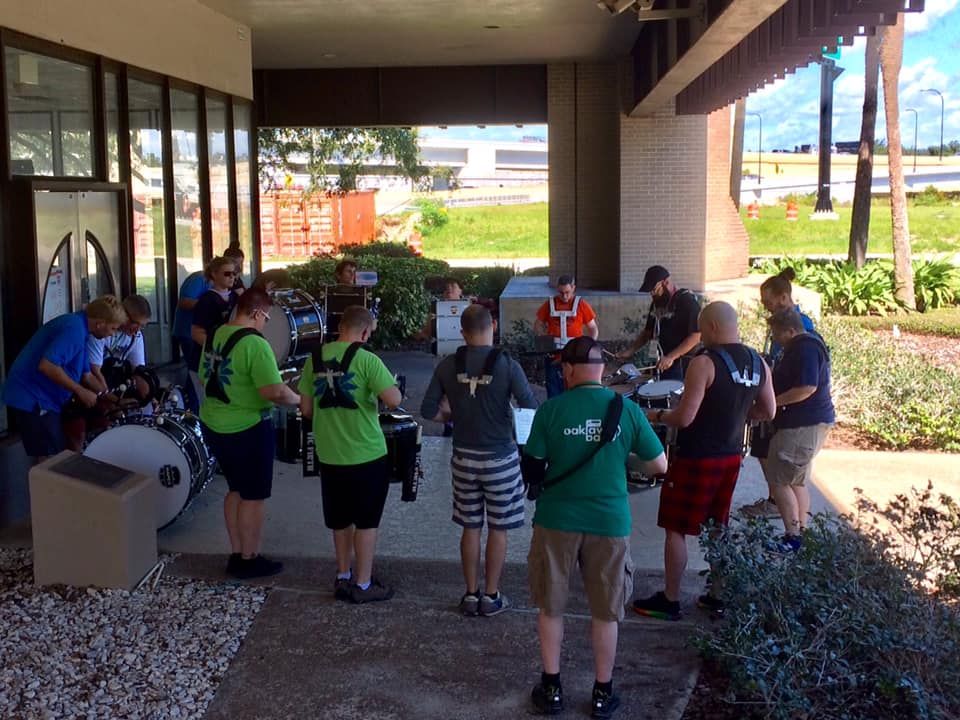 And so did the color guard. I stole both these pictures from the Facebook Group. I wasn't really there.




While we were at dinner, the other concert band had their rehearsal until 8PM. Also a stolen picture.




We went to a Mexican restaurant down the street that was within walking distance, and we ended up running into the other members of our home band that were at the conference so we all dined together.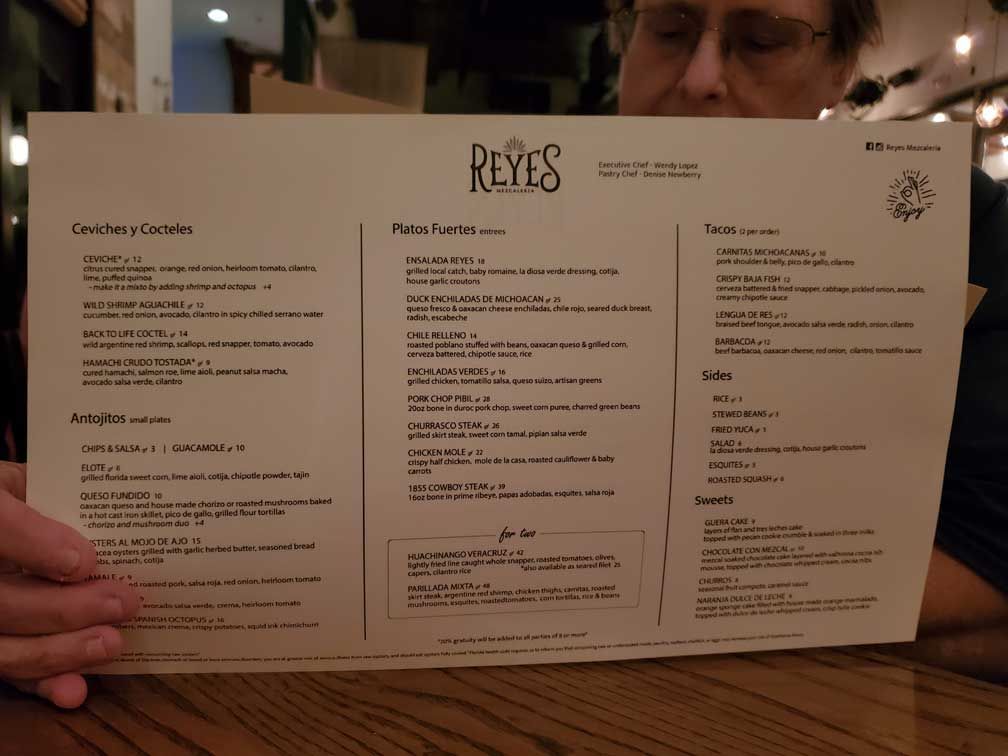 Of course we started off with Margaritas!




We started off with some queso, but I didn't grab a picture of it. I got the Enchiladas Verdes, and honestly with each bite that I took, they just kept getting spicier and spicier. I ended up not finishing it because of that.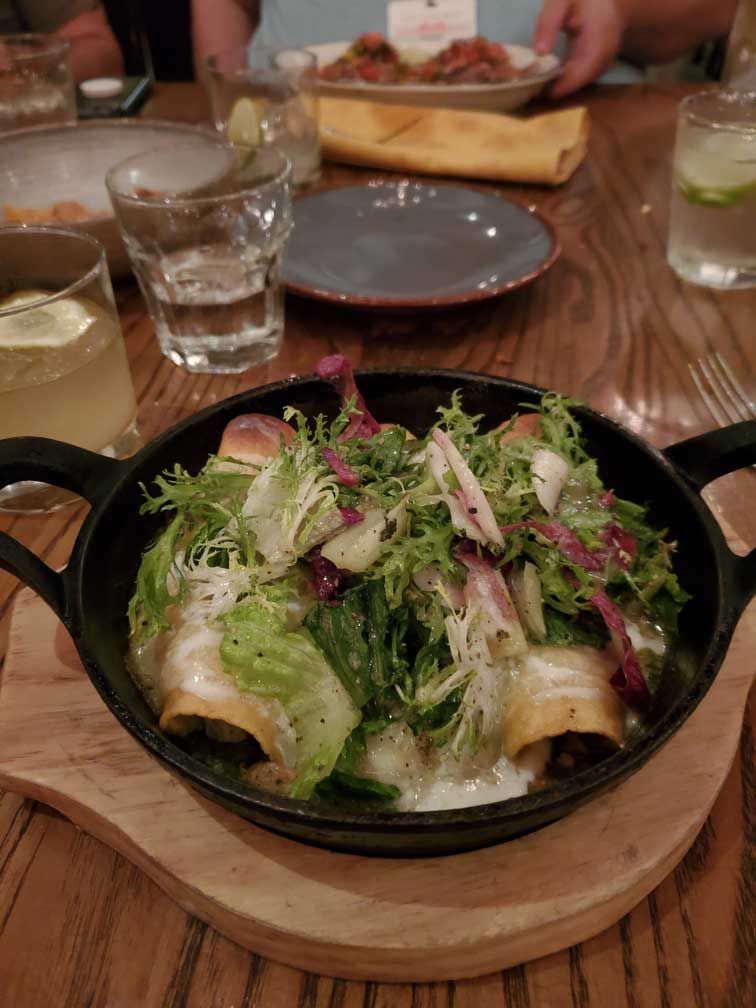 Fran ordered the Crispy Baja Fish Tacos. I think she ended up being pleased with her selection.




The rest of our friends took an uber to some bar for a welcome party, but since we're old fuddy duddies we just went back to the hotel to sleep. I'm pretty sure we had some of our candy from the Halloween party for dessert.

We had to be up early because we had work to do in the morning.