Hello all
...I thought it might be about time to make a start on my own PJ before its too late!
I've spent so long reading everyone elses that time has gotten away from me and now we've got less than 6 months until we start our happily ever after!
So, first of all, here's a little background...
I'm Kat, 26, and work in customer service. DF is Paul, 25, and he works in motor insurance.
This is us! (YAY I finally figured out how to post pics! There's no stopping me now!!
)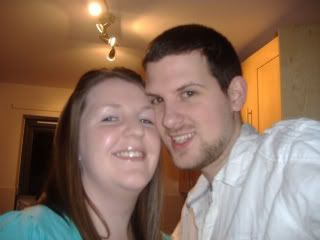 Side note - DF doesn't normally have such short hair but he decided to cut it all off...I'm not a huge fan but don't tell him that! haha!
We met 7 1/2 years ago at a local night club called Jumpin Jaks. I was 19 and DF was 18. It was a busy Saturday night in April (26th to be precise) and I was dancing away with my friends and having a great time
DF was heading to the bar and he put his hands on me as he squeezed past, surprised, I stepped back, right onto his foot in my 4 inch heels! (ouch) I felt bad and apologised
and he continued on his way to the bar. I told my friends then and there that he was 'the one'
and I guess I was right!
I kept my eyes on him throughout the night (and he kept his on me or so he says!) We swapped numbers and I saw him almost every weekend after that. 5 months later he finally worked up the courage to ask me to be his girlfriend. I remember him giving me a long speech and telling me that he might not be the best boyfriend but to bear with him (just for the record I think he's the greatest!!) We've been inseperable ever since!
The proposal...
In Sept 2007 DF, myself and my family (mum, dad, sister, brother in law, baby niece, aunt and uncle) went to Florida. We were staying at Disney's Old Key West Resort for a few days before heading to the coast and that morning we went to Typhoon Lagoon. We had a geat day and DF spent the whole time trying to convince me to go to MK that evening to see Wishes. I'm not a huge fan of fireworks (too loud for my liking!!) but DF was adamant he wanted to go. I moaned about it all day to my mum and sister but with a little, ok, A LOT of persuasion from my mum, sister and DF I eventually agreed to go.
We got dropped off at MK in the early afternoon (DF and I were both too young to drive a hire car at the time so we were chauffeured around everywhere by my fabulous parents!
) We did a few of the rides and had some dinner. We did a spot of shopping in the Christmas shop (where I purchased an excellent Mickey Mouse wreath with bells) and then found a place to sit and watch the parade. When that was over we headed to the front of Cinderellas Castle to watch Wishes and it was soooo busy!! First of all we were just standing in the middle of a huge crowd but then I spotted a little hideaway just big enough for two, so, I took DF's hand and led him over. There wasnt a huge amount of room so DF stood behind me with his arms around my waist. The fireworks were amazing (as always but still too loud!) and as it was nearing the end DF whispered 'Can you hear me?' I said 'Yes' and then he said the 4 little words every girl wants to hear...'Will you marry me?' Now, at this moment you'd of thought I'd of burst into tears, threw my arms around him and said yes Yes YES!! But unfortunately for DF I said 'Dont joke!!' (and then went back to watching the fireworks!
) You see, my unfortunate response was because, by this point in our relationship we'd been together 4 years and were in the process of buying our first home together. I knew DF was 'the one' from the moment I first met him and had been desperate to marry him ever since but he was adamant he had to get all his ducks in a row. Which meant moving in together BEFORE we got engaged and that wasnt due to happen for another 6 months so I thought he was just messing around. Of course, when the most beautiful, sparkly ring appeared over my shoulder I soon realised he wasnt joking! Of course then I said yes!
Unfortunatley the ring was too small (he severely underestimated the size of my sausage fingers!!) so I couldnt put the ring on but I wouldnt put the box down and my face hurt so much from all the smiling
I didnt cry (much to DFs disappointment) but I threw my arms around him and couldn't stop kissing him!! I was the happiest girl in the world right then!
Here's a picture of my ring...I don't seem to have a close up one of me wearing it (I dont think I took one as I insisted on showing it to everyone in person! haha!) so I downloaded this from the website!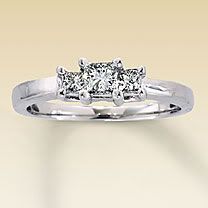 DF thought that now he had proposed he'd get a bit of a break before I'd want to start planning and set a date...well, he thought wrong!!
We're planning our Wishes wedding for 8th March 2011...I'm super excited...and with less than 6 months until our magical day I really need to get a move on with the planning!!