Hey everyone! Sorry it took me so long to get around to this, but I have finally sat down to start! My husband and I eloped on the Wonder to the Mexican Riviera Sept. 25. Everything was amazing... couldn't have asked for anything more! I'm in the process of uploading photos to share with you all!
So... without further stalling... here we go!
Day 1:
We were packed, excited, kinda nervous. Our neighbor (Downtown Larry Brown) showed up on our doorstep and said our car was here. Of course I was lost, I had put away funds to cover paying for parking at the Long Beach port. But my hubby-to-be surprised me with a Rolls Royce limo! Complete with fresh fruit, chocolates, and mimosa's! Of course... that made the ride to LB go by waaaaay too fast, and I was already tipsy by the time we got to the port. I'm assuming there was a bachelor party the night before (since we were leaving on a Sunday) because once the driver started up the rolls, disco lights and crazy techno music went crazy in the back! I had a good laugh as we tried everything to turn all the madness off!
Once there, we checked in... very very easy... and sat down to take some candid videos of ourself and enjoy the cartoons that were playing in the waiting area. All the vacationers started filing in... lots of lil ones packing their pillows and character plushies. After awhile, Mickey showed up and we took our pic with him in our cheesy bride and groom ear hats. The hubby was a very good sport about this.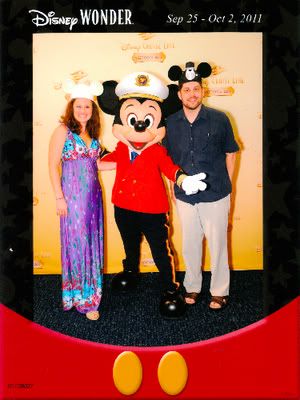 After a bit more waiting, our group was called to start boarding. Since I'd never been on a cruise before, or even on a ship, this was all very very new to me. The giant buoys that keep the ship from rubbing against the dock were a bit of an obsession the entire trip. We boarded the ship and were welcome with our names announced "The McKenna Party!" Yay! I felt so sorry for all the crew member when I realized they had about 3 hours of clapping and cheering to go until all the passengers were on board. We headed down Parrot Cay to eat our first of many wonderful meals on board. This one was buffet style.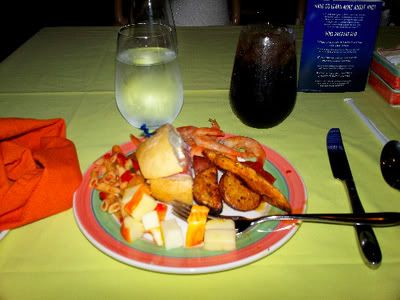 I made my last call to my Mom before we embarked. Our room was one of the first ones ready, so I spent quite a bit of time watching the workers on the dock load food and luggage into the holds below our verandah.
Some of our luggage had already arrived, so we waited for a bit, and then headed up to the top deck to see the ship cast off. We kept trying to catch the ships horn playing the 'Disney' ditty for our cell ring tones, but just couldn't quite time it right. We stood on the deck until we were out of the harbor and then headed back inside to start exploring the ship.