Once again, apologies for the long delay! It's been a crazy few months - job changes, moving, and some family stuff, but back to posting!
On our rehearsal morning, I woke up at my parents' house. Geoff, Andrew, and the other groomsmen were all at a hotel from the bachelor party the day before. Dad drove to the Grand in his car, and Mom and I rode together in mine.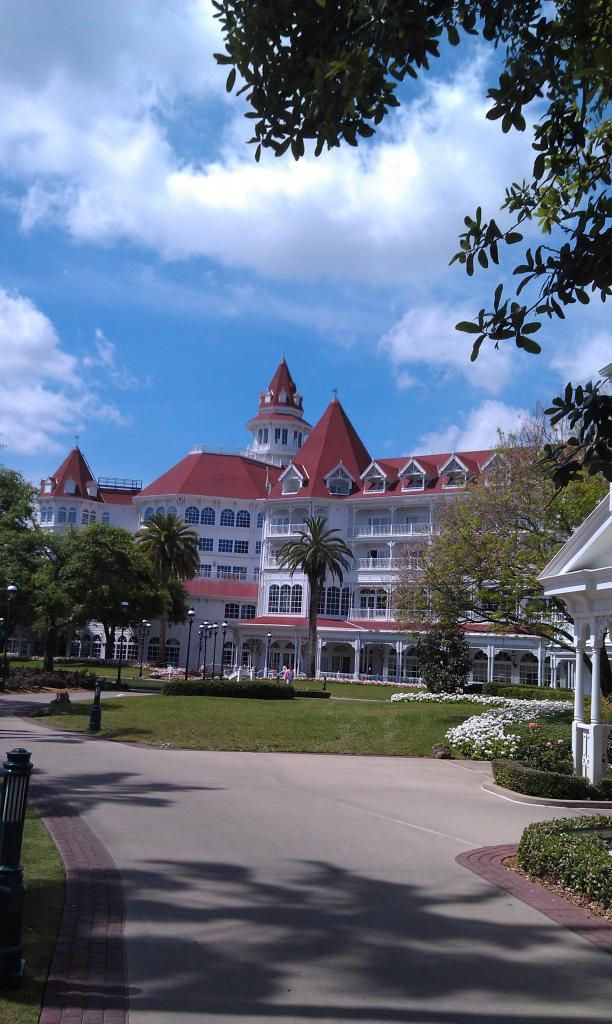 (Can you tell we're excited?)
Once we got to Grand Floridian, Dad was able to check in for both Mom and him as well as my room, thankfully! Dad and Mom had one room, I was sharing a room with Rachel, my matron of honor, and Geoff and Andrew (our best man) were going to be checking in and sharing a room as well. That way everyone would have places to get ready the next morning.
While Dad was checking us in, Mom and I booked it to Senses at the Grand Floridian for our wedding manicures. Mom had NEVER had a manicure before! I know a lot of people avoid Senses because it's more expensive than other local salons - but to me, it's so worth the cost. You get spa access the entire day (so post-manicure, Mom and I enjoyed some sauna time!), hand massages, snacks, and the manicure is SO long lasting. I didn't want to mess with gel or anything so I risked chipping a regular manicure - it lasted chip-free til the last day of our two week honeymoon! I've never had another manicure last chip-free more than a few days, so it's well worth the extra money, in my opinion.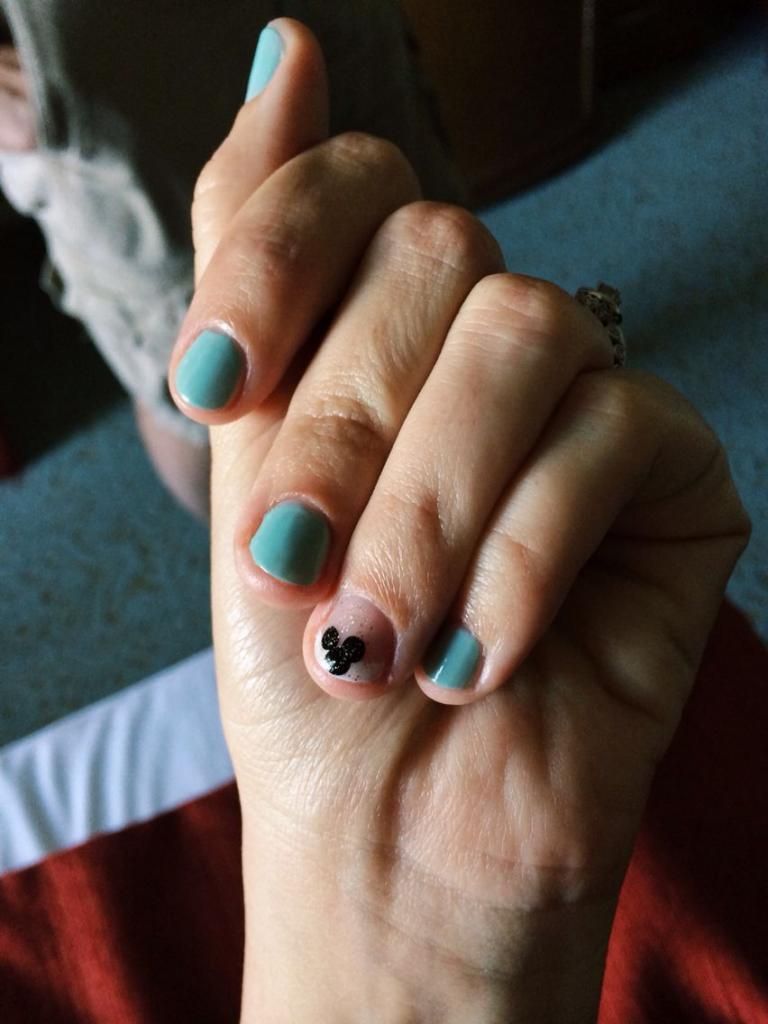 Mom got a pretty gold manicure, and I got mint (one of our wedding colors!) and a Mickey on my ring finger. Simple and I loved it.
At that point, we were all checked in and found out the best news - my parents were down the hall from us, same floor, but Geoff and I's rooms were RIGHT next to each other! This would make it so easy for our photographers and videographers. We didn't even request it, just once they found out we were all here for our wedding they did their best to group us together. Kudos to the Grand!
We immediately said hullos to each other from our balconies.
Our rooms were very nice, and had a nice view of the monorail and (you can't see it here, but if you looked more to the right) a teeny bit of Magic Kingdom!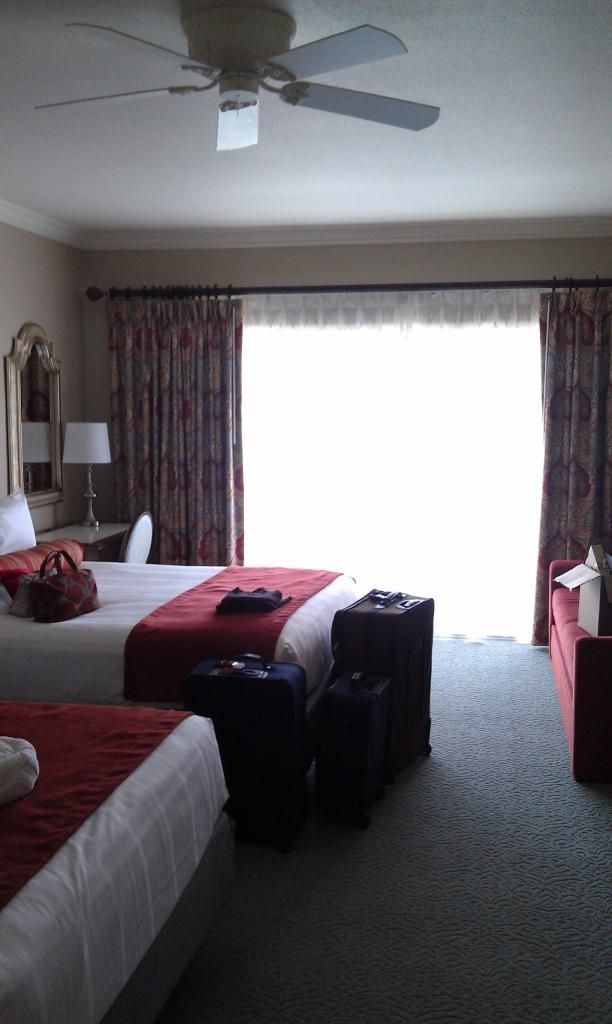 Then it was time to get ready for the rehearsal! A little bit later we were all on our way to meet the rest of our wedding party at the Wedding Pavilion!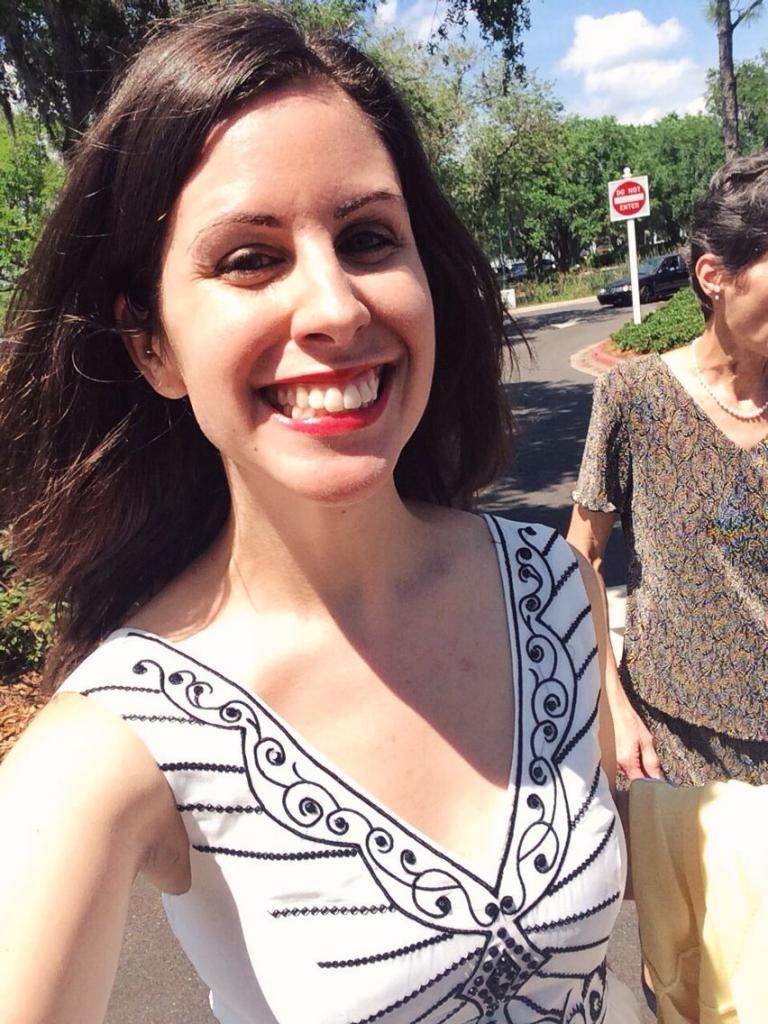 Hey, that's us!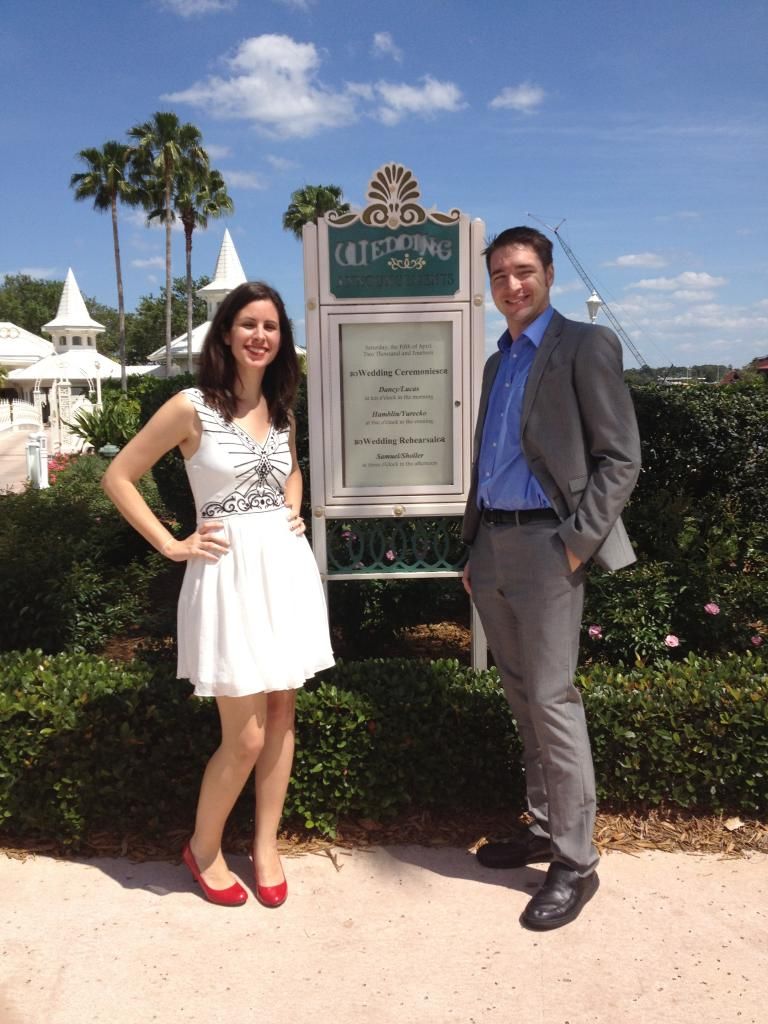 We got there a bit early, so while we waited for our planner (and some wedding party stragglers) we took some photos in the pavilion!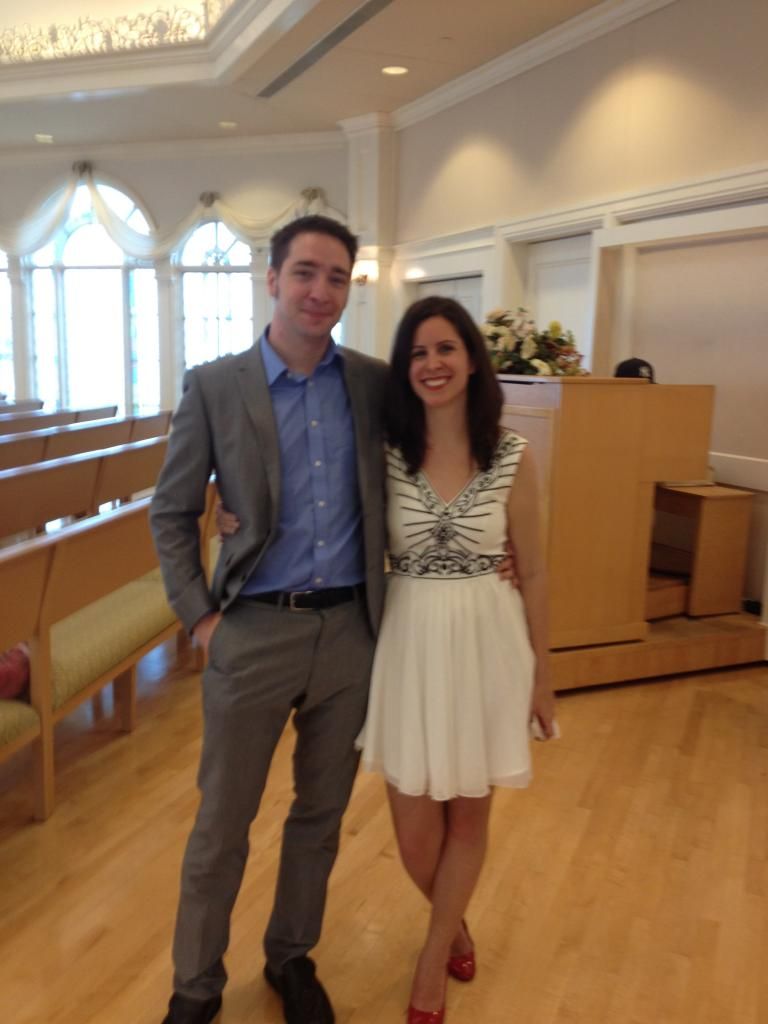 My Grannie wanted some photos too.
Then Lisa arrived right on time, and we started. Some of our wedding party and our officiant had made wrong turns getting to the WP - do NOT stress about it. Lisa was awesome and just had us do one run-through with everyone who was there, and then we did another run-through once everyone had arrived. It was super stress-free.
On my phone trying to give directions to our lost wedding party!
Our run through down the aisle.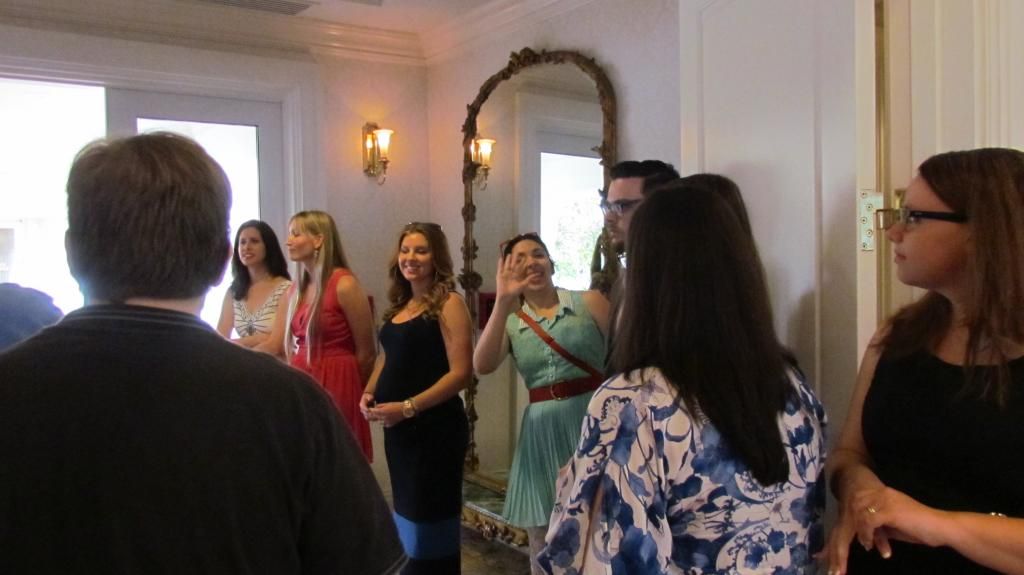 Everyone has arrived!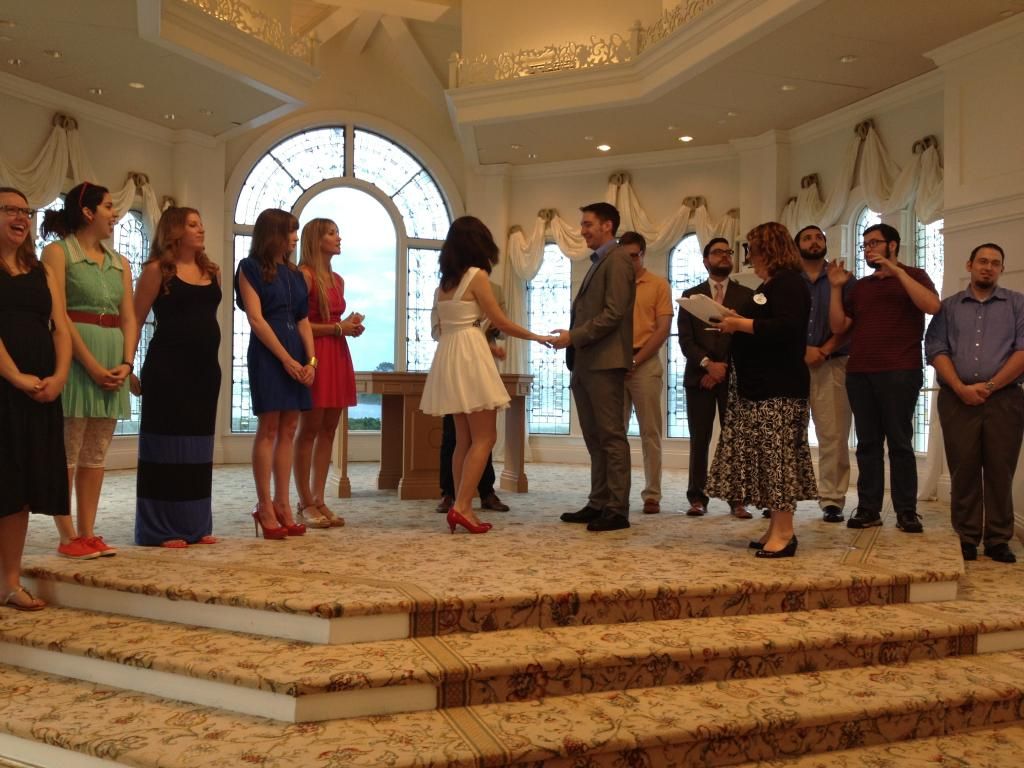 Our second runthrough.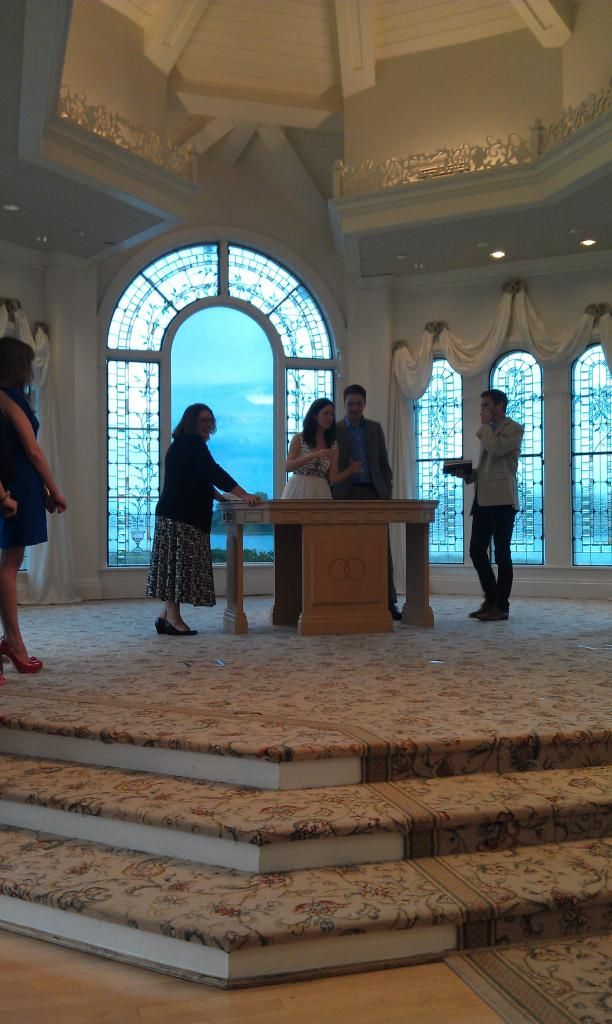 Explaining our glass unity ceremony.
After the second run through, Lisa sat us down and explained the timeline, transportation, etc. It was super easy!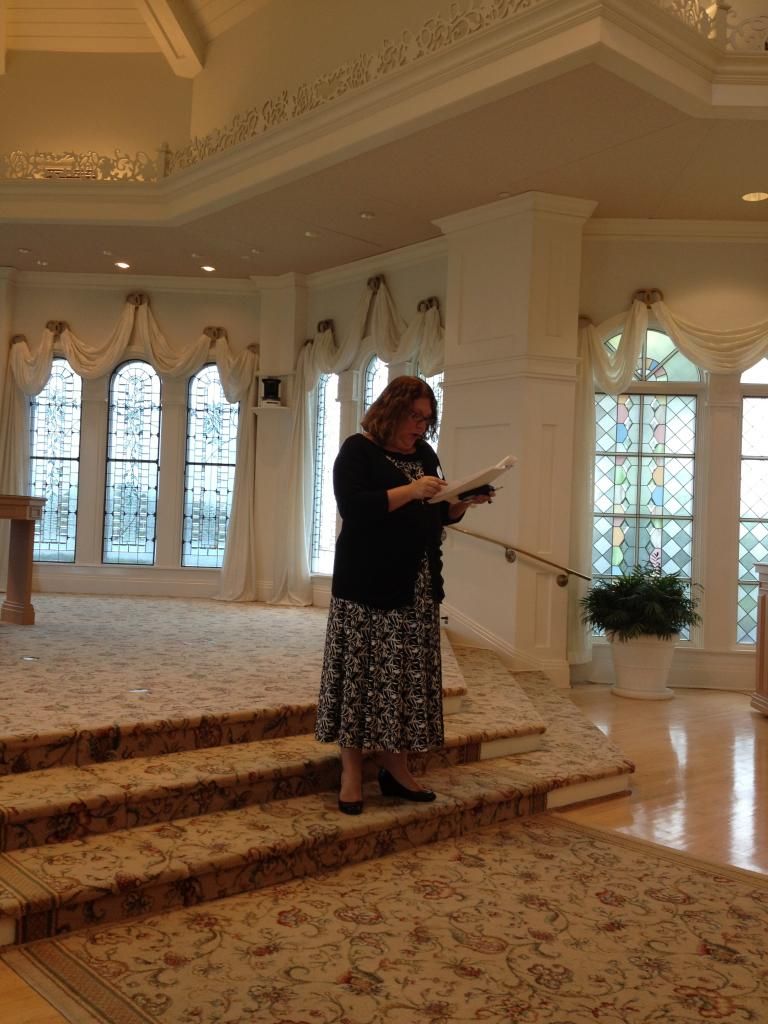 Then we were unleashed to go to our rehearsal dinner. We had a delicious meal at Fulton's Crabhouse. Here's a tip: if construction is still happening, find buses or figure out parking/valet parking plans ahead of time. Some of us (including me, eep!) were a bit late because of the parking snafus. But it was so worth it - gorgeous views, and delicious food. Including my first attempts at crab legs: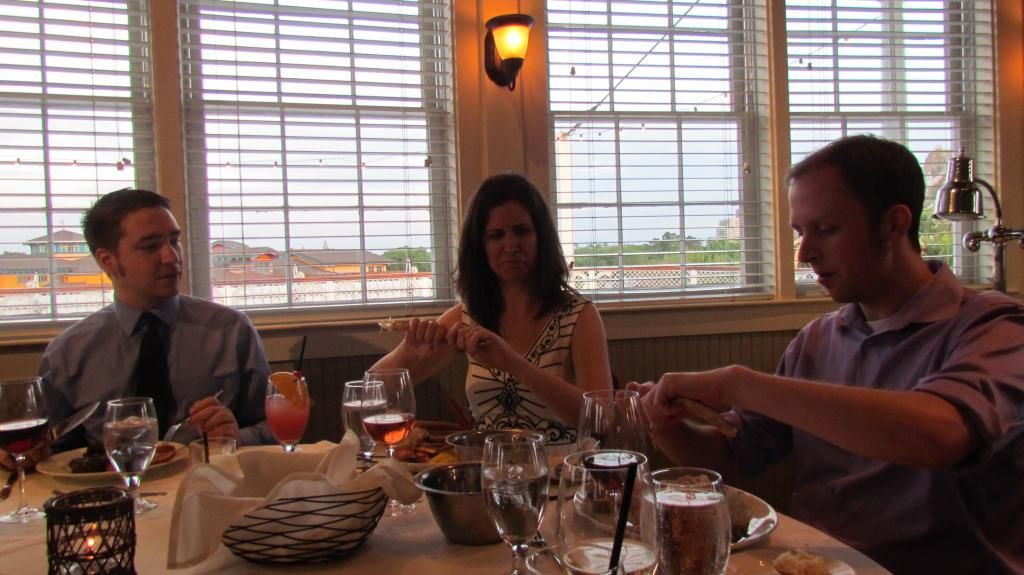 (It was worth the work.)
My matron of honor and two of my bridesmaids went up on deck and recreated a photo from when we were in our teens!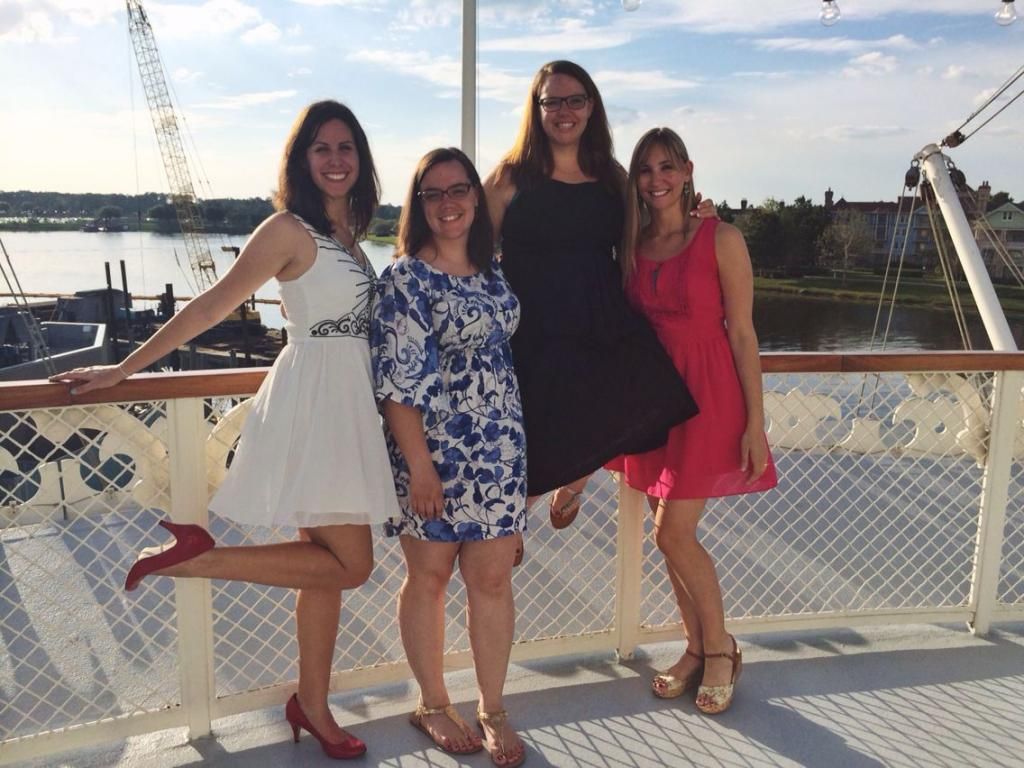 And a comparison: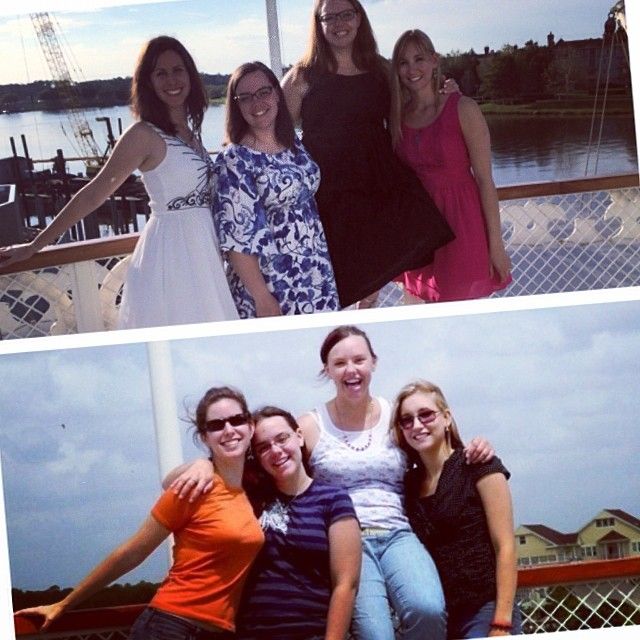 Time flies!
I can't speak highly enough of the food at Fulton's. Geoff's parents planned everything, so I don't have behind the scenes details, but it was amazing. An open bar, salads and passed appetizers for everyone (including this amazing smoked salmon, I near died), and a choice of filet, chicken, or crab legs for an entree. And DELICIOUS desserts!
At the rehearsal dinner, we did our gift exchange with wedding party/parents. For our parents, we did a couple gift and individual gifts. We got each Mom a music box (Geoff's Mom's box played the song they picked as their mother/son dance!), and each Dad got a pocket watch (Geoff's Dad's was engraved with one of his sayings, my Dad got one with a train since he loves trains). Then Geoff chose two gifts directly from him to his parents (a bracelet for his Mom, and a wallet clip for his Dad). I got my parents mother of the bride/father of the bride Precious Moments figures, since their wedding cake topper was Precious Moments. The father one was easy to get - the mother one was SO HARD. Precious Moments didn't have one for sale on their site (at least when I was looking) and everywhere was sold out. Finally I found one on Ebay whose auction ended the day of our wedding - so I PM'd them begging to sell it at a set price to me and explained the situation. They were SO nice and did so! So it was a very special gift.
For my bridesmaids, I got them each a unique purse from Etsy, in a pattern that I felt matched their personalities best (and they all matched our wedding colors!). Inside was a different handmade fragrance and lip balm in scents/flavors that I felt matched each of them. I also wrote a card to each of them. They had their hair/makeup covered by me, but that they knew of ahead of time.
Geoff got the groomsmen their wedding shoes (chucks) and ties.
My parents had given us a combo microwave/convection oven the day before, and then at the dinner Geoff's parents gave us their OLD family Bible (it's been through a few generations), which was awesome.
After the dinner, everyone headed back to their respective rooms for our early wake up call - the guys were getting up at 8:30 to grab breakfast (LUCKIES!), but us girls had to be ready for hair and makeup at 6 am!
Rach and I made our way back to the Grand: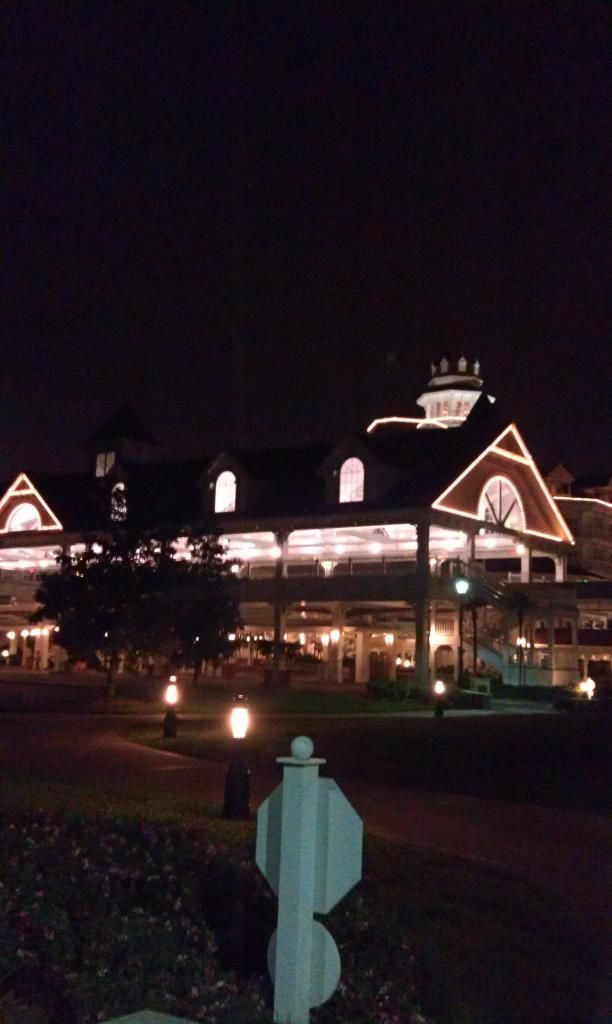 We showered up and tried going to sleep - a combo of nerves and a freakin' MOSQUITO in our room kept us up awhile (every time we almost would drift off we'd hear the telltale bzzzzzzzzzzzzzzzzzz of a mosquito), but we eventually drifted off!
Next post will be the start of the wedding day!