<a href="http://www.wdwinfo.com/dis-sponsor/" targ
Confirmed date & time:
Monday, Dec 1
2-3pm
Keys Lounge (deck 3 forward)
You will NOT get a notice in your stateroom about this, so please make sure to take this info with you.
You will be charged $15/person, even if you do not show up (DCL policy).
Please double check the "confirmed" participants list below. We are at capacity! Thanks to everyone who promptly responded to my messages!
Hi Ho everyone!
I will be putting together a mixology session on PCC5.0. Here is what I know so far:
** We need a minimum of 25 to maximum of 40 Guests/Adults per class/session.
** Each participant will be charged a fee of $15.00 (subject to change without notice) to your on-board account (whether you show-up or not)
** I will need names & stateroom numbers no later than September 30th
** We will not be assigned a date/time until we are within 30 days of the event- after Oct 30. (They usually request any sea day around 2:00 pm or 4:00 pm)

Mixology is a really fun time! I attended the class (organized by mdvlprof on 4.0!) and we had a blast! A bartender from one of the ship's bars led the class. Each table of 4-5 people has the set ups to make 4-5 cocktails. You are given the instructions and can make of one of each drink for yourself! You can make them as strong or light as you wish. Drink them all, some of them or none of them. It's all up to you.
Out of all of the drinks we made, there was a only one I did not like. The others were quite tasty!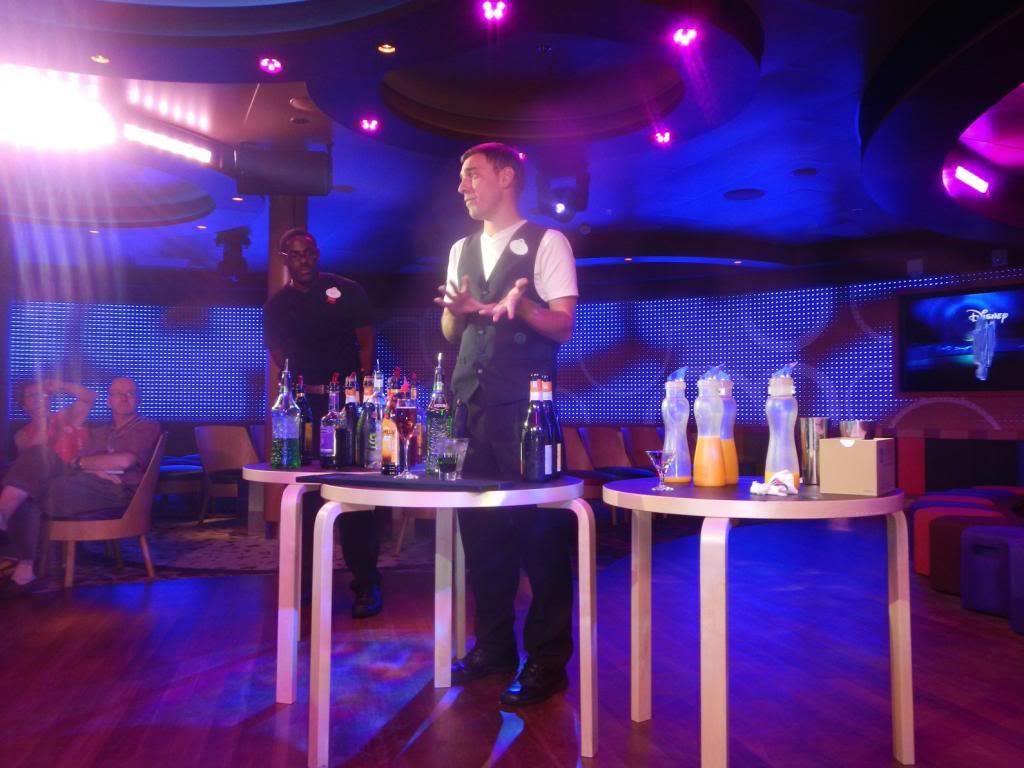 Please respond here if you are interested in participating.
Once I learn more from DCL about class size limits, timing and pricing, I will update this post.
OFFICIAL LIST of Participants
(40 as of 10/3/14)
:
Confirmed
Linda & John (wdwscout) 6566
Confirmed
Jennifer, Kayla, Eric, (Cedric) (mdvlprof) 6647
Confirmed
Lisa (NitroStitch) 2513
Confirmed
Lisa, Janice & Jim (batgirl67) 2092
Confirmed
Beth & Chris (BethC) 7614
Confirmed
Sue & Bill (DisneySuzy) 6078
Confirmed
Andy & Bonnie (bonnieappetit) 6574
Confirmed
Harry & Virginia (friends of bonnieappetit) 7696
Confirmed
Lucy (brer-rabbit) 6319
Confirmed
Lois & Greg (parrotheadlois) 7532
Confirmed
Chris & Lana (jokeralum) 2068
Confirmed
Chandra (bamagoofy) 2072
Confirmed
Mary Jo & Lesley (Mary Jo) 6134
Confirmed
Curtis & Jaclyn (MrBean) 7598
Confirmed
Patti & Kevin (pkraynh) 6578
Confirmed
Tyler & Mallory (WDW Crawl) 2013
Confirmed
Linda (Lindaland) 7130
Confirmed
Muggsie (itsmuggsie) 7514
Confirmed
Michael (MerryMouseketeer) 7638
Confirmed
Eileen & Justin (TickledPinkRabbit) 6144
Confirmed
Evelyn & Mike (hockeymomNS) 7524
Confirmed
Mike & Kat (irishdadx4) 2519
WAIT LIST
(in case anyone above cancels)
Shanda & Alvin (sbenemerito) 7560
Tommy, DH, William & Pam (zulemara)
Mary & Lori (anonymousegirl) 2626