I'm so happy, I could BOUNCE!
Day 11

I woke up from a very strange nightmare where I was driving my scooter on the 405 North from West LA to the SF Valley through the Sepulveda Pass (which is impossible and illegal). This is a major highway, like five lanes on each side, and is normally bumper to bumper when the sun is up. But this was in the dark of night, with no moon, and no streetlights. On the southbound side there were terrible accidents happening. Someone had dumped several tons of this weird foam like substance and once the cars got inside of it there was no visibility and I could hear the vehicles crashing into each other. I could see the flames in the dark night. It was very scary.

No idea where that dream came from! I was glad to wake up from that! I'm wondering what stories there were on the news that may have affected my dream.

So this update is very light on actual photos, so I'm going to insert some random cute cat photos or other funny ones to make it more amusing.

When I woke up the last day, it was 5:30AM and Fran had set an alarm, but I wasn't ready to get up. For the past couple days I had been powering up on the Vitamin C, cause I felt like something was coming on. So I took another one and laid back down for another 45 minutes, but at 6:15 I knew that I had to get up and get started. I had all the suitcases packed by 7:30, and we were pretty nearly ready to go. I weighed them and locked them and at 8AM Fran called the Bellman. It took half an hour for him to get to us, evidently he was the only one working. What's up Disney? This was the second time they only had one bellman for a large resort.

When we got to the resort airport check in, they were not able to check Fran in or her luggage. I think this had to do with the way the third ticket was booked. Usually they give it a separate confirmation number, this time all three seats were booked on one confirmation. So we had to take two bags with us on ME, and we had to go check the other two once we got to the airport.

I've got to remember that when booking these flights. What a PITA!

Luckily our DME was right on time, and we were the last stop. We got to the airport by 9:30, and we were through security and gate checking the scooters by 10:20.

With plenty of time until boarding (one hour and ten minutes), we went to find some food. All the vitamin C that I was taking made my stomach a little wonky. What I really wanted was some soup, but no one was serving that at breakfast time. We settled on pretzels from Auntie Annie's. I got a salted pretzel with cheese sauce and planned to eat about half of it. Fran got a pretzel dog, and some cinnamon sugar covered pretzel bites. I ate a few of those too. Sorry no pictures. So here's a cute cat and her baby kittens nursing.




Our flight was uneventful but full so no refunds on the third seat would be coming for us this time. I didn't eat a whole heck of a lot before the flight, I think the Vitamin C made me queasy. So I was starving by the time they brought around the Ritz bits. I would have even eaten the pretzels, if they gave them to me.

Here's two of those kittens all grown up.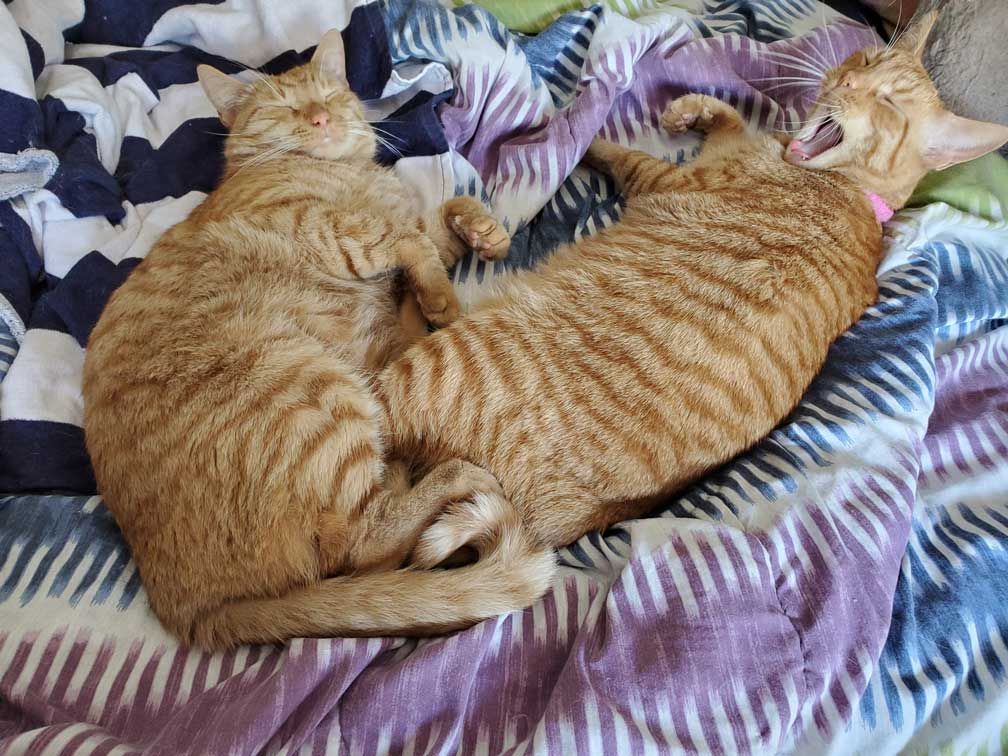 When we landed in Dallas I was determined to find something to eat. It turned out that our gates were all in the same proximity and we didn't have to walk across the terminal like we did on the incoming flight. If you're not familiar with the Dallas Southwest terminal, there is a food court in the middle of the terminal. I'm not sure what is at the end of the terminal with the higher gate #'s. We were at the end of the terminal where gates 1-5 were located, and there was a Mexican restaurant with a QS option. I got an order of Fajita tacos. I'm not sure what made them Fajita since there wasn't any peppers. I let Fran have all the avocado and we each had 1½ tacos. The rice was meh, but the beans were pretty good.




I had a S'mores treat leftover from the day we went to the movies in my carry on so we had that for dessert. And then we waited patiently for the flight to board. Again, a full flight so at least we were comfortable. That third seat is a lifesaver, especially when you're the large economy size like us. I watched our baggage being loaded on the plane. Always a good sign.




There is goes!




And they've even got the scooters.




Anyways, everything went basically as planned for the rest of the trip home. And as could have been predicted, it was three hours from touch down on the ground to walking in the door of our house.

Here's another cute cat pretending to be a little mountain goat on her cat post.




Between getting the scooters up from the belly of the plane, picking up the car from the remote lot, LA rush hour traffic, and a stop for milk and bread, it's consistently three hours to get home.

Oh well the kitties were eventually happy to see us, some sooner than others, but by morning they had all forgiven us and were piled in bed with us sleeping away and making us overheated. This one likes the R2D2 clothes hamper.




Reflections: So everyone congratulated us on the "upgrade" after the first post, but I'm not so sure I'd call it that. While it is the new fancy hotel, it is seriously lacking in amenities. I heard people comparing it to the Grand Floridian and there is no comparison at all. The GF blows this place out of the water!

Why is there no spa at such a fancy resort? I would have switched my spa reservation over in a heartbeat. As it was I agonized over canceling it until the last day possible.

And dining options? Pathetic. They have an over the top fine dining place that gets mixed reviews where you can buy a $50 steak. And then they have the QS on the ground floor that was fairly mediocre. I realize now that the menu I posted was lunch because there are a few dinner options that are missing from the menu. The QS had a $17 steak. I don't remember if it was a flat iron or a hanger steak, but what frustrated me was that the QS didn't have just a plain old side salad or Caesar salad. Only the fancy Greek, Caprese or Nicoise.

What that place needs is a nice little French Bistro TS that serves Steak Frites,




Quiche, Roasted Chicken, Coq au Vin,




a decent Croque Monsieur or Madame, Escargot, Ratatouille, Haricot Verts, good French comfort food, at reasonable-for-Disney prices. And maybe a place more like Les Halles instead of the current QS.

And transportation options? I did get over my fear of the Skyliner, but geez those cars come into the station fast. Just about every time coming into the station, I cringed hoping I wasn't going to be the next Skyliner mishap. Maybe it was because most of the time I was riding alone and didn't have people talking to me and distracting me, but really I would rather just take the bus. Except they only run once an hour to Epcot and DHS. This is what I found the most frustrating.

I certainly won't be buying points here. There are so many restrictions on the points if you buy them on the resale market they can only be used at the Riviera. Also something about resale points bought after a certain date can't be used there either. Then there are the actual point values. Our room at SSR cost us 32 points a night for weeknights whereas Riviera was 38 points. Over the course of 5-6 nights that's an extra day at SSR. On F&S the respective prices are 38 points and 48 points. That means that you could have 4 nights at the Riviera or 5 nights at SSR. For the exact same amount of points. Other than a little more marble, there is nothing that the Riviera room had over a room in the same category at SSR. If I had actually booked here in the first place it would have cost 68 more points for the entire stay. That's about 20% more, or nearly a midweek weekend at the Grand in low season!

Plus there were some transportation benefits we had hoped to take advantage of at SSR as well. Like on the nights that we were returning from dining/drinking at other resorts, we had just planned to take the bus to DS and then motor back to our room. Obviously the benefit of no bus rides after my spa treatment. I had also wanted to try out the Polite Pig at DS, and that would have been a simple one from SSR, but from RR it required a bus and we just never fit it in.

And then there were the hallways. I may have addressed this earlier in replies, but there are some resorts with fun hallways. AKL has interesting halls if nothing besides the neat patterns on the door. I think the halls at BCV are cute and New Englandy, and even BLT. They both have halls that are kinda interesting. This place was just sterile and trying to exude elegance, unsuccessfully.

But here's a laugh for you our quarantine eats with our first take out order from Acapulco Restaurant complete with take out Margarias and all. You can see the kitties are just as interested in our dinner as we are!




Well that's it for my Florida trips to Disney for who knows how long. I've still got a few California Disney bonus features for you left, but not a lot. I wrote this a while ago, "Pretty soon, there won't be any TRs left on the DIS." But now we know that isn't true and by the end of July we should have plenty to read about.

I'll just leave you with this image of Fran cutting onions when we made Clam Chowder last December.