I am going to attempt to start my trip report although with the ongoing preparations for our condo, our move, and upcoming honeymoon to Hawaii (at the end of April) I can't guarantee that I will be very quick at getting it finished. Oh well, more time to linger and enjoy the memories!
I will also do a complete vendor review at some point. We used Randy Chapman for photography, Stan Severance from STVS Video, and my coordinator was Marion Stewart with Laura Kidd as my floral manager. To be honest, I was happy with all my choices and have no real complaints.
Thursday, February 28 ~
I guess this would technically be late Wednesday evening, but I thought I would officially start my report with the day that we flew out. I ended up staying up until 4 a.m. finishing up packing and other preparations for the trip. Around 2 a.m. I was burning the music that we needed on CDs and finally booked our car rental around 3:30 a.m.!
Needless to say even after shipping 7 boxes to Florida the previous weekend we ended up forgetting several key items which will come up later in my report.
My mom and I had nail appointments at 9 a.m. because I was a little leery of having someone other than my normal nail tech do my nails. She was so helpful- she even sent a care package with extra acrylic powder (in case of a break, so the salon could match the color), glitter polish, glue, etc.
We left my dad to pack up the car for the airport and when we arrived home around 10:30 a.m. he was just finally finishing. Of course, I added in several last minute errands on the way to the airport (which is only like 20 minutes away).
After calling that morning and discovering that there aren't any Chase banks within a 2 hour radius of Orlando I had to fall back to Plan B. My work does not do direct deposit and my check which was dated for the next day needed to be deposited. Thankfully, one of the tellers at my local bank agreed to hold the check and to deposit it the very next day. While I was waiting for her at the bank she called me over and told the customer that she was waiting on that he had to wait because I had a plane to catch. The older man asked what for and then started going on about marriage and how a wife is supposed to make her husband happy, etc., etc. The teller was great she told him, "She doesn't need the speech, her parents have been married for 30 years and she's known this guy for a long time and she doesn't need to hear anymore from you."
Needless to say I was out of there within just a few minutes. The next stop was Sam's Club to drop off my computer for repairs. The power cord is acting funny and since I need this for work I wanted to get it sent in while I would be out of town for over a week. I stand in line only to discover that it has to be shipped in and that I have to call a customer service line. A failed attempt, but I guess I can send it out when I go to Hawaii next month.
We arrived at the airport without any problems and since I had already printed off our boarding passes the night before we just had to hand them our bags. My mom and I had to carry our hats (we bought them on the spur of the moment and thought it would be fun to wear them) for the bridal tea through the airport because we weren't able to locate hat boxes and would have been over our carry-on limit with them anyway. Thankfully our airport is pretty small and it doesn't take long to check in for flights.
Once at our gate there were several older ladies who asked where we were going and when we said that it was for a wedding they both said that the hats gave it away. Who knew that carrying hats would make people think that we were going to my wedding? I would have thought that the "bride" bag was a bigger giveaway!
Sometime on the way to Atlanta I realized that we had forgotten some of the items for the Welcome Bags! Thankfully, we had several relatives coming in the next day, so we made some calls for help. My cousin went over to our house and dug everything out for us – the Disney playing cards and the antenna toppers- then took them over to my grandma's house for her to bring the next day. He was a real lifesaver!!! While boarding in Atlanta after our layover the guy scanning the tickets told me I had too many carry-ons (my purse, a rolling bag, my veil, and my hat). I told him that the veil could be wadded up and didn't count as a bag. After demonstrating how flat it was he let me through with it. There was no way I was letting them take any of my stuff.
My dad acting goofy on the plane:
Once we got into Orlando more drama ensued. On the monorail from the terminal my mom realized that she had left her camera on the plane. Of course, they won't just let you ride the monorail back they made us exit and go to the AirTran counter. We left my mom there to sort out the ordeal and we went to check-in with Magical Express. Since we were renting a car we just checked in to make sure that there weren't any problems with our baggage getting delivered to the hotel. Then my dad and I sat down and waited for my mom. In the meantime, my dad talked my cousin through locating the items for the welcome bags since we had left the wedding stuff in complete disarray at the house!
Finally, after 45 minutes she showed up with the camera. They sent her on a wild goose chase through the airport. They gave her a pass for security, but she was sent to the wrong terminal, then she got to the desk and the camera wasn't there, the pilot had sent it to another desk. She ended up back at the check-in counter and the ladies called back to have a runner bring it to my mom. The runners refused to bring it, so one of the AirTran ladies went all the way through security to get it for my mom. Thank you AirTran!
We then went to get our car from Alamo. I did online check-in, so all we had to do was walk out and then hop in whatever one that we wanted. Once out of the airport we headed to Sam's Club. I had my dad print off directions the night before, so it was pretty easy to find. We stocked up on snacks for the Welcome Bags and bottled water to put the labels on and then we were off. I was looking for a Target or Kmart, but the first thing we came across was a Big Lots, so we took our chances and went inside. I wanted to get items for a basket in the ladies restroom, baskets to hold the bubbles, storage containers for the cake, and batteries for several miscellaneous items. Thankfully we lucked out and found everything that we needed and at a cheap price.
Our room stacked with Sam's Club purchases: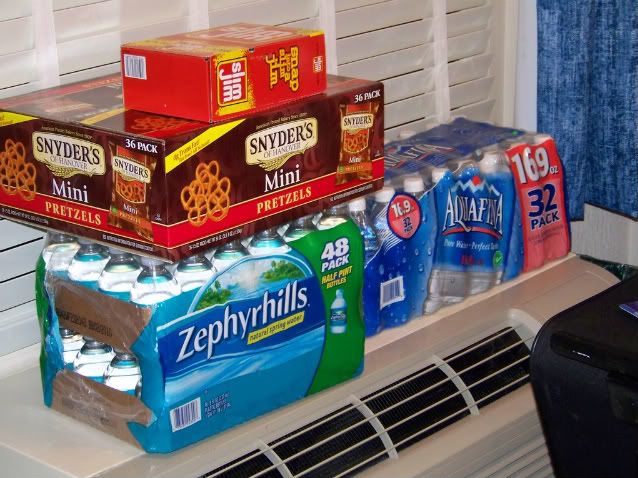 After that, we headed towards Disney and got dinner at Friday's in the Crossroads. We finally made it into POR a little after 9:30 p.m. and got checked in to our room. Once we got settled it was after 10 p.m. and then we started on the Welcome Bags. We had to have the boxes that we shipped to the resort delivered by bell services because a lot of the items for the bags were in there. I have to admit I made the process of putting together the bags more difficult because the majority of the bags were a little different. The bridal party and immediate family got more items as well as people with kids.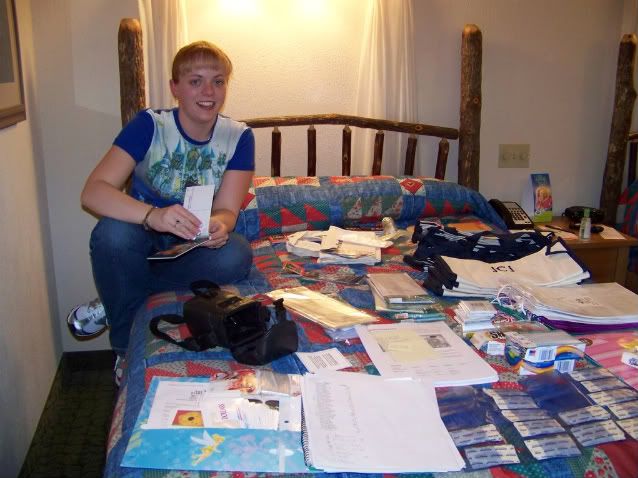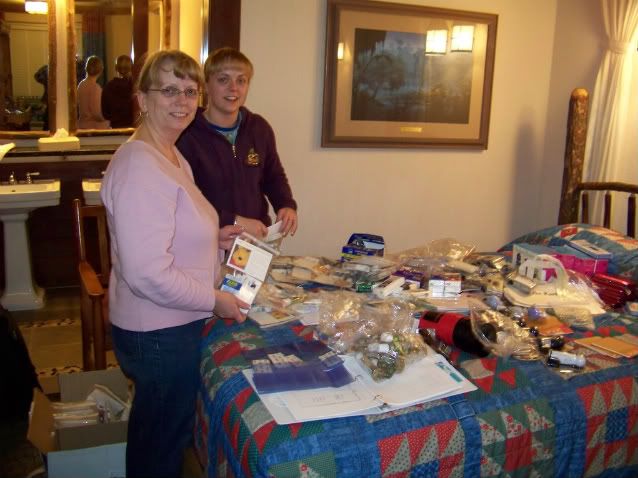 Some samples of the bags: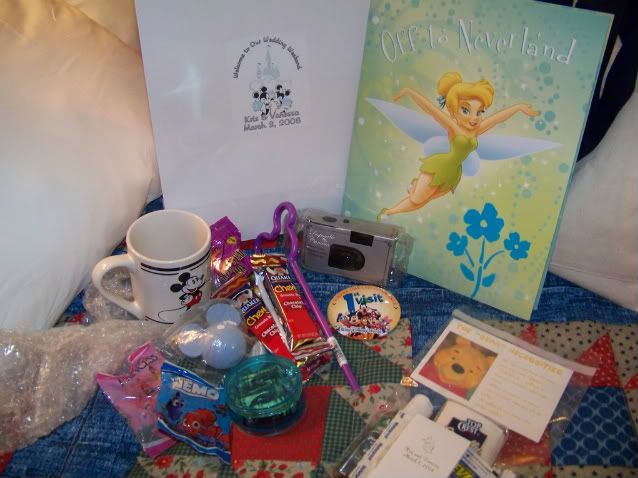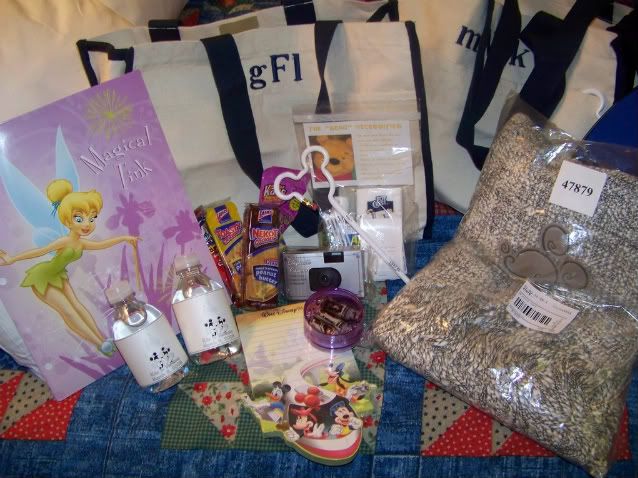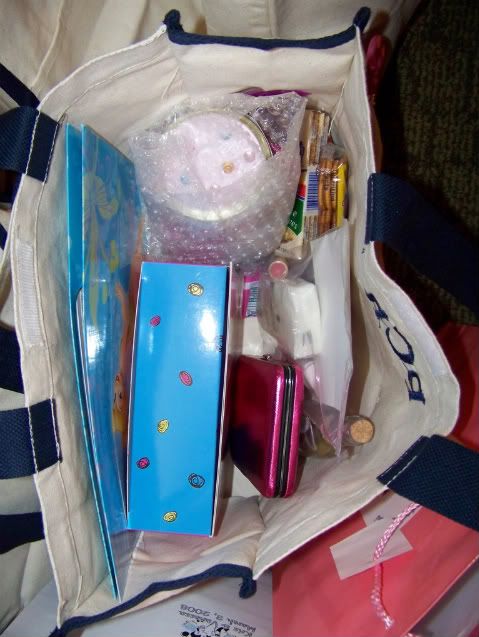 Plus, the folders that were given out didn't all include the same things because some people obviously didn't get an invitation to the tea and people who weren't coming to the Welcome Party didn't get one of those invites either. Also, I had other inserts such as the pressed penny sheet that only went to certain people. For some of the guests who aren't native to the area where Kris and I are from we included brochures for attractions near our home in Michigan. We also purchased some snacks that are made in Michigan such as the Kar's Nuts Sweet & Salty Mix.
I will post all the things that were inserted into the folders, but here is a basic rundown:
 Welcome Newsletter
 Welcome Party Invitation
 Hidden Mickey document
 Scavenger Hunt
 Customized Crossword Puzzle
 Tea Party invitation
 Park Maps
 Contact Cards (my dad spent a lot of time on these, so I'll have to post these)
 Pressed Penny guide (and some shiny pennies!)
 Postcards with stamps
My dad working tirelessly on the water bottles: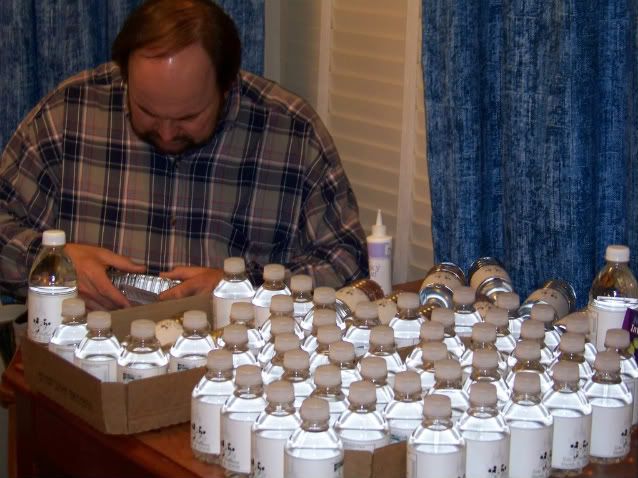 We also assembled the "bear necessities" bags that night and had to customize those too because not everyone got a sunblock in their bags. We also added some Aleve tablets from Sam's.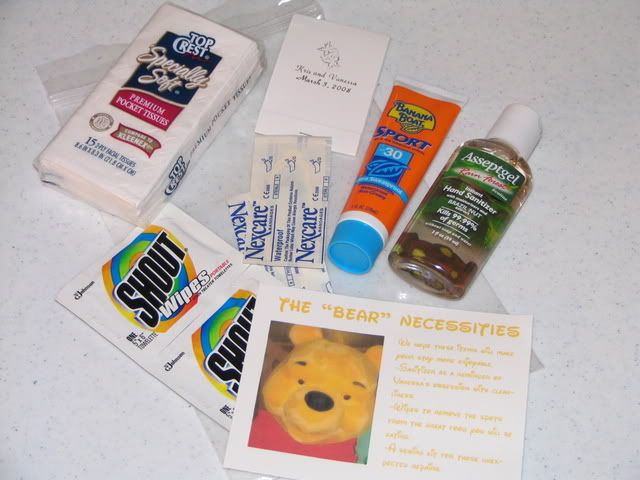 We even had small personalized sewing kits that were a must-have for my mom: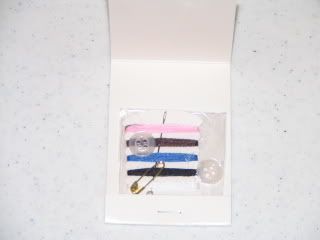 I had small round containers that I had bought for Mickey mints. After discovering that the shipping for a 5 lb bag was $20 I decided to wait to see what I could find down there instead. I ended up buying these mints at the POR gift shop and everyone loved them.
The small round purple containers contained the mints:
Needless to say, we didn't finish until around 3:30 a.m. We had reservations to eat breakfast at Kona Café the next morning at 10 a.m. before meeting Marion at 11:30 a.m. and we decided to skip breakfast!
The bags all lined up: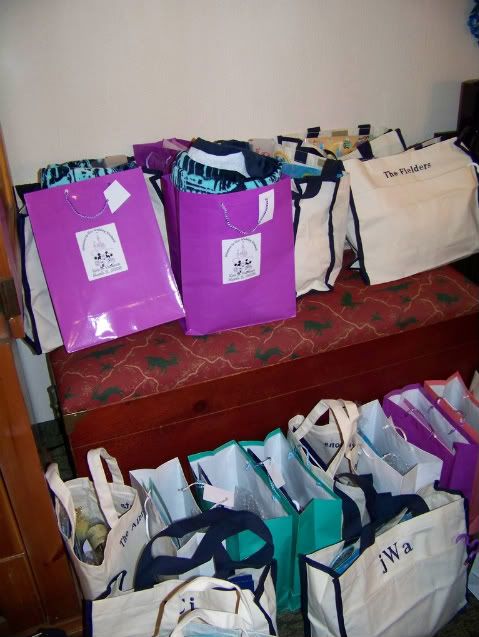 To be continued....