I thought I would just do a little write up about our stay from 23rd-27th December...I apologise if I mention what has already been written!
We arrived 1ish and we were checked in very quickly, the kids were given a little colouring in set so they were happy, our room was ready which was great news, so we headed up for a nose before hitting the parks.
The room was clean and everything in working order. During our stay housekeeping was to a high standard. The only thing myself and hubby thought was for the money paid the room was pretty much the same as we had in the NY just different decor!
Breakfast time was busy, but we didnt have to queue at all, fantastic choice for breakfast, we all really enjoyed it. There were always photo opportunities with a character just outside and if you timed it right there were 3/4 other characters in the corridor, which was great, one morning wasnt as good as we experienced the usual pushing in!
Obviously location was brilliant and I expect that is what you pay the money for!
Overall we did like the hotel, mainly for the characters and location, one thing I was hoping for was just a little something for the kids on christmas day, nothing big, just a bag of coins left in our room wouldve been a lovely touch, but maybe I was expecting too much!
Oh yes.....4pm at the DLH was brilliant with characters galore !
Our view....lovely with all the lights...if we twisted our head to the left we could jst see the castle through the tress!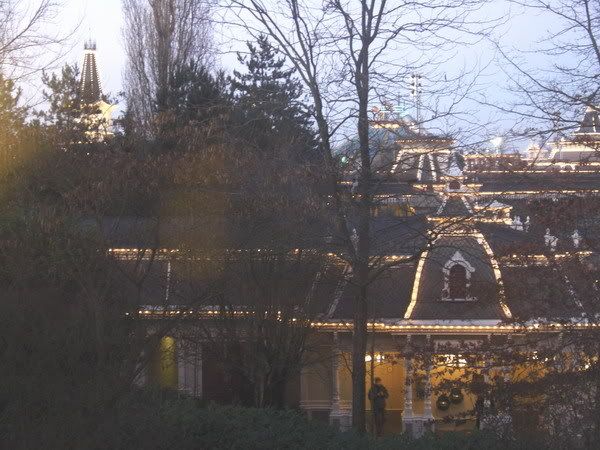 This was our turndown service, it was hystrical the way all the cuddlies were laid out!
As you can see we had to bring lots of little friends with us, suprised we didnt have to pay a supplement!
Dont know how those choccies got there!